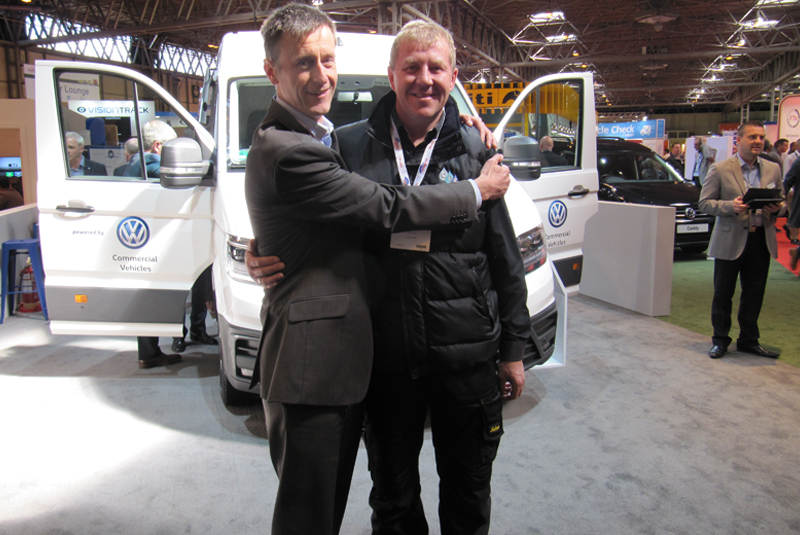 With 25 April marking national 'Hug A Plumber Day', and coinciding with the CV Show, Volkswagen Commercial Vehicles is once again seizing the opportunity to celebrate this most important of trades, and showing its appreciation to heating and plumbing engineers at its stand in Hall 4 at the NEC in Birmingham.
National 'Hug A Plumber Day' (#NationalHugaPlumberDay) encourages everyone in the industry to recognise the ingenuity, hard work and skills of plumbers everywhere. To truly show its support and appreciation, Volkswagen Commercial Vehicles will be offering a warm welcome and refreshment to every plumber who visits its stand during the event (24-26 April) as well as the chance to enter a prize draw to drive away one of its award-winning panel vans for a week.
Making their debut at the CV Show will be the Caddy, Transporter and Crafter Business Editions. Adding a high value business pack to its panel vans allows Volkswagen Commercial Vehicles' customers access to business-friendly items of specification at a competitive price, says the company.
To enter the draw, plumbers simply have to head to the Crafter Business Edition model on the Volkswagen Commercial Vehicles stand, have their photo taken, and put their business card into the draw. 10 lucky plumbers will be drawn at random to win a prize, and of those, one will have the opportunity to drive a Caddy, Transporter or Crafter Business Edition for a week.
A spokesman for Volkswagen Commercial Vehicles, said: "With plumbers being a huge part of our commercial customer base, we truly appreciate how hard they work all year round, especially given the current weather conditions. We also recognize how important it is for them to have the right tools for the job, including the right vehicle.
"With the introduction of our new business packs, we hope that plumbers across the country will take advantage of our latest offers and see the benefits that owning a Volkswagen Commercial Vehicle brings to their business. What's more, one lucky winner will get the chance to try out a new van for a week."
In addition, Volkswagen Commercial Vehicles will be bringing its Working With You promise to life at the show, with products and mobility concepts which demonstrate how it partners with customers, influencers and Van Centres.
For further information, visit: www.volkswagen-vans.co.uk. To book your free ticket to the CV Show, go to: www.cvshow.com.