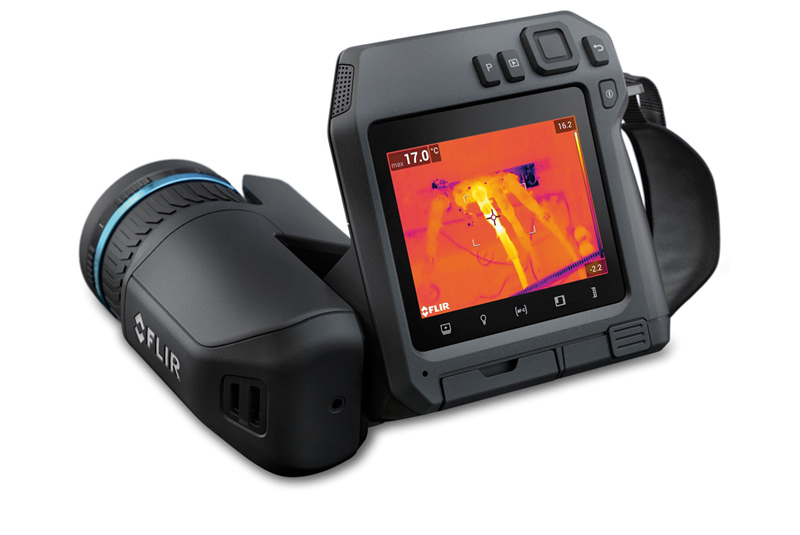 Between now and the end of September 2017, Flir Systems is adding even more value to thermal imaging with a series of special product packages.
For those interested in buying a Flir T540 professional camera the reward is high as, for this limited period, every model ordered will be despatched with a free pocket-portable Flir C3 troubleshooting IR camera valued at around £600.
The standout feature of the entire T-500 Series is a 180-degree rotating optical block that allows thermographers to image targets overhead, below or even around obstructions from a comfortable position. Flir Vision Processing, laser-assisted autofocus and auto-calibrated, interchangeable lenses also distinguish this range.
The C3 is a powerful diagnostic camera that quickly pinpoints hidden electrical, energy efficiency or moisture issues for further thermal investigation. It includes Wi-Fi to streamline image transfer and a new picture-in-picture function that enables better image comparison in the field.
Anyone simply investing in the C3 on its own will also benefit in this autumn promotion. With every C3, the customer can choose to receive a free Flir VP52 non-contact voltage detector with flashlight or a MR40 moisture meter.
Discounts on specific instruments complete the special offers. Bridging the gap between single spot IR thermometers and the IR cameras is the TG167 spot thermal camera, which has a discounted purchase price of 15%.  And up to 30% can also be saved on a wide range of test and measurement products.
For more information, go to: www.flir.co.uk/instruments/promotions