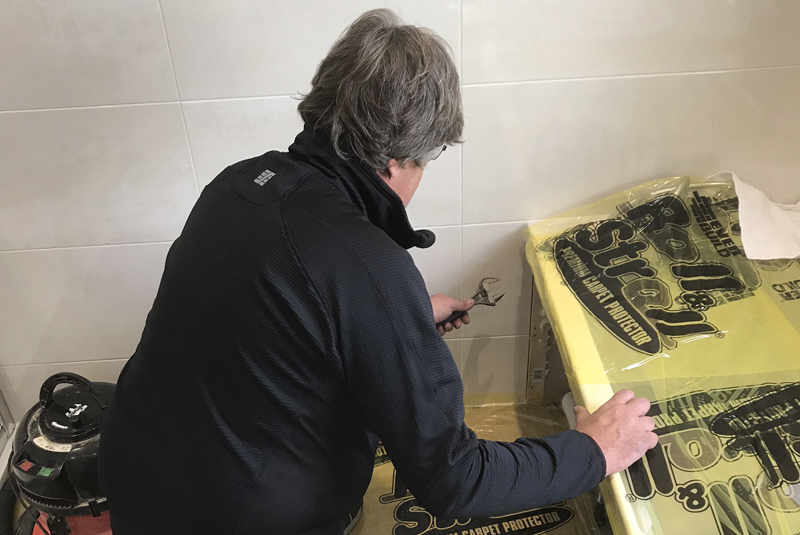 Steve Hamilton from Astral Plumbing checks out a selection of workwear for colder weather from Snickers.
Trousers
So, let's start with the trousers. These are Snickers' 6201 Allround work trousers. For a quick overview, they are manufactured from Cordura, and have holster pockets and a Cargo pocket. Of course, they accept the famous Snickers knee pads. The ones I am testing are the grey version, but they also come in black.
They are very comfy to wear. In particular, they are fitted with a stretch gusset which makes the trousers very flexible when bending down, or getting into awkward spaces. They are also very cool to work in, which is a very important aspect when working in our trade. There is ventilation on the back of the knee, which really does make a big difference when it comes to comfort.
There are plenty of pockets to keep tools, mobile phones, and other bits and bobs. The cargo pocket has a secure flap on the top to keep important bits in the pocket and, of course, the cargo pocket is on the thigh, which maintains flexibility for the wearer.
Obviously, my test of the trousers wasn't long term, but in the time I have been wearing them, they appear to be very durable, and certainly resist water spillages really well. In short, a really well designed, very comfortable pair of work trousers.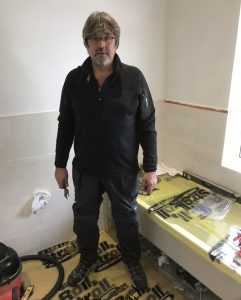 Jacket
Then we get on to the body mapping micro fleece jacket. Snickers describes it as warm, light and flexible, in high-functionality fabric and with an advanced body-mapped design that is ideal as a warm first layer or a lighter second layer. It is also said to:
Keep your body dry and fresh all day long with its innovative natural anti-odour treated and quick-drying fabric
Offer advanced body-mapped design for superior balance of insulation and ventilation
Have a micro fleece fabric with checked structure on the inside for enhanced breathability and mesh fabric in armpits for extra ventilation
Include zipped arm pocket for added convenience
Incorporate a high collar for extra warmth and protection
I really like this top. My test of the garment was carried out in the autumn, just as the weather was turning a bit nippy. It's incredibly comfortable, and extremely flexible for working in. On cold mornings, the high collar is great for some added warmth, and yet somehow the garment manages to keep you cool while you are working. Very clever stuff.
If there is a downside, I guess it's that the body hugging nature doesn't look overly flattering if you are a bit of a salad dodger, like me. It would definitely look really good on someone younger and fitter!
"Then we have the shoes. Solid Gear Vapor safety trainers. These are just awesome, very comfortable, very smart looking – and, of course, protected with a solid toe cap."
However, I think the top looks really smart, so smart in fact that isn't restricted to a work environment. I really like it as an undergarment when riding my motorcycle too. I am definitely going to be ordering some extra tops for myself and my work colleague and son Matt.
Vest
Then we move on to the insulator vest, or gilet as I like to call it. Snickers states that you can "stay warm without compromising freedom of movement by adding a vest. This comfortable vest can be worn both as a mid or outer layer. It features 37.5 insulation and has side panels in stretch material for added flexibility. A great, warming garment to have close when the cold sets in".
Features include:
5 insulation
Side panels in stretch for comfort and flexibility
High collar for wind protection
Dropped back
Chest pocket with space for profiling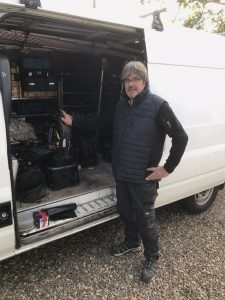 Again, a very comfortable garment, and although I haven't yet had the opportunity to test it in the depths of winter, it certainly adds warmth when the weather starts to turn colder. I can see myself wearing this a lot in the winter, it offers lots of body warmth, but at the same time enabling complete freedom and flexibility to carry on working as normal. Its dark blue, with a bright yellow lining, which I think looks smart.
Footwear
Then we have the shoes. Solid Gear Vapor safety trainers. These are just awesome, very comfortable, very smart looking – and, of course, protected with a solid toe cap.
They are fitted with the amazing BOA closure system. This is just great. To do up the shoe, you just push the button, and wind up the 'lace' with the BOA. This then stays tight, never comes loose, and as a real safety benefit as it does away with trailing laces. To release, you just pull up the button, and the 'lace' loosens. It's quick, convenient, and so simple to use.
For many years, I've always used regular trainers at work, mainly because if you are on a service call in a customer's house, I don't think it's fair to walk in with big boots. These Vapor safety trainers give you the best of both worlds, and if you really need to slip them off, it's quick and easy. My son Matt is already badgering me to get him a pair of his own!
The shoes also work really well with the Coolmax socks, are designed to be breathable and fitted with extra padding. It might be difficult to get excited about a pair of socks, but these really are very comfortable.
The verdict
To summarise, all of the Snickers Gear tested is of top quality, practical, and very useable. So much thought has gone into all the items, and this really does make the end user's work life so much easier.