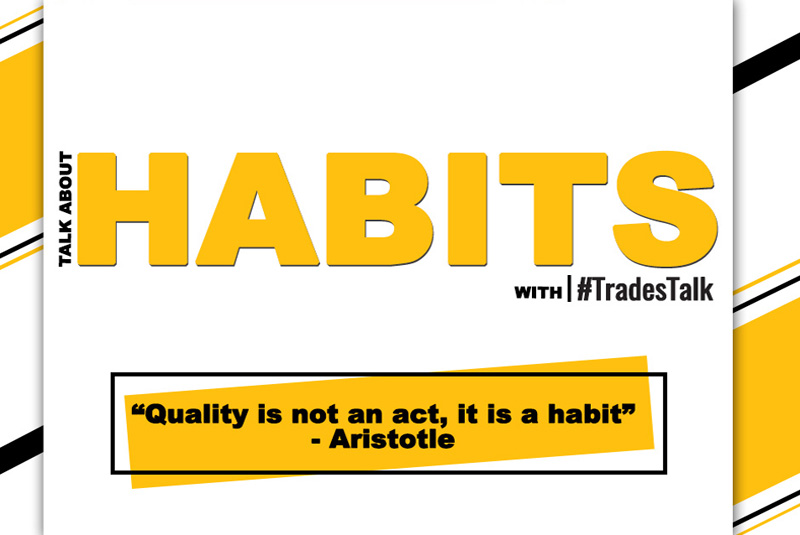 Every Tuesday evening, the tradespeople of Twitter get together to discuss a range of subjects, from serious issues such as tool theft to more light-hearted topics such as favourite foods. This week's #TradesTalk chat was about tradespeople's good and bad habits. Here's our round-up of the best bits.
The first question looked at morning routines and the habits that start a working day.
A1. Front load the day, if I can get ahead of expected timeframes/task list sooner than expected then it helps when the unexpected crops up or eases the guilt of knocking off slightly earlier so I can spend time with the family before bedtimes #Tradestalk

— Al Fitzjohn (@AJFitzLtd) March 5, 2019
https://twitter.com/HarrisonHeating/status/1103024675586756609
The conversation then moved on to the question of habits versus spontaneity.
A2 I am 100% a creature of habit. I didn;t used to be, but I think once I turned 30 I slipped into Groundhog Day mode a bit. Not complaining, coffee, books, and music and I'm good. I'm spontaneous on holiday. #TradesTalk

— Oilcanfinish Landscaping and Property Maintenance (@oilcanfinish) March 5, 2019
Probably do stuff randomly more than habit , don't think I'm organised enough to have a habit

— clive o malley (@cliveomalley) March 5, 2019
The next question inspired a very heated debate.
Not sure how this is even a question. Tea bag first. It's tea. Not a cup o' hot water.

— Williams & Co (@Williams_Co) March 6, 2019
Don't .. Have coffee.. side affect then there's no obligation to make for family or friends as I cannot guarantee the quality 😂 my Mrs has a habit… leaving the bag in even while drinking

— Gary Bedford (@grbservices) March 5, 2019
A3 Mug,bag,sugar,water,stir,bag out,milk,stir and then dunk🍪 #TradesTalk

— Goode Services (@GoodeServices) March 5, 2019
The fourth question discussed habits that make the working week pass more easily.
A4. Stay organised, make to-do lists and have regular tea breaks! #TradesTalk

— Options Skills (@OptionsSkills) March 6, 2019
A4. I want to be in the yard by 7am and onsite before 8am any later and it feels like I've lost half a day always have tea break at 10 and 1am even if not for long its amazing how a quick sit down and refresh can clear the mind and help solve problems #TradesTalk

— James B (@JamesB177) March 5, 2019
Keep the batteries charged for the tools! One in use, one on charge, one fully charged ready to GO! #tradestalk

— Elektroworks (@ElektroworksUK) March 5, 2019
The final question looked at bad habits.
The worst habit you can have as an apprentice plumber is wiping boss white or silicone on your trouser leg.
The sooner you get out of that habit the better 👏🏽 #TradesTalk

— P B Plumber (@pbplumber) March 5, 2019
Chocolate, crisps, bread! But it's a bad habit I bloody LOVE #TradesTalk

— Keith Harrison (Harrisons Of Burwell) (@HarrisonHeating) March 5, 2019
If you want to chat about everything from tools to TV shows with tradespeople around the UK, simply tune in to #TradesTalk every Tuesday from 8 to 9pm.