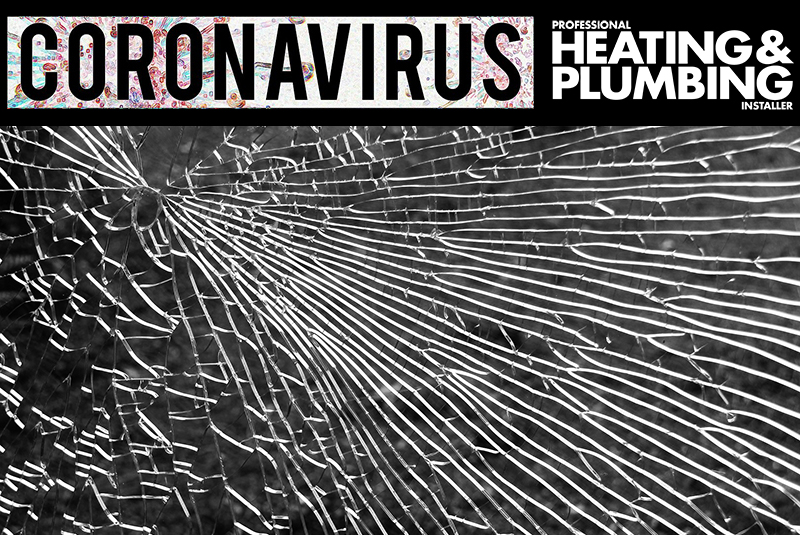 This week's #TradesTalk chat on Twitter looked at the subject of the coronavirus outbreak, what the potential implications could be for the trades, and how to stay resilient during the crisis.
The discussion, which involved different trades from around the UK (and beyond), covered everything from social distancing and mental health to where to go for help if your business is in financial difficulty.
The chat takes place every Tuesday on Twitter from 8-9pm. If you missed it this week, here is our round-up of the best bits.
QUESTION ONE
A1. Concerned about what will happen and a sence of responsibility to try not to pass it on to anyone else. Trying to keep working whilst we can know that most likely it will get halted at some point. Would love to have more details and bit more positive #TradesTalk

— James B (@JamesB177) March 17, 2020
https://twitter.com/GasSafePete/status/1240007590861553664?s=20
for me I'm just trying to prepare as best we can for what could end up being a shut down to all works on site. Main concern is for the vulnerable I know (incl my family & those I work with)while trying to be sensible regarding myself & lads on site #tradestalk

— Nicola Dobbie (@Nicola_Dobbie) March 17, 2020
I think everyone would be lying if they say they haven't thought about it, main concern is the lads who work for us and obviously keeping them going and in work through the uncertainty.

— Bruce Towers & Sons ltd (@TowersLtd) March 17, 2020
QUESTION TWO
Few people have enough savings to last indefinitely. This is going to affect all of us and the vast majority of the rest of the world. We're going to have to get very creative and expect everything be different going forward.

— Women Plumbers (@Stopcocks) March 18, 2020
Some saving and invoices due for payment over the next few months. Money should be OK least for a little while trying to turn over as many relatively safe jobs before we have to go into isolation.

— Jonathan @ JP Electrical (@JPElectrical4) March 17, 2020
Nope.

No money, and no work. But it's okay, I've applied for universal tax credits and am eagerly looking forward to the £40 per week to feed my wife and four kids.

— SparkyNinja (@Sparky_Ninja) March 17, 2020
https://twitter.com/sweepcommercial/status/1240009982113964039?s=20
https://twitter.com/BourtonHandyman/status/1240009930872164354?s=20
QUESTION THREE
Looking at some of the houses I visit Cov19 would be less risky than some of the other things I might catch #tradestalk

— @keellelectrical (@keellelectrical) March 17, 2020
Q3. I've already started saying to people that if they are feeling unwell to be honest with me and clean the area where I wouldn't need to work and leave me to it, I've got face masks and sanitiser/ cleaners etc #TradesTalk

— Axiom Building (@axiombuilder) March 17, 2020
Cross that bridge when I come to it. I don't feel the need to put myself in that situation tbh working in someone's self isolation space. If it came to it I could swerve that job barring any emergencies, which I don't get loads of as I'm mainly doing preplanned works. #TradesTalk

— Switchlec (@switchlec) March 17, 2020
Surely by going in these homes we run the risk of spreading it and potentially passing on to someone more vulnerable? Is the point of isolation not to do exactly this. Isolate……

— BB Heating Solutions (@bbheating) March 17, 2020
QUESTION FOUR
Nope, my local @WolseleyUK has got my boiler ready to rock and roll for next week, we are fully stocked with the standard stuff in the lock up, we got this! #tradestalk

— Keith Harrison (@HarrisonHeating) March 17, 2020
We've not gone short of anything yet as a merchants our honest priority besides each other are our customers.
We're urging people not to come to branch and to take advantage of our same day delivery.
The longer we stay well the longer we keep our dudes working.
No plans to close!

— Emsie morris (@emsiemorris) March 17, 2020
https://twitter.com/CityCraftsman/status/1240015066445070336?s=20
Not as yet, but been on the quieter side for a couple of weeks now. Work is booked in due to start, but if we get into places that are empty then there is the risk from the supply chains and we'd end up thumb twiddling #TradesTalk pic.twitter.com/WqTRem2E2a

— Paul Fasham (@fash1985) March 17, 2020
QUESTION FIVE
A5 This is another area where there is no information specifically for self employed people. There are millions of us and we have not yet been mentioned on what to do if we need to self-isolate in terms of ££. It feels like we have been abandoned honestly. #TradesTalk

— Oilcanfinish Landscaping and Property Maintenance (@oilcanfinish) March 17, 2020
A5. 1 of the nice things about this (can't believe I just wrote that!) is there's a lot of grace going around. Mortgage/rent breaks, people being generally understanding. Obviously it's not the case for every1 but it really shows it's always worth asking for help #TradesTalk

— Bott Smartvan (@bottsmartvan) March 17, 2020
https://twitter.com/LondonGas/status/1240016973045563393?s=20
A5 same as my previous answer, I'd go to my parents, they always offer to help. I'm extremely fortunate #TradesTalk

— S.N.L Home Repairs (@snlhomerepairs) March 17, 2020
QUESTION SIX
We survived riots, panic buying, curfews, various states of emergencies in SA. And we didn't even have Netflix then, the horror. If we stick together and show compassion, empathy and humanity, we'll be okay. #tradestalk

— BigWipes (@BigWipes) March 17, 2020
https://twitter.com/ColDixonElec/status/1240020958318145536?s=20
https://twitter.com/property_ready/status/1240020399703887872?s=20
https://twitter.com/HeatingConsult/status/1240020556986056704?s=20