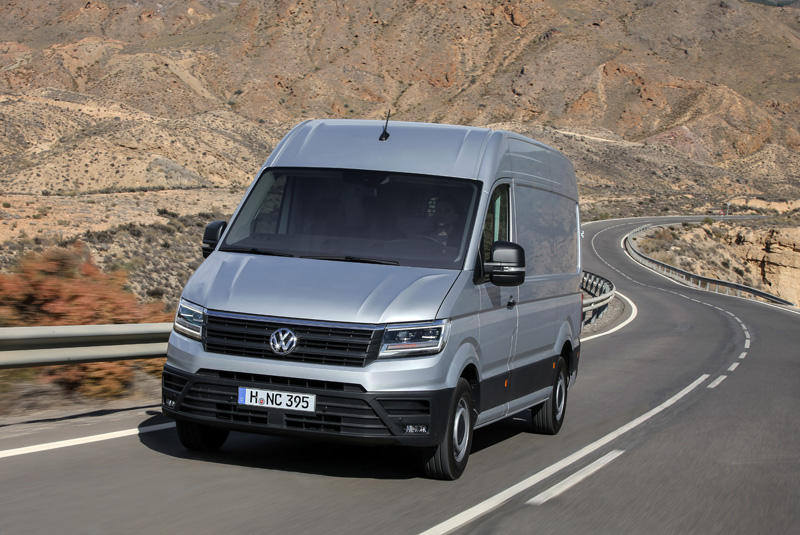 Volkswagen Commercial Vehicles is delighted to award Cooltherm Installation Services Managing Director Jim Dawber, with a week-long new Crafter loan after he won the Hug a Plumber competition at this year's CV Show.
Jim, who has been a plumber for 30 years, was thrilled to find out the good news and will now use the loan of the new Crafter as an opportunity to test out its front wheel drive, new smart design and lower loading height in assisting with contract jobs up and down the country.
National Hug a Plumber Day (April 25th) saw Volkswagen Commercial Vehicles recognise the hard work and skills of plumbers everywhere, with Jim coming out on top of a prize draw to drive the much-applauded new Crafter away for a week.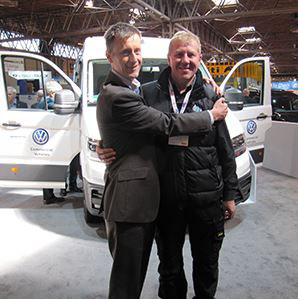 Leeds-based Cooltherm Installation Services was formed in 2000 by Jim and specialises in refrigeration and air conditioning contracts. The firm provides design, installation, service and maintenance work throughout the UK and has a Volkswagen Commercial Vehicles only fleet, composing of Transporters and Caddy Maxis.
Jim said: "I'm elated to have won the Hug a Plumber competition. Getting to test out the new Crafter for a week couldn't have come at a more ideal time, as we're currently looking to add the new Crafter to our growing fleet. We always choose Volkswagen Commercial Vehicles as their residual values across all vehicles are excellent and they are a fantastic brand to work with. The space available for our equipment is second to none and I expect the new Crafter to be more than impressive in helping us deliver our contracts throughout the country."
Plumbers and skilled trades were among the key customer groups whose input was sought in the design of the Crafter, as part of Volkswagen Commercial Vehicles Working with You promise.
The new Crafter has already picked up a number of key awards, including VansA2Z's Van of the Year, Van Fleet World's Best New Van and Best Large Van and International Van of the Year 2017.
For more information, visit: www.volkswagen-vans.co.uk