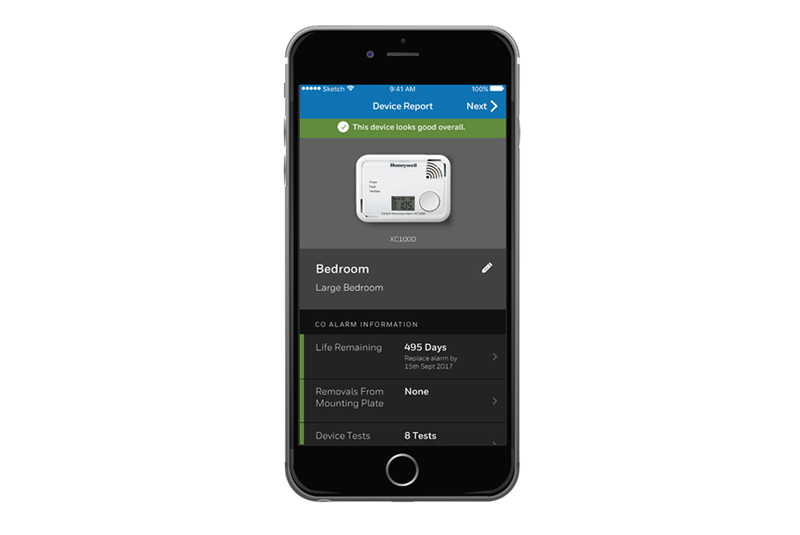 A new mobile app from Honeywell (NYSE: HON) enables wireless maintenance of its X-Series Carbon Monoxide alarms, simplifying and speeding up service time for engineers and landlords to help ensure the safety of homeowners and tenants against potentially deadly carbon monoxide (CO) poisoning. 
The new X-Series Alarm Scan App from Honeywell is available for both iOS and Android devices. It allows gas engineers, plumbers, landlords and housing associations to access key data from Honeywell's X-Series CO devices to support regular maintenance schedules or incident investigations. The device wirelessly downloads details about the alarm's status, historical alarms and fault events, and relays recommended actions to the user's phone or tablet within seconds, without adding time to service routines. Installers, landlords or service providers can review the findings on site and discuss any issues with the homeowner, tenant or landlord while still at the property. 
"This app provides new insights on low-level background CO levels and past alarm events, which in turn helps to protect people against carbon monoxide poisoning," said Matthias Schwarz, Product Manager for Honeywell's Home Safety business. "It gives gas engineers and installers an easy-to-use, effective tool to help ensure their customers are protected from CO poisoning, and makes it simpler and faster for housing associations and landlords to produce incident reports and act on them." 
Data transferred from the CO Alarm is presented in a detailed device report, and additional data, such as the device's installation location or comments, can be added manually. For households where more than one alarm is installed, several device reports can be combined into a single service report for the premises, and the address can be automatically added using GPS. Previously generated reports can be searched and shared in PDF format via email or be saved directly to cloud services like OneDrive. 
This supports regulatory compliance and gives engineers an added-value service that can help to build their reputation as a reliable service provider. The data is transferred using audio technology, which is almost inaudible for humans. 
All alarms from Honeywell's X-Series range will be marked with the Alarm Scan logo to indicate that their data can be transferred to the Alarm Scan App. Alarm Scan-enabled CO alarms are available now. Enabled smoke alarms, heat alarms, and the wireless module will be available soon. 
The company says every alarm in the product family can be connected wirelessly using a plug-in module to form a full alarm system. The XW100 module simply clicks into any X-Series alarm, offering full protection to a home within minutes and features easy-to-understand LED indicators to ensure the homeowner and installer can be confident that the residence is protected. Models that are compatible with the Alarm Scan App will feature the logo on the unit and packaging. 
For more information, visit: www.homesafety.honeywell.com/