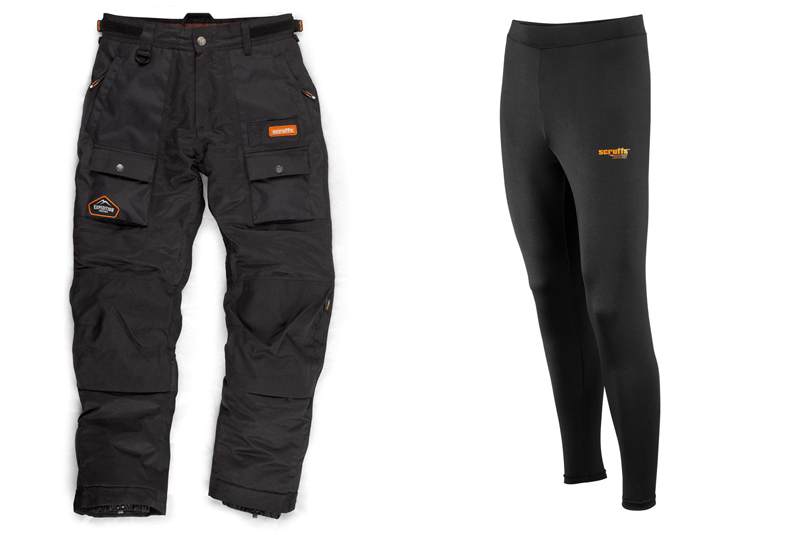 Winter is well on the way; the temperatures are dropping and the nights are getting longer. If you work outdoors then you'll want to invest in clothing that will not only protect you against the elements, but will enable you to continue to do your job properly. Workwear brand Scruffs shares its top tips for your winter wardrobe, so you're protected regardless of whether it's wind, rain or shine!
Base Layers
British winters are unpredictable. One minute the rain is pouring and the temperatures are mild, the next, a gust of wind chills you to your bones.
If you're working outdoors this winter, then the best way to protect yourself against the changing conditions is to invest in several layers.
You can buy base level tops and bottoms, both of which will help to keep you warm. Invest in thin layers so your movement isn't restricted, ensuring you can continue to work comfortably.
Thermal Trousers
In the depths of winter, temperatures can plummet to zero degrees and below, so if you're working outside, you'll need to stay warm.
A pair of thermal bottoms  will help you to stay toasty by trapping the heat in. If you enjoy spending time outdoors when you're not at work, they're definitely a good investment, as you can wear them out on walks, or if you're playing sport. Invest in muted colours like black and grey, and no one will even know they're specifically for work.
Waterproofs
The fact is, it rains a lot in Britain all year round. However, during the winter months, the rain seems to pour even more. That's why if you're working outside, you really should add waterproofs to your wardrobe.
Naturally lightweight, waterproofs will help to keep you warm when it's cold, and cool when it's warm. Most importantly, they'll protect you from the rain – stopping you from getting wet, and reducing the chances of catching a cold.
Waterproof jackets and trousers can be picked up easily and cheaply. If you're working outside a lot, then it's worth buying both for extra protection.
Windproof Jacket
When the wind kicks in, it can feel freezing. Even on a seemingly mild day the wind will often leave you shivering.
A windproof jacket will help to take the edge off those chills as the coating applied blocks the wind, enabling you to retain your natural body heat. A windproof jacket is essential to prevent your body temperature from dropping too low, which could cause health issues.
Gore-Tex Boots
Every outdoor worker should own a pair of Gore-Tex boots come winter. The material keeps water out, but allows perspiration to pass through. The result? A pair of warm, dry feet – no matter the weather. This is essential, because if your feet are cold and wet, your body temperature will drop, and you'll end up feeling very uncomfortable.
Even after a downpour, the ground can stay wet for hours, with normal footwear absorbing the moisture. In contrast, Gore-Tex boots provide complete protection for your feet.
With innovations in smart materials and technology, workwear has come a long way over the years. Adding these five items of clothing to your wardrobe will enable you to work outdoors effectively all winter, protecting you against the harsh weather. There really is no need to suffer. A small investment in protective workwear this winter will be a big investment in your comfort and wellbeing.
For more information from Scruffs and its workwear offerings, visit: www.scruffs.com