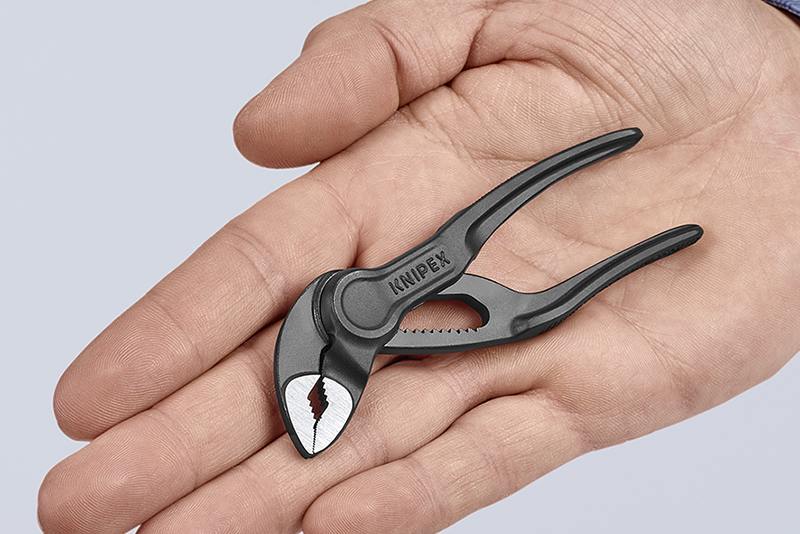 KNIPEX's Cobra XS, reported to be the smallest high-tech water pump pliers in the world with full functional capability, are just 100 mm long. They're ideal in tight spaces around the workpiece due to the compact design and slim head, and can be comfortably used with just one hand.
Small, useful and anything but a toy! The Cobra XS is a new, compact member of the KNIPEX Cobra family. It is a fully functional pair of high-tech water pump pliers that comes into its own in tight spaces. The tool can adapt to 11 adjustment positions via fine adjustment directly on the workpiece and grip nuts up to 24mm in width across flats and other workpieces up to 28mm – with an overall length of just 100 mm. Due to its compact size, the Cobra XS can be easily used with just one hand.
Like all products in the KNIPEX Cobra family, the Cobra XS is self-locking to pipes and nuts: the result is that there is no slipping from the workpiece and all work is considerably less strenuous. The teeth, which are offset against the direction of rotation, enable this effect for perfect, efficient gripping, holding, pressing and bending. There is no need to fiddle around to get the correct opening width; simply place the upper half of the jaw onto the workpiece and slide the lower jaw in position to fix the pliers in place.
The gripping surfaces have specially hardened teeth (approx. 60 HRC) that ensure reliable gripping due to high wear resistance. Instead of a plastic coating, a ribbed, non-slip handle provides grip so that the handles of this small tool are kept slim and easy to use. Other features include a box joint for stability and durability via a double guide, as well as a pinch guard to protect against crush injuries.