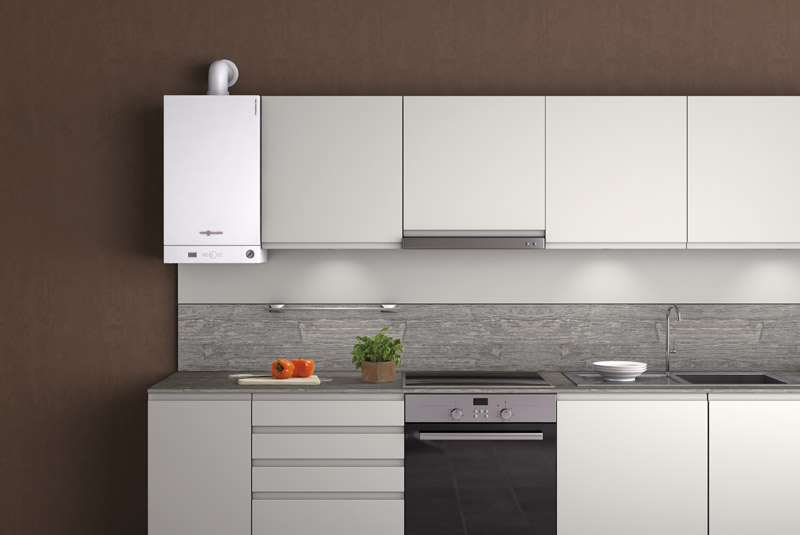 In a special promotion running until the 31st December 2016, Viessmann is supplying its Vitodens 050-W wall-mounted gas-fired condensing boilers with an out-of-the-box seven-year warranty, plus a free remote controller, resulting in significant savings for buyers.
The seven-year warranty replaces the previous, comprehensive three-year warranty for the Vitodens 050-W, which was extendable to seven years for £100 plus VAT. This is available exclusively to Viessmann Trained Installers who use the company's Installer Portal to register the boiler with Gas Safe.
The wall-mounted Vitotrol UTDB RF2 radio frequency remote controller provides access to all boiler control functions, plus a quick overview of the heating system at a single, convenient location. Easy to attach to the wall, as no wiring is required, it has a discreet, curved light colour casing and an easy-to-read, grey-on-black digital display screen.
The Vitodens 050-W is a combi boiler offered with two DHW output ratings, 5.9-29 kW and 8-35 kW. Said to be especially quiet in operation and one of the smallest wall-mounted boilers in its class, it is ideal for installation in living areas and in multi-storey buildings. Five 050-W boilers on different floors can be connected to one vertical flue system.
Viessmann Sales Director – Domestic, Ian Brookes, commented: "This special offer, will further strengthen the appeal of the Vitodens 050-W, which is already attractively priced and economical to run. The timing of this offer, during the traditional 'heating season', should also be very welcome to Viessmann Trained Installers and end users."
Installers wishing to take advantage of the varied benefits of being 'Viessmann Trained' are invited to contact the company's Academy, which has branches nationwide, on 01952 675032 or to email [email protected].
Vitodens 050-W boilers will also be eligible for the manufacturer's "Buy 10, get one free" promotion open to all UK mainland Gas Safe Registered installers which runs from July to December 2016 inclusive, and applies to purchases of Vitocell cylinders and Vitodens boilers up to 60 kW maximum output.