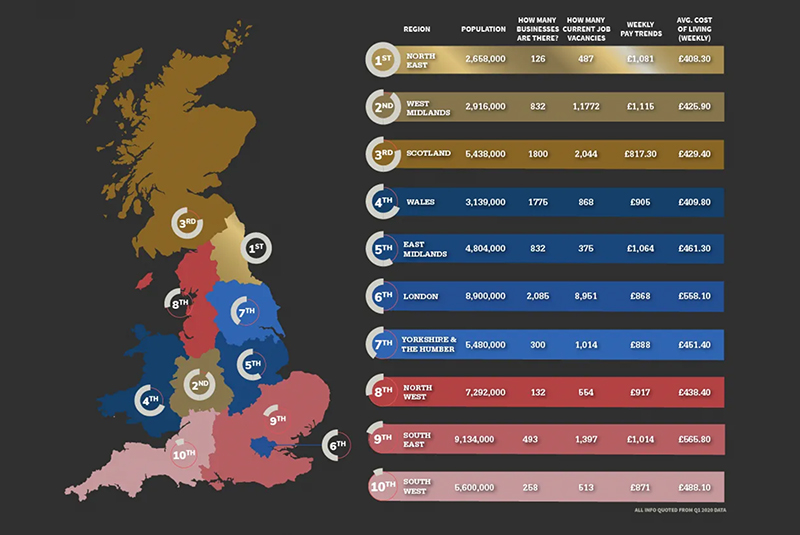 A recent study by Dickies Workwear has delved into research around the best UK regions for tradeswomen.
The study incorporates factors such as average pay, cost of living, number of businesses and current job vacancies within each region
The North East is best for women in construction
The construction industry can still be often stereotyped as a male-dominated profession, especially taking into consideration an overall UK 5.6% gender pay gap for the industry.
The study found that the top three regions for female construction workers were:
North East – Topping the list as the best location, weekly pay was the second-highest (£1,081), the average weekly cost of living was the lowest, (£408.30), and the average price of a house was £151,206.
West Midlands – Coming in second, the West Midlands has 832 registered businesses, with an average of 1,772 job vacancies available. Even though the average house price was quite high (£231,893), the average cost of living was quite low at £425.90.
Scotland – Ranking in the top five for three out of the four trades, Scotland has a relatively high average salary (£42,500) and the second-highest number of construction businesses (1,800).
Scotland on top for women in engineering
With the highest overall UK gender pay gap (8.3%), the engineering industry needs more focus on improving women's representation, conditions, and salaries. The study found that the best locations for female engineers were Scotland, the East Midlands and London.
To view the full study on the best locations for UK tradeswomen, check out the Dickies Workwear blog