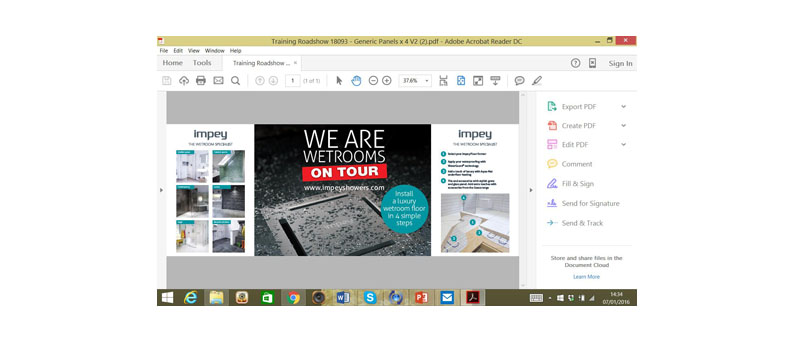 With market growth in the wetrooms sector reaching an all time high and the associated new business opportunities that this affords installers, understanding how to design and fit a wetroom is fast becoming an essential skill.
In response to increased demand, Impey has identified the need for more informative hands on wetroom training and has decided to take its industry leading training programme on the road.
Impey's 'We are Wetrooms' tour, which commences at the end of January, will incorporate extensive training on all of Impey's  products, including the AquaDec EasyFit floor former – a patented floor former, designed with the installer in mind – plus, the Waterguard tanking solution and the AquaGrade screed template for concrete floors.
The programme for the day will include:
Wetroom installation and floor formers
Wetroom installation into a wooden or concrete floor
How to achieve the correct wetroom gradient
Effective drainage
Leak-free water proofing
Underfloor heating best practice
How to correctly tile on a floor former or wetroom tray
With a maximum of 30 attendees on each day, there will plenty of opportunity for interaction, 'hands on' demonstrations and one-to-one Q&As with the Impey training team, led by Technical Manager Shaun Hunt.
The 'We are Wetrooms' tour, which has its own social media hashtag – #wearewetrooms – is visiting eleven different easy access sporting venues, giving installers across the UK the opportunity to learn essential wetroom fitting skills in or near their hometowns.
The day-long training sessions will be held on the following dates:
Thursday 21 Jan, Impey HQ, Somerset – SOLD OUT!
Wednesday 10 February, St Marys Stadium, Southampton
Wednesday 2 March, White Hart Lane, London
Thursday 3 March, Kia Oval, London
Wednesday 13 April, Carrow Road, Norwich
Wednesday 11 May, Etihad Stadium, Manchester
Wednesday 15 June, The Hawthorns, Birmingham
Wednesday 13 July, Hillsborough Stadium, Sheffield
Wednesday 14 September, Celtic Park, Glasgow
Wednesday 5 October, St James Park, Newcastle
Wednesday 9 November, Cardiff City Stadium, Cardiff
There is a one-off registration fee of £15 to secure your place on the Impey 'We are Wetrooms' tour, which includes a full day of wetroom training, lunch and refreshments. To reserve your place, visit: www.impeyshowers.com/wearewetrooms. On completion of the 'We Are Wetrooms' training day, installers will qualify for a special discount on the first Impey AquaDec they order via a merchant.