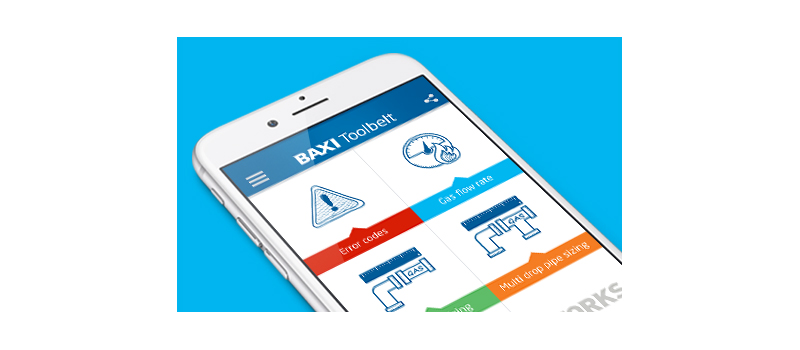 Designed to save installers time and money, an easy-to-use toolkit app has been unveiled by Baxi.
The free Baxi Toolbelt app has been developed in response to customer insight, which found that heating engineers would welcome the support of an app when they are out and about installing, repairing and servicing boilers.
Available on iPhone and Android, it offers a raft of tools that work offline, ensuring access whenever and wherever. Features include an error code look-up tool to help with fault finding, a gas flow rate calculator and single and multi- drop gas pipe sizing calculators, with more tools to be added over the coming months.
For phones that include an LED flash, the Toolbelt also includes a built in torch – a big plus for Android users who would normally need a separate app to activate the torch light.
The fault finder allows installers to navigate a complete list of error codes for current Baxi products, helping engineers to diagnose faults more quickly. For extra support, the app links to the Baxi technical helpline, connecting installers with expert advice at the touch of a button.
The gas flow rate calculator works with metric and imperial meters, and includes a built-in timer. The gas pipe sizing calculators have been designed to be quick and easy to fill out saving time and money.
A built-in safety check means that installers will receive a notification when their gas pipe sizing and single drop calculations meet safety requirements.
Plans for the future include a dedicated area for the manufacturer's loyalty scheme, Works. Including a barcode scanner for quick and easy boiler and warranty registration, it will also offer the ability to complete free Gas Safe notifications, request service reminders and view Works account statements. Engineers that have already downloaded the app will automatically receive the updated version as and when it's available.
Andrew Keating, marketing director for UK and Ireland at Baxi, said: "Developed in response to popular demand, our new app is designed to be the installer's new best friend. These tools can be used without phone data or Wi-Fi – meaning an end to frustration with signal black spots.
"With a bank of essential tools on offer from the word go, it also offers us a fantastic platform that we can add to as time goes on, making it easy for installers."
The app is now available to download from iTunes or Google Play. For more information, visit baxi.co.uk/trade-resources/baxi-toolbelt-app.htm.