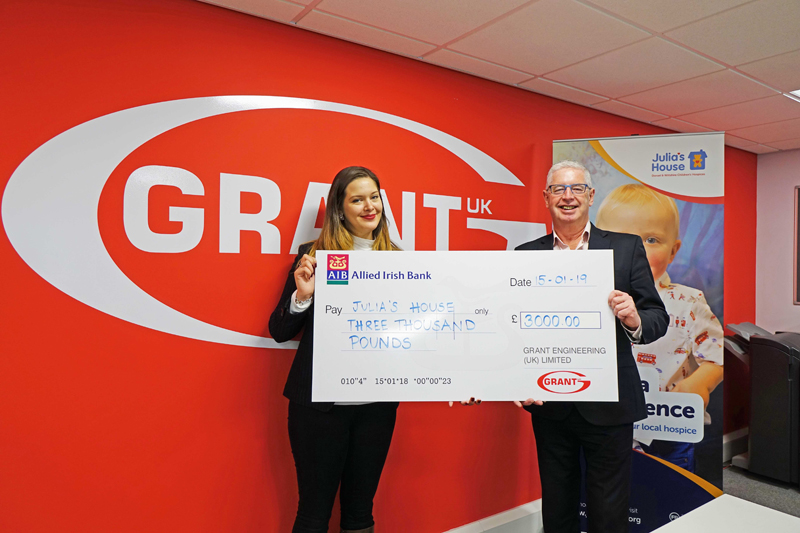 Grant UK has announced that it will be supporting Wiltshire Air Ambulance throughout 2019. The Air Ambulance provides a vital emergency service in Wiltshire and surrounding counties.
For a number of years, Grant UK's employees have participated in a selection of fundraising events to support local causes, raising money for organisations such as Julia's House – which has been the company's chosen charity since 2016.
In 2018 alone, Grant UK staff raised £3,000 for Julia's House, and a cheque was presented to the charity in January. Fundraising activities varied from specialty lunches and bake sales through to a staff raffle held prior to Christmas. The events included a 'Great Grant Bake Off', the celebration of 'National Doughnut Day' and supporting the Julia's House annual Winter Ball.
Grant UK invites members of staff to cast their vote to select Grant UK's charity of choice and for 2019, Wiltshire Air Ambulance received the majority of support. The airbase is located near Melksham, which is less than 10 miles from Grant UK's headquarters in Devizes. Alongside its principal helicopter, Wiltshire Air Ambulance also has a fleet of Rapid Response Cars which combined enable the charity to be available 19 hours a day all year round.
Since the charity started, the crew has flown over 17,000 missions. Its central airbase enables the helicopter to reach anywhere in Wiltshire within just 11 minutes and in 2018 alone, they completed 1,103 missions. All of the paramedics at Wiltshire Air Ambulance are trained in critical care skills and the charity also has the facilities to carry blood. Wiltshire Air Ambulance's resources therefore allow its team to provide an essential medical service, delivering life-saving care to those involved in critical incidents including road traffic collisions, child-related emergencies and cardiac arrests.
"Grant UK is proud to support local charities," says Paul Wakefield, Managing Director. "As our employees are central to the fundraising activities that we organise here, it was important for them to be part of the selection process. Our 2019 charity schedule is already underway so we hope that our fundraising will help keep their vital air ambulance flying for many more years to come."