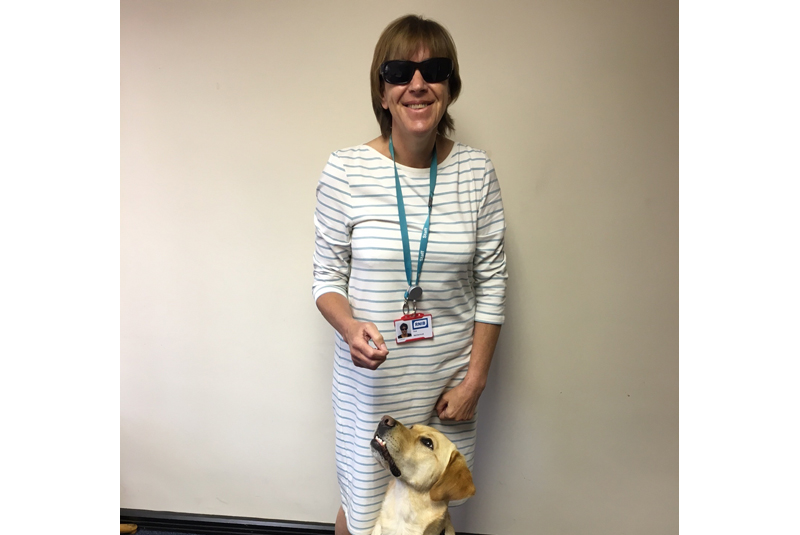 Susan McDermott placed the winning bid on the Q smart shower, which Aqualisa donated to Headway's online silent auction to raise money for the charity.
Susan sadly suffered an acquired brain injury and life-changing sight loss in a road traffic accident 15 years ago. With the help of Headway, a UK-wide charity that works to provide help and support to brain injury survivors, Susan was able to rehabilitate, get her first Guide Dog and return to full time employment in a position with the RNIB.
Aqualisa donated the Q smart divert shower after staff picked Headway as their chosen charity to support throughout 2018. In addition to the donation, Aqualisa raised a further £600 for Headway through various events over the course of the year. These included an office bake sale and a 12-hour stationary bike riding challenge for Steven Harrington, part of the Outbound Retention team at Aqualisa.
Susan commented: "The bathroom in my new bungalow needs to be entirely replaced with a wet room to suit my specific requirements. As I was looking for a shower, I decided to bid as it would mean Headway, who have done so much for me, would benefit.
"When I found out I had made the winning bid I was very pleased, but then I began to worry I had made a mistake and that the shower would not be suitable for me but, after speaking to the team at Aqualisa about the product, they assured me that the Q would be simple to use and ideal for my needs due to the proximity sensor and its ability to remember my chosen settings."