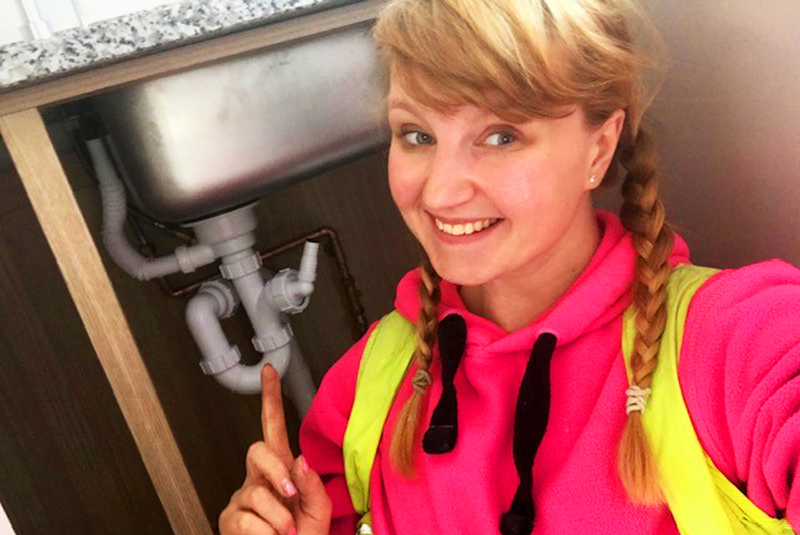 The construction industry is still considered to be male-dominated with only 9.9% of the workforce made up of women, according to a WaterSafe survey. And when it comes to plumbing some suggest this drops even further. To put the topic front and centre, Wavin Hep2O spoke with female apprentice and industry advocate, Helena Szmalec.
Tell us how your plumbing career started and where you are now?
I was, like most teenagers, unsure of what I wanted to do after my A-Level studies. I was 18 and knew I didn't want to pursue the careers of either of my electrician father and art teacher mother, but I also knew I wanted something that wouldn't be the same every day and would be hands-on. School didn't really teach us vocational skills or talk to us about trades, so when my mum introduced me to her friend's husband who was in plumbing and he offered to show me the ropes, I couldn't wait to get stuck in.
I went out on jobs for a few weeks, just observing and assisting where I could, and I fell in love with it. The next hurdle was to figure out how to get into the industry. Apprenticeships seemed the way forward, but initially it felt like because I wasn't a 16-year-old boy that I wasn't going to find a placement anywhere. Until I found a place, I worked in retail to get by, but it wasn't easy. It was then that I decided to go to college three or four days a week to take a Level 3 Gas and Plumbing course. I got an interview, got a placement, and so there I was at college at 20.
How is your training going? Are you finding it challenging?
I'm still in college to complete my Level 3, I will have finished my apprenticeship in June 2020. I'm just trying to get my head down as much as possible and focus on my studies – I watch a lot of YouTube videos and keep my head in books so I can soak up all that I can.
There are things that I expected from an industry dominated by men; wolf-whistling still happens. People still get surprised when they answer the door to a girl, but what's nice is how I can make that a good surprise.
My family and friends are so supportive of me doing this, so that's helped, too. You don't see many female plumbers, but that's why I'm using social media to promote what a fantastic career this can be for girls. I'm also making a point of embracing the fact I'm a female plumber by wearing pink trousers – it's a tiny, silly thing but it really makes people take notice and think. It's the little things that make me feel good about the challenges I'm overcoming.
Would you encourage more girls to consider plumbing as a career?
Absolutely. It's hands-on and tool-orientated where you can solve real problems and feel like you've achieved something with every job. It's not the usual 9-5, it's much more flexible and you can be your own boss and have independence. I can't say it's easy, you really need confidence in yourself to push through the (often in ignorance) misogynistic comments, but if you can keep your head high and give it back a little, it's really empowering.
Do you think the industry will ever see a complete balance of men and women?
Unfortunately, no. I think this will always be a male-orientated trade, or it'd take more than my lifetime to make that change. It seems that the people who enter the trade are typically those with heritage – with family or friends already practicing plumbing. I think the image problem that the industry has of being dirty is one that will continue to push women away, but it's not the reality.
In my opinion, there needs to be more education and awareness about what a career in plumbing can be like for women, and what opportunities that holds. Schools should be teaching a more positive perception of trades like this to encourage girls to consider them.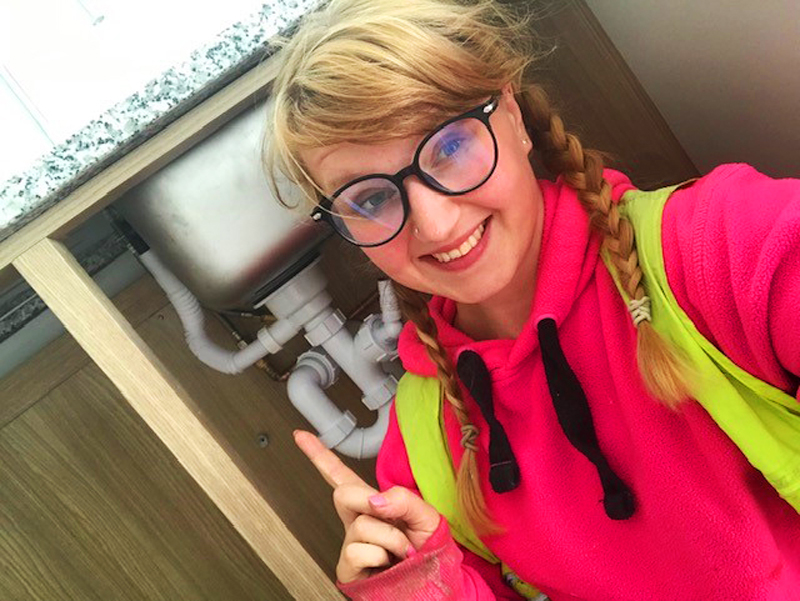 Wavin Hep2O is proud to support female plumbers and believes Helena is a great addition to the industry who will be making waves for years to come. Wavin Hep2O will continue to support diversity in all aspects of the plumbing industry and continue its work with other female plumbing advocates, to help give them a voice to overcome the issues they face on a daily basis. To help with this the company also regularly visits schools and colleges to promote plumbing as valid career for any gender.