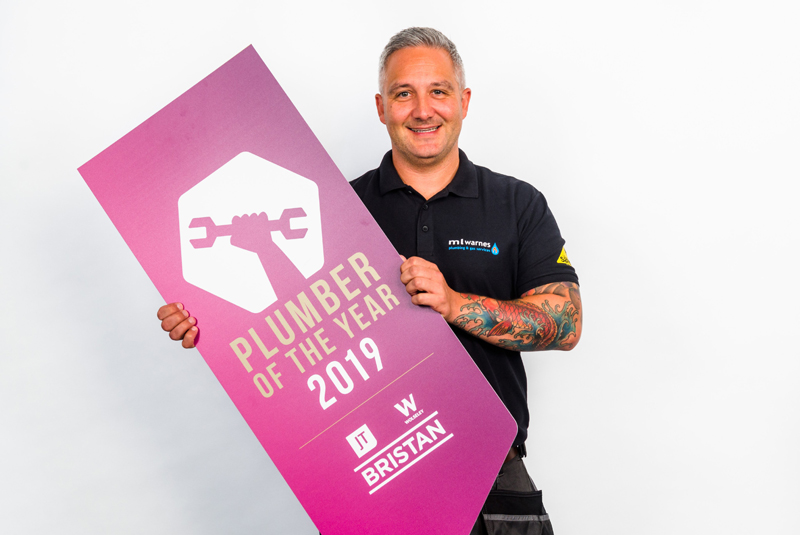 Martin Warnes from M L Warnes Plumbing & Gas Services in Essex was crowned the 2019 UK Plumber of the Year at the back end of last year.
The delivery of Martin's £2,000 worth of Bristan products provided the perfect opportunity to catch up and find out how he feels about the accolade – and gave him the chance to share some expert tips for budding installers.
How does it feel winning the 2019 UK Plumber of the Year competition?
It's amazing and a bit overwhelming. So many people have been congratulating us, it's a bit of a strange feeling.
What are your three secrets for running a successful business?
Firstly, be yourself. Try being honest with your customers and if you can't make it to a job, it's important to tell them.
Second is pricing. You'll get some plumbers who are overcharging their customers, and others who are charging too low – you need to find a happy medium.
Finally, if you employ staff, be nice to them and treat them well.
Do you have any advice for someone trying to become an industry leader in the plumbing world?
Keep on top of what's happening in the industry and stay ahead of the game. You've got to know what's happening in your local area. Also, I would say you need to become the person people look to for advice, not the person who's looking for advice. This means it's important to have really good industry knowledge.
When installing, why do you choose Bristan?
Since winning the competition and seeing the variety Bristan offers, and its quality, I'm impressed… We've used Bristan bathroom taps in two of our latest installations. I'll certainly be sticking with Bristan going forward.
What's your most common callout in the winter?
Boiler breakdowns and central heating faults are the most common. We always recommend a customer gets their boiler health checked at the middle of Autumn. Burst and frozen pipes are also quite common.
Have you got any top tips for plumbers applying to the 2020 Plumber of the Year competition?
You don't have to be the best mechanical plumber, but you've got to offer the whole package. Be friendly, have an expansive skill set and a good customer base.
It's always beneficial to have a good industry standard and be up to date with what's going on in the industry and what's going to be happening in the future.
Do you have any questions for the 2019 Plumber of the Year? Join the Bristan On Tap Plumbers Facebook Group today and you can send Martin a message.