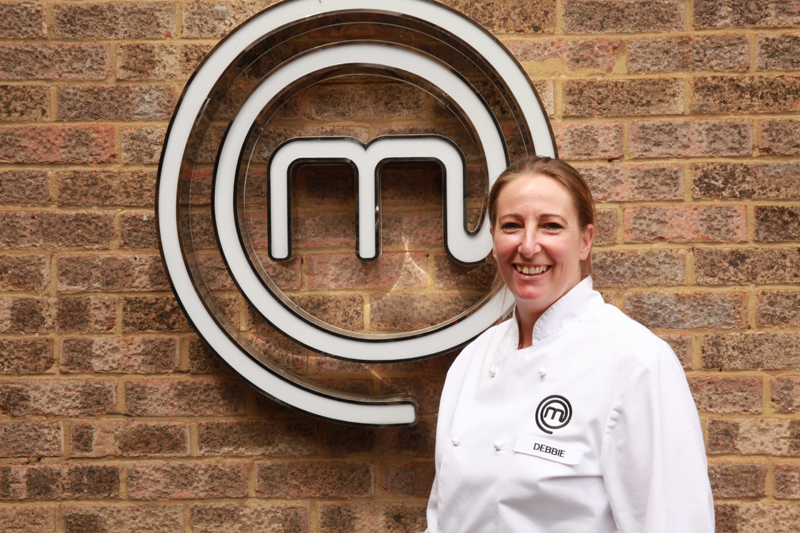 MasterChef: The Professionals contestant Debbie Thorpe spent some time working for the family plumbing business. Lucy Dixon caught up with her to find out why she swapped toilet bowls for mixing bowls.
Debbie, originally from South Africa and now based in Torpoint, Cornwall, started her career in cooking and then took some time away from the kitchen to start a family. She says, "I was a chef before I became a plumber, but when I had children it was difficult to be a mum and a chef, so I decided to become a plumber and did a course at the Leeds College of Building so I could work alongside my partner in the family business."
There weren't any trips to the cafe or the burger van between jobs for Debbie, she says packed lunches in the van were the norm, and admits they were pretty elaborate. We're imagining MasterChef style souffles and proper crockery, but Debbie says it wasn't quite that fancy, the focus was on energy. "It's a strenuous job with long hours and you need that nutritional value in your meals to keep you going. Also, you're often working outside or in cold places with no central heating, you need that fuel."
But Debbie's heart was always in cooking, and when her kids got older she decided to go back to it, with a few new skills picked up from her time in the trades, including the ability to fix things in the kitchen if necessary.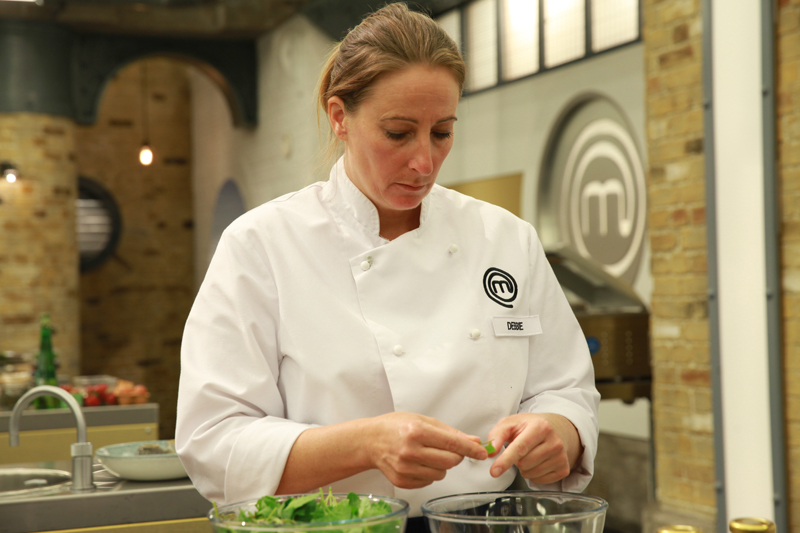 On the subject of MasterChef: The Professionals, Debbie says it was nerve-wracking but something she had wanted to do for a few years, to push herself and see what she could achieve. Fans of the show will know that the Skills Test can be formidable, with professional chefs completely floored by the combination of a tricky task and the beady eyes of the judges. But Debbie wasn't thrown by the challenge at all – her particular Skills Test was to produce a chicken schnitzel Holstein (a breaded chicken dish topped with a fried egg). "I think I was quite lucky because I knew what to do, which meant I could stay calm." Debbie smiled throughout, as did the judges, and the comments she received from Marcus Wareing, a man who is not known for pouring out praise, were ace.
Unfortunately Debbie's signature dish of hake with a clam sauce and a selection of foraged ingredients wasn't enough to get her through to the next round (in our opinion she was robbed!), but she doesn't regret going on the show and was still smiling as the final credits rolled.
Rate my plate
We had one, very important, final question to ask Debbie. And it wasn't about what judges Marcus Wareing and Monica Galetti are really like, but what does she make of the eating habits of Dr Boilers? We showed her a couple of pictures, including 'ricey burgers' and 'pasta with grated cheese'.

This is her verdict: "The first thing I can say is that he needs some vegetables and nutrition. A bowl of pasta is fine if he's taking it in the van, but in the evening I think he needs to have something more substantial, more nutritious. If he is short on time he could prepare some nutritious meals and put them in the freezer so they are easy to heat up after work."
Watch MasterChef: The Professionals, Tuesdays to Thursdays, 8pm on BBC Two