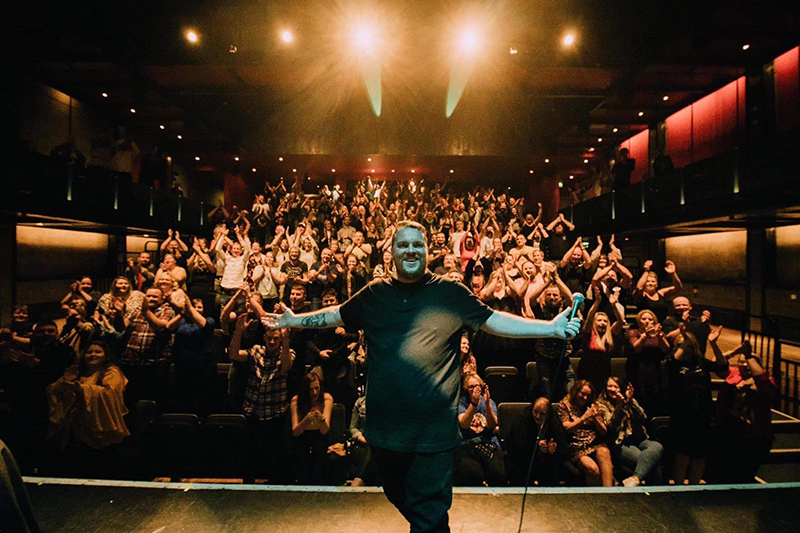 The pandemic has been a strange time. Some businesses have boomed, many have struggled and some unlucky souls have lost everything. Mark Krull, Director of LCL Awards, highlights one story in particular, where an LCL Approved training centre in Scotland helped a stand-up comedian who'd lost everything due to COVID restrictions get back on his feet.
Energy Technical Academy, in Glasgow, extended a helping hand to comedian Gary Faulds in his hour of need. At the end of 2019, Gary had hit the big-time, he'd an international comedy tour lined-up for most of 2020. He'd rented a beautiful flat, leased a car and then Coronavirus hit. Almost overnight everything disappeared as the tour was cancelled. In a frighteningly short time, Gary found himself homeless and jobless.
Tommy Smith, Director of Energy Technical Academy, heard of Gary's plight and offered him a spare place on the new entrants' gas course (Managed Learning Programme (MLP)) they were just about to start – for free. Gary, who'd previously been in the armed forces, leapt at the chance of training as a gas engineer and hasn't looked back. He's thrilled to be learning a useful skill that ensures he will always be able to find work and he enjoys the variety that the role brings.
The last laugh
Gary is very grateful for the gift that Energy Technical Academy has given him and although he plans to return to comedy at the weekends, once restrictions lift, he wants to concentrate on his new-found passion. He said: "There are lots of people like me out there whose careers have bombed – and loads that have been made redundant. I'd encourage them all to train in the trades. A couple of years ago, my dream was to own a yacht, now all I want is to buy a van and fill it with tools!"
Tommy Smith, who set up Energy Training Academy with his colleagues just two years ago, is delighted that things have turned round for Gary. The Academy has never been busier, and Tommy is keen to help others who find themselves at rock-bottom, by extending the free placement scheme.
"We've put six learners through free courses this year. Some on the MLP, some on electric vehicle and other electrical and fault-finding courses. As the scheme moves forwards, we are asking people to nominate suitable candidates, or they can apply themselves. We're planning to fund one MLP candidate starting in January; then we'll see how it goes.
"At Energy Training Academy our mission is to focus on our learners, whatever their background. LCL Awards' MLP is really comprehensive, enabling us to give candidates as much practical experience as possible. We match learners with companies who are actually looking for employees when it comes to work experience and all but one of our candidates who've been through the MLP has walked straight into a job."
www.lclawards.co.uk
www.energytechnicalacademy.co.uk