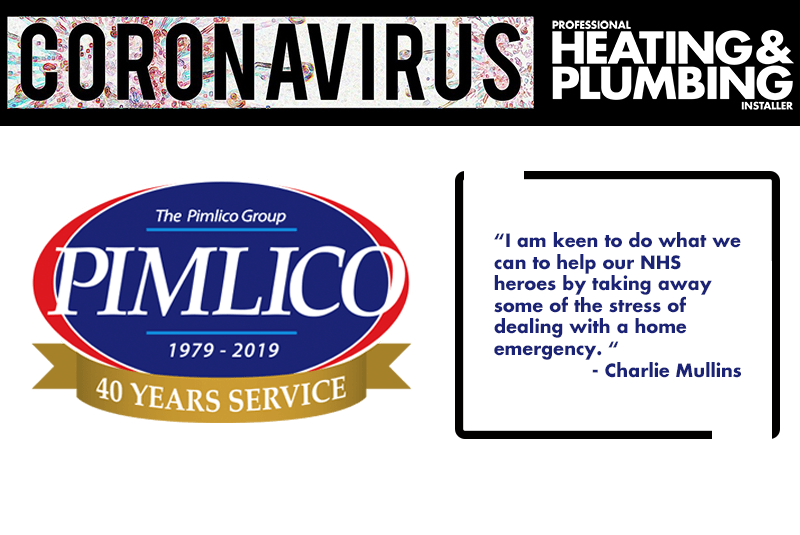 Stuart Duff speaks to the founder of Pimlico about COVID-19 and the company's determination to support NHS heroes.
You're offering free labour to NHS staff on all emergency work. What inspired you to do this?
"I am keen to do what we can to help our NHS heroes by taking away some of the stress of dealing with a home emergency. Anything we can do to alleviate the financial pressure on these heroes, the better. We have already helped a number of NHS staff since we introduced the free service, who have been extremely grateful for all the support they are receiving from the public and businesses. Our 24/7 emergency service has been really well received as it fits in with their irregular working hours.
"I am also immensely proud of our emergency response team who are ensuring we can respond to call outs from NHS staff at any time of the day or night as quickly as possible. It is heartening to see how businesses and individuals are coming together to help each other and in particular those at the front line of defeating the virus."
You've also been a big supporter of a wage increase for NHS workers. Do you think we need to reassess the value we place on our frontline medical professionals?
"I wholeheartedly believe we need to go further and reward the NHS workers financially for what they are sacrificing and putting themselves, and their families, through. There should immediately be a wage increase put in place and this should be at least DOUBLE their pay. Not only that, but it also needs to be backdated so they don't lose out on what they have already endured. Their NHS pay needs to reflect what they do and when this is all over their wages need to be level to what they deliver day and night for us the general public!"
Tradespeople have a key role to play in keeping essential services up and running. What steps have you taken to protect Pimlico's staff?
"We have taken several steps within Head Office to keep our workforce safe. They are all practising social distancing and we have reorganised our call centre to reflect that. There is hand sanitiser distributed throughout the business. We have also laid on free parking so they can avoid using public transport. They also get free food and a weekly bonus of up to £140 because we appreciate everything they do.
"The call centre screen all calls to establish whether the customers is elderly or vulnerable and if they have either been self-isolating or had symptoms. This protects both the engineers going out to the jobs and the customers themselves.
"Our engineers are fully equipped in the safest way to carry our essential works. They have foot covers, face masks, gloves, hand sanitiser, and their vans also all have a washbasin so they can wash their hand before and after every job."
Do you believe it's vital for merchants to stay open and keep the supply chain moving?
"It's imperative that the supply chain keeps moving in order to keep the country going. Pimlico Merchants has a huge stock of supplies and plumbing & heating spares for the trade. As long as we are operating safely, there's no reason not to serve emergencies – and with over 3,000 sq ft of supplies, we're ready for all emergencies! Pimlico Merchants are also offering a free delivery service for any NHS staff job. Their specialist staff are all on hand to give advice on trade deals across heating and plumbing."