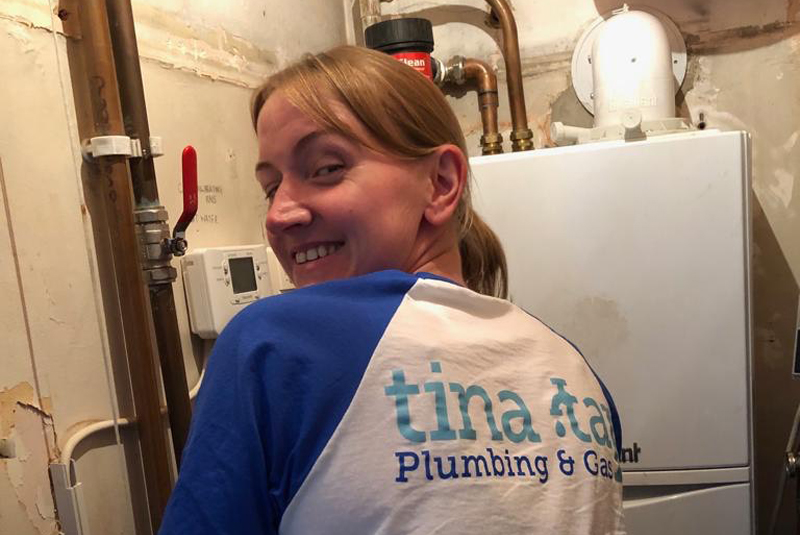 PHPI goes on the road with Christina Birch, of Tina Tap Plumbing and Gas, to find out more about her role as a motor racing marshal, love of Watford FC and recent charity tower climb.
Name: Christina Birch
Company name: Tina Tap Plumbing and Gas
Q: Tell us a little about yourself and your background in the industry?
I mainly held admin jobs previously, but one January I decided I was bored of doing a job that didn't inspire me. I've always been interested in how things work and how to fix things and I found a 'train around your current commitments' plumbing course. It started with the very basics and took me all the way to going out to do my gas portfolio. It wasn't a cheap way to do it by any means, but I'm glad I did it. Having passed my ACS I didn't feel that I had all the experience I needed to go it alone, so I worked with a few local engineers (for free) until I felt confident in my own abilities.
I did some subcontracting which mainly involved landlord gas safety checks, I then ran a franchise for a while, which is how I met Paula. We realised we could run our own business and set up the partnership.
Q: What are the main services your business offers?
We offer all aspects of domestic plumbing, heating and gas work. In the main we carry out service and repair work: boilers, taps, wastes… whatever is required! Recently we seem to have been fixing or replacing a lot of recessed showers, which I must admit is not my favourite thing to work on due to the lack of access.
Q: Do you have any advice for fellow installers and apprentices looking to be successful in the industry?
Keep at it. There will be days when everything goes wrong and you wonder why you even went into plumbing. The thing to remember is that everyone has those days, even the most experienced plumber or installer. A friend of mine once said: "There is no such thing as bad days – just good days and learning days." I keep that in mind when things aren't going quite to plan!
Q: What's the strangest thing that's ever happened to you on a job?
Nothing really that strange has ever happened on a job. The only thing I can think of is when I was doing a gas safety certification. The tenant was out so I had the keys. It was all going well until I had the fright of my life – I glanced round and saw a human head on a shelf! Once I did the double take I realised it must be some kind of hairdressing practice head or something, but I was scared for a second.
Q: So we understand you volunteer as a motor racing marshal… How did you get into that?
I'm a volunteer race marshal at Brands Hatch. Basically you have a team of volunteers at strategic points around the track (mainly corners) and when the drivers run out of talent and come off the track we run on and assist. There's a great sense of camaraderie and the social side of it is great. I've made loads of friends and you'll find most marshals in the bar at the end of the day regaling tales of the day's excitement. You get to see the racing up close and you are also free to have a look around the pits in the morning before you go out on post. I've seen all sorts of race cars up close including BTCC touring cars.
I've also learned a lot, from fire extinguishers to first aid, it's all good to know. I got into it by doing a taster day at Brands through the BMMC (British Motorsport Marshal Club), everyone is welcome so if you're interested have a look at the website and give it a go. Motor racing is in my blood, my late father used to race a Ford Anglia before us kids came along. I only ever knew that car sat on a trailer in the garage; the engine was in the shed!
Q: Tell us a little more about why you participated in a charity tower climb?
The idea behind the charity tower climb was to raise awareness of mental health issues within the construction industry. The stats for male suicide are shocking and this only gets worse when you look at tradesmen. Having suffered from anxiety and depression virtually my whole life, I know how debilitating it is. I want people to know that there is help out there and however bad it seems there is a way through it. Often when you begin to feel suicidal you believe that the people around you, such as your loved ones, would be better off without you – this couldn't be further from the truth.
We raised £305 (£350 including gift aid) which will be split between Mates in Mind and The Rainy Day Trust.
Climbing the 875 steps of the Broadgate Tower in London was hard work, but I kept in mind the reason why we did it. It was an enjoyable day and we met some new friends at the top (firemen) who let me try on their gear. I don't know how those guys do it but I take my hat off to them.
I've caught the tower run bug and my next one is going to be the Gherkin in London in October for the NSPCC. I will do the Broadgate Tower run next year, but this time I'm going to do the quarter vertical mile which is three climbs up the 875 stairs.
Q: We've noticed you're a Watford FC season ticket holder, who's your favourite all time player and why? Thoughts on the FA Cup run last season?
It's got to be Luther Blisset, the guy is a legend and he's still involved with the club now. I went to the FA Cup final on an open top bus which left from Vicarage Road Stadium, Luther came along beforehand to see the fans and he's just the nicest person.
The cup run was amazing, especially the semi-final, to come back from 2-0 down with 10 mins to go was more than I could have imagined. Then the final, despite the result, it really showed what a dedicated, family club Watford really is and I'm proud of that and the work the club does in the community. All of which was started by the late, great Graham Taylor.