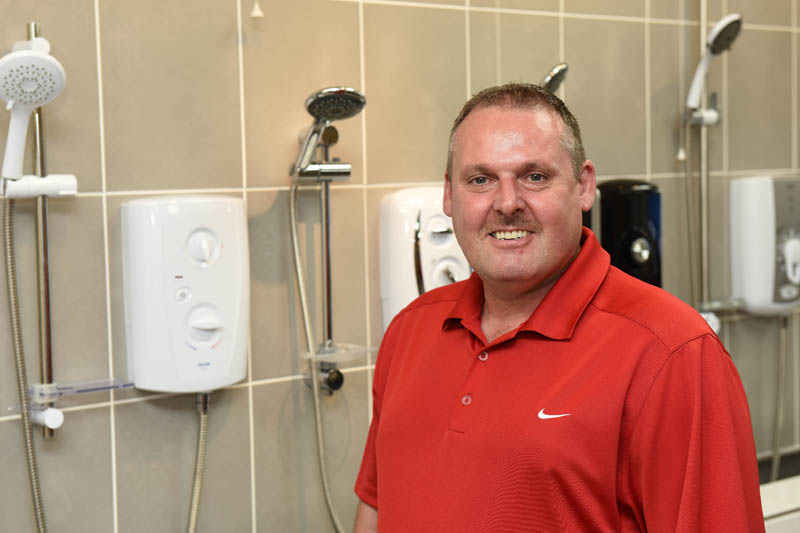 Robert Johns, owner of Robert Johns Plumbing & Heating Services, has 32 years' experience in the plumbing and heating industry, setting up his own business in 2001. Having recently attended a training event at Triton Showers, here Robert shares his thoughts on digital showers and their impact on his day-to-day job.
Q: Do you find that homeowners know what shower they want when they call you, or do they require advice to make the right decision?
Customers depend on me to offer guidance on what type of shower they should have, from finding a model that is appropriate for the plumbing system, to advising on which solution would be more visually appealing and straightforward to operate.
Every customer is different so I recommend a shower depending on the information I can obtain from them regarding how many people live in the property, alongside their hot water demands. Most of the time though, the final decision comes down to cost and the need for a simple look with controls which are easy to use on a daily basis.
Q: Which types of projects do you think the digital shower is most appropriate for?
The possibilities for digital showers are endless, from new-build to replacement and refurbishment.For developers looking to add value to the properties they are building, incorporating a smart shower in a bathroom can certainly offer a luxury feel.
It's in older properties requiring refurbishment where I feel these showers work best though. They can instantly modernise a bathroom and I find that housing the mixer is simple by placing it in the airing cupboard or under the bath.
Q: Do you think people are aware of digital showers and the systems with which they can be used, or do you have to suggest them as an option?
While awareness of digital showering amongst homeowners is growing, I think it's still important for me to outline the concept to my customers and demonstrate in what scenarios these types of showers can be used. Usually, the final choice is dictated by the plumbing system they have in their home so it's a real positive that I can suggest digital showers as an option for properties with either a combi, gravity fed or mains unvented cylinder systems.
Consumers are becoming more tech-savvy, and it will only be a matter of time before demand for digital solutions in the bathroom becomes more commonplace. This also means that I can propose a high-tech option for more exclusive properties, particularly those that already have door entry and home automation systems in place. What will always be key though, is ensuring these intuitive showering solutions are effortless for the end-user to control.
Q: What are the biggest factors holding back digital shower sales and how do you think installers can overcome them?
Many customers assume that smart showers are expensive to purchase and complicated to use which simply isn't true. As plumbers, it is up to us to be able to make clear the benefits of these products and their controls, showing the homeowner that they are affordable as well as simple enough to use. Ultimately, the fact that they look great and function well means that they aren't a hard sell – it's more a case for plumbers to learn as much as they can about them and having the confidence to upsell.
Q: How easy do you find digital showers to install?
Very simple to work with, especially when I can use push-fit fittings – I simply secure the box and pipe into it. Where I do spend a little time – with all installations in fact – is in showing the customer how to operate the shower after it has been commissioned. This includes talking through what they would like the maximum set temperature to be, how long to run the shower for, highlighting any customisable settings and using the additional controller.
Like any professional installer, I want to be able to leave the job knowing that I have chosen the most suitable product for the homeowner and that they are comfortable using the controls from day one, without assistance. The more confident I am in carrying out a demonstration, the more unlikely it is for me to be called back to a job to adjust temperature and flow settings for the end-user.