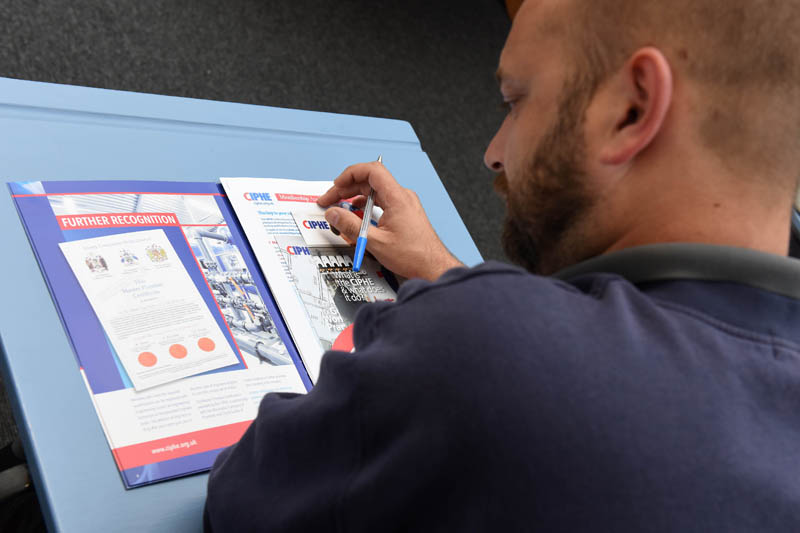 As an educational charity, one of the primary goals of the CIPHE is to safeguard the general public and most vulnerable in our society. As Jerry Whiteley outlines, this makes events such as Gas Safety Week hugely important, and the awareness that it raises absolutely invaluable.
Over the past five years, the CIPHE has delivered its own 'Proud to be a Professional' campaign, seeking to raise standards across the plumbing and heating industry. At the same time, the domestic gas utilisation and appliance manufacturing sector has done incredible work in raising safety standards, highlighted by the small number of incidents that can be attributed to registered gas engineers.
Work in progress
This combination of efforts to promote safety suggests that we are moving in the right direction, however there remain instances of poor workmanship that show that progress still needs to be made. The HSE has highlighted cases in which underqualified 'installers' have been successfully prosecuted for breaches of gas regulations.
The sheer amount of examples of dangerous installations provides evidence of the ongoing problem of gas safety. Furthermore, there continues to be instances of registered gas installers signing off the work of others, which is both inexplicable and inexcusable.
Despite the best efforts of a number of different individuals and institutions within the industry, there are clearly examples of substandard work slipping through the net. The key question for everyone involved in the industry is what can we do to combat this?
Ongoing learning
Given the range of gas work that engineers will be exposed to, continuous engagement with further training is vital to ensure safety standards are maintained. It is important to be aware that this is not limited to those entering the profession for the first time, but also for those who have decades of experience.
The nature of plumbing and heating is such that technology and legislation is continuously developing, which means that installers have to do likewise. One of the most common issues that prevents further training for engineers is cost. This doesn't just apply to the actual fees for the course, but also the loss of earnings in time taken away from work.
While this is understandably a significant stumbling block, installers need to look at ongoing learning and re-assessment as an investment. By putting in time and money, they can ensure they remain up-to-date on everything they need to know in relation to gas, safety, and professional standards.
CPD
Ongoing learning is something that the CIPHE is passionate about, and Continuing Professional Development (CPD) is a massive part of this.
There are a number of ways to achieve CPD. At the CIPHE, we promote the fact that CPD can come in many forms, including attending training courses, seminars and exhibitions, through to reading professional publications and mentoring employees and apprentices.
CPD should be seen as an opportunity to improve professional standards, and the Institute recommends that its members should attain 30 CPD hours per year. It forms part of an ongoing effort to improve the industry and continue to safeguard the public. The opportunity to raise awareness of the importance of gas safety should be welcomed across the sector.
Licence to practice
Licence to practice is another way in which professionalism can be improved. The CIPHE has spoken passionately about this on a regular basis, and the benefits it would bring become particularly apparent during Gas Safety Week.
When it comes to working with water in domestic properties, anyone can currently establish a plumbing business, regardless of relevant qualifications. This can give the industry a bad reputation, but more importantly, it threatens public safety. The reduction in incidences of death and injury related to carbon monoxide, since the introduction of the statutory registration scheme for gas installers in the United Kingdom in 1991, highlights the effectiveness of licensing work on systems that impact on public safety and health.
A licence to practice signifies to customers that they are employing a professional – someone who is capable of carrying out the job to a high standard. The CIPHE offers a non-mandatory way for qualified engineers the chance to show this commitment to professionalism, by ensuring that its members abide by a Code of Professional Standards.
Final thoughts
The importance of continuous learning cannot be overstated, especially when it comes to gas safety. The financial considerations associated with undertaking further training can often put people off, but installers should use it to gain experience, and view it as a way of potentially improving their income further down the line.
By engaging with CPD, and supporting the CIPHE in its mission to implement a licence to practice, engineers can raise standards across the industry, and continue to safeguard the most vulnerable in our society.
To read our archive of CIPHE articles, click here