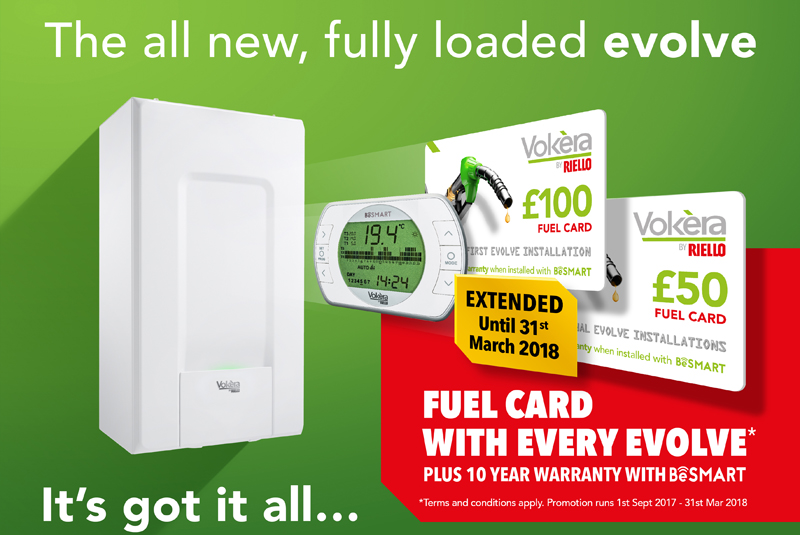 Due to high levels of interest, Vokèra has extended its evolve promotion until 31st March 2018. The promotion celebrates the launch of evolve, a full range of high performing combi and system boilers, and rewards Vokèra Affinity members for installing and registering evolve boilers.
When installing the evolve range, Vokèra Affinity members will receive a fuel card worth £100 upon completion of their first installation registered via the Vokèra Affinity loyalty and reward programme. A £50 fuel card will then be issued for each subsequent installation registered via Affinity.
Alongside the fuel cards, installers are also able to offer an extended warranty on the evolve, taking it from a standard seven year warranty to 10 years, when installed with a BeSMART internet-connected thermostat and both the evolve and BeSMART registered on Vokèra Affinity.
The state-of-the-art evolve from Vokèra combines extensive knowledge of boiler design, performance and servicing to deliver a superior, cutting-edge boiler range. With both combi and system boilers, evolve suits a wide variety of domestic applications. The whole range boasts an A rating and all models feature a space heating efficiency of 94% under the Energy-related Products (ErP) Directive.
With the addition to the system of Vokèra's BeSMART internet-connected thermostat, with weather compensation enabled, the evolve range offers the potential to become an A+ heating package under ErP.
Affinity focuses on giving unparalleled support and rewards to installers and has grown to become one of the heating industry's most enduring loyalty programmes, says the manufacturer. It has also recently benefitted from further improvements and developments to make the platform even better.
By signing-up for the scheme, installers can register a Vokèra boiler for warranty and register for their Affinity points. Affinity also provides installers with additional benefits such as marketing support, information on products, spare parts, stockists, literature and technical support on the move. Any installers who are not currently members of the Affinity programme can gain 70 bonus points when signing up, available throughout the duration of the evolve promotion.
For more information on the range as well as news and updates, visit or follow Vokèra on: Facebook  | Twitter  | LinkedIn.