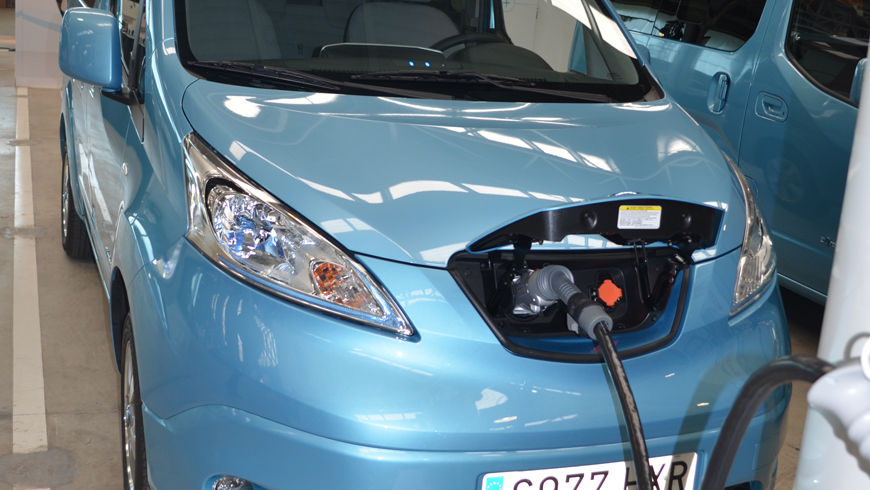 The new Nissan electric van is on the charge in the cause of cutting your transport costs. Lee Jones was green with NV at the international launch.
Imagine never having to worry about the cost of diesel again, wincing as you see those pennies and pounds whirl upwards like a fruit machine, or even being blissfully unaware of its price at the pumps at all. By breaking our addiction to the internal combustion engine, that prospect could become a reality. There was a time when any electric vehicle would be the preserve of those with a rather zealous attitude to their carbon footprint but with vehicles like the new Nissan e-NV200 it should be the practicality that appeals rather than the fate of the polar ice cap.
Firstly, take into account that the manufacturer estimates that its Lithium-ion battery powered LCV is up to four times cheaper to run than a comparable diesel vehicle. Additionally, with no engine oil, belts, gearbox or clutch there are fewer parts at risk of failure – and the only thing you'll ever have to top up is windscreen washer. Then consider a completely smooth, gear-change-free drivetrain. Throw in a noise and vibration free driving experience and making the turn towards that electric avenue looks like easy street.
Crucially for tradesmen there's no compromise on payload. Previous generations of this technology were hamstrung by the weight of the battery pack, which limited the carrying capacity in the business end but, rather than being a conversion of a conventionally powered vehicle, the e-NV200 has been designed specifically as an electric van from the wheels up.
The result is a cargo area which is identical to the NV200 diesel, with access to 4.2m3 of load bay volume via the option of sliding side doors on both sides, standard wide opening rear doors or a tailgate. The payload capacity is actually even greater than its diesel cousin with up to 770kg possible. A further advantage is that the impact of a fully laden van on energy consumption is lower on electric vans than it is with conventional power, with a reduction in the driving range of only 3% per 100kg.
This leads us on neatly to what has previously left some to ponder if they could connect with the rising current of electric vehicles – the range. How many miles do you think you actually get through in a day? Nissan has the answer, and it estimates that 35% of compact vans across Europe never travel more than 120km, or 74 miles, a day in the life of the van. The e-NV200 has a range of around 106 miles, which means that, in theory, all of these vehicles could be replaced with an electric alternative.
Of course, care should be taken in selecting the van that's right for your business because those odd journeys that are greater than the vehicle's scope could be critical, and extended test drives will be available for prospective buyers to prove it's an acceptable fit. Having said that, Nissan has already targeted plumbers as a key target market and a simple assessment of your typical daily journeys could lead you to conclude that it will more than adequately make the distance.
Similarly, the idea of recharging shouldn't come as a complete culture shock. We have become accustomed to charging our mobile phone ready for the working day so why not our wheels? From a point discreetly concealed beneath the badge on the bonnet, the e-NV200 battery can be recharged overnight in 8 hours using a domestic 16-amp single-phase 3.3 kW charger. This will reduce to just four hours, however, if the optional 6.6kW/32-amp charger is fitted and a dedicated charging point is installed – a move which is recommended if you're to get the most from the vehicle. Alternatively, a CHAdeMO DC 50 kW quick charger can recharge the battery to 80% capacity in as little as 30 minutes, or less if the battery still holds some charge.
All practicality aside, there will be those who will want to project a sustainable image for their company – particularly if you're involved in installing renewables, for instance. Equally, you might actually care about the fate of the planet. Pollution in our cities has taken on even greater significance in recent years but there is change in the air. London's Congestion Charge zone is unlikely to be the end of legislative measures to improve the air we breathe with an Ultra-Low Emission Zone already planned for the capital for 2020.
The conundrum from vehicle producers is that Diesel engines are inherently dirty – producing harmful Nitrogen Oxides when they burn fuel. Particulate filters and selective catalytic reduction systems, like AdBlue, have reduced the impact, but in terms of genuine environmental credentials there's only one green giant, and that's zero emissions technology.
The stats
40% lower servicing costs and up to four times cheaper to fuel than diesel vehicles
Vibration-free, emission-free, noise-free drivetrain
Load volume – 4.2m3
Payload – up to 770kg
Driving range – approx 106 miles (76mph maximum speed)