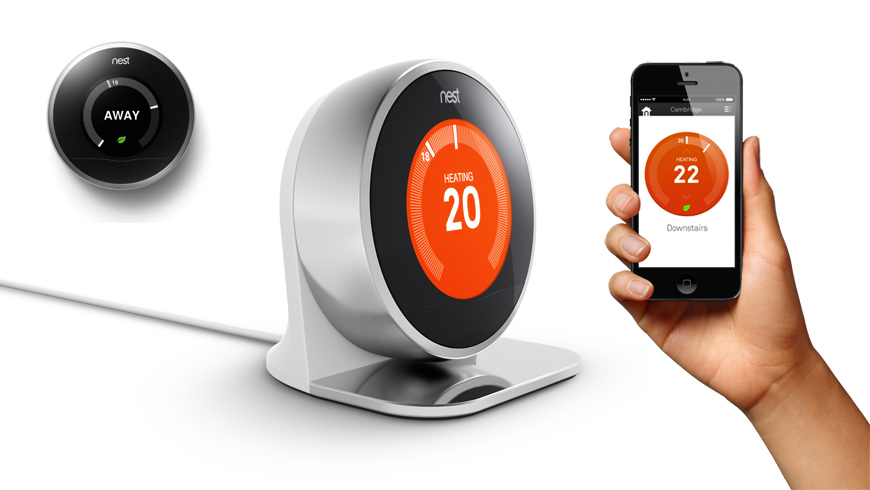 Stuart Hamilton talks to Lionel Paillet, General Manager, Europe at Nest Labs, about the emergence of a new brand in the marketplace.
Nest is a new name to the sector, what's the background behind the company's arrival in the UK?
Two former Apple employees, Tony Fadell and Matt Rogers, founded us in 2010 with a mission to reinvent unloved but important home products. We focus on delighting customers with simple, beautiful and thoughtful hardware, software and services.
Nest Protect: Smoke + Carbon Monoxide helps keep people safe and has been available in the UK since October 2013. The Nest Learning Thermostat for the UK addresses home energy consumption and comfort and was launched in April of this year.
How does the Nest Thermostat work?
Ordinary programmable thermostats have to be told what to do. The Nest Thermostat learns from the user – based on behaviour and preferences – and programs itself so you can stay comfortable at home and save energy when you're away.
You simply use it like a manual thermostat for about a week; turning it up when you wake up and down when you leave home. Nest then creates a personalised schedule that is refined over time. Its built-in sensors also know when you're out of the house and power down your heating to save even more energy.
We also have the Nest Leaf, which tracks the temperatures you typically set and guides you to more energy efficient ones. A monthly report also allows you to make better decisions about how and why your usage changes.
Connect to your home's Wi-Fi to change the temperature, adjust your schedule and check the weather from your laptop, mobile or tablet.
How long does it take for the thermostat to learn user behaviour?
It starts learning as soon as you install it. After one week, you'll start seeing a difference. One of the great things about it is that the more time that goes by, the more it learns, so it is always adapting to suit you.
Learning isn't just about temperature. It's also about the Leaf (when you're conserving), time to temperature (how long it takes to heat the home) and your habits. 
Are there any system configurations that aren't suited to the thermostat?
The Nest Thermostat works with the majority of UK heating systems, especially boiler systems. It is compatible with most central heating systems, including: combi and condensing boilers, system and heat-only boilers, hydronic underfloor systems, zoned systems, high-voltage (switched live) systems and volt-free (dry contacts) systems.
Do you have any plans for a unit that offers hot water as well as space heating control?
The Nest Thermostat is focused on tackling the biggest contributor to the energy bill for consumers, which is space heating. According to a study by OFGEM, heating makes up over 60% of the £1,342 average energy bill for UK consumers, so reducing this is key for UK customers. 
Nest Protect combines smoke and carbon monoxide alarms in one unit, which isn't that common in the UK. Does it offer the same level of protection as having separate alarms?
The reliability of a smoke and carbon monoxide alarm is critical to safety and we take this seriously. Nest Protect has been tested to comply with standards in the UK and Europe set out by both BSI and European Regulations
In addition, the Nest Protect does much more than sound a shrill alarm when there's danger. It speaks to you, giving you a friendly heads-up, telling you where and what the problem is. It also connects to your mobile devices and messages you if the batteries run low, avoiding low-battery chirps. We've also introduced a pathlight that glows at night to light your way.
Can the thermostat and smoke/CO alarms communicate with each other?
The Nest Thermostat and Nest Protect Smoke + Carbon Monoxide alarm communicate work together in two key ways. Firstly, Nest Protect helps improve the Auto-Away features of your Nest Thermostat. If you have Nest Protect it will detect your presence just like your Nest Thermostat would if it were in the room. This way, Nest knows when you're home or away and adjusts accordingly.
Another way the two products interact is that the Nest Thermostat can shut off fossil fuel based heating if Nest Protect detects a carbon monoxide alarm. Broken or leaky heating systems are a common source of carbon monoxide. Turning it off during a carbon monoxide emergency could stop the situation from getting worse.
But that is just the beginning. We have also launched the Nest Developer Program that opens up new possibilities for Nest products and partnerships. Iconic brands like Mercedes and Whirlpool, as well as new industry leaders like Jawbone and LIFX have already built meaningful Nest integrations – these are available now.