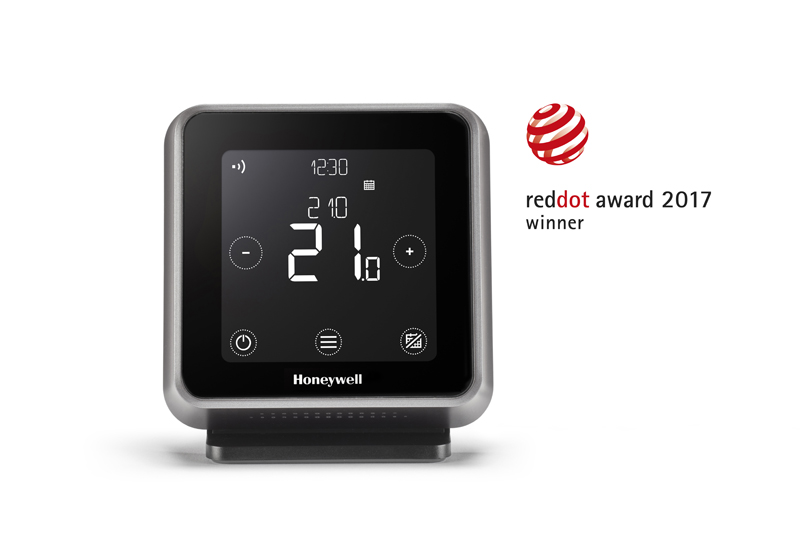 Honeywell has announced that its new T Series portfolio of connected, programmable thermostats has won a prestigious 2017 Red Dot Design Award for superior product design.
With thousands of product entries submitted from across the globe, the competition's international jury of around 40 independent designers, design professors, and specialist journalists, tested, discussed and assessed each product, before naming Honeywell the winner for the intuitive design, ease of use and functionality of its T Series range of connected thermostats.
The T Series line of domestic heating controls includes connected models – most notably the recently launched Lyric T6 range of programmable thermostats in the UK – for every type of customer and application, according to the manufacturer.
Andy Mansfield, Marketing Communications Manager at Honeywell, commented: "The Red Dot Award for Product Design is the internationally sought-after seal of quality and approval. This award proves the dedication we have to innovation and consistently producing high quality, energy-efficient products for today's installer and homeowner, which are powered by sophisticated technology while remaining easy to use and install.
"The Lyric T6 range was launched to provide a model for every type of customer and application to bring comfort and energy efficiency to their home. In an industry as demanding and evolving as the heating controls market, we are incredibly proud of this achievement."
For more information on the T Series and other ranges of Honeywell heating controls, visit: www.honeywelluk.com