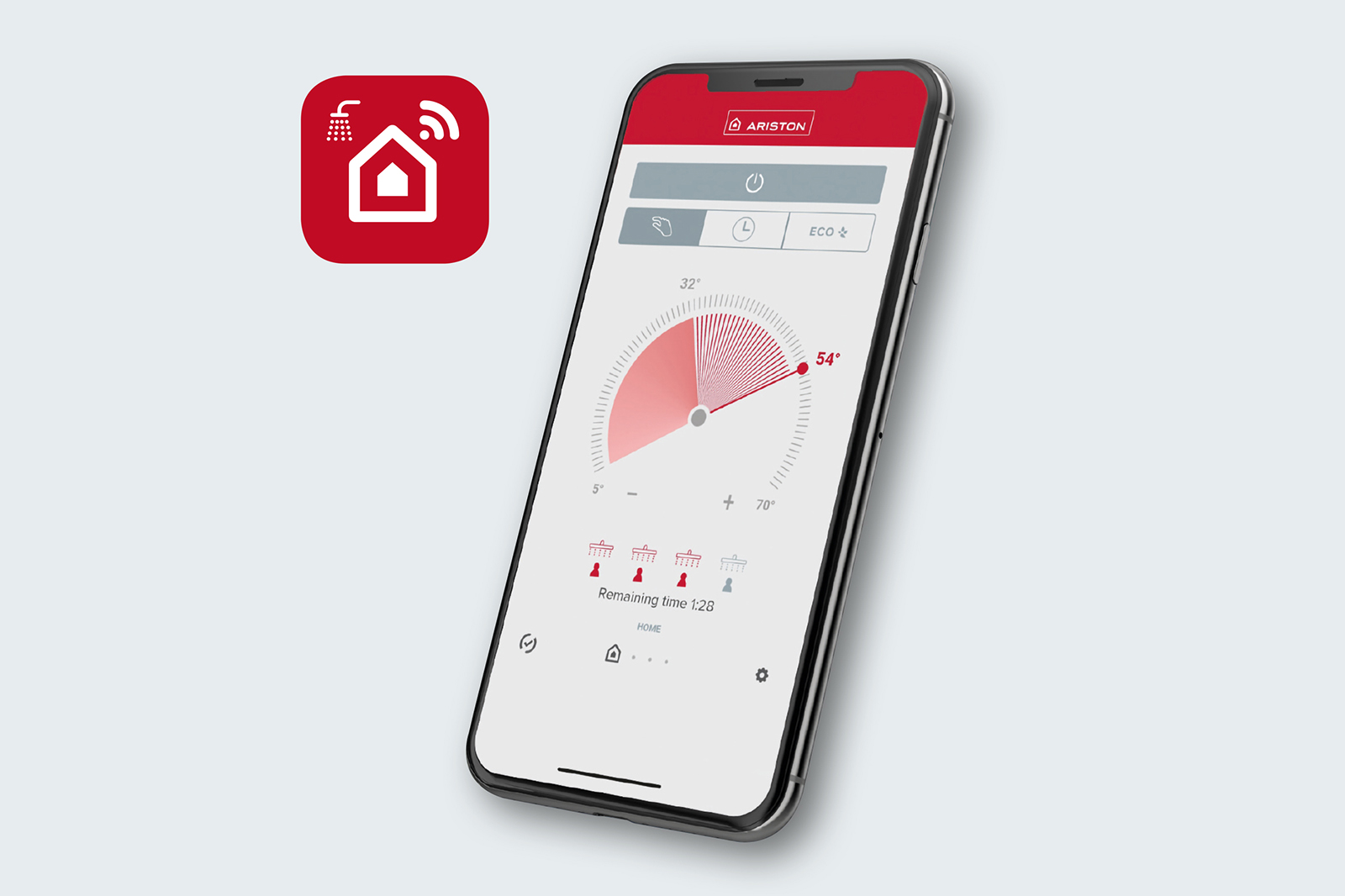 Installers looking to offer their customers the latest in electric water heating technology should look no further than Aqua Ariston Net, according to the company.
Compatible with Ariston's Velis Evo Wi-Fi range of electric storage water heaters, the Aqua Ariston Net app allows end users to set and manage the water temperature – as well as monitor hot water usage – all from the palm of their hand.
The app enables users to shuffle through modes and turn the unit on remotely for a hot shower at the perfect time – while offering energy savings of up to 25% using daily and weekly programming*.
The Aqua Ariston Net app can also provide homeowners with a real-time notification when a shower is ready, as well as offer a range of energy-saving tips to help reduce emissions and lower energy bills. Other functions include the capacity to programme a weekly shower schedule for an entire family, plus easily switch between operational modes – including Ariston's 'Eco Evo' function, which learns and remembers how much hot water is used every day of the week; this ensures hot water is always available when required.
In addition, the app features diagnostic tools which, in the rare event of a fault occurring, will send a notification to the user's phone displaying the error code to help identify the issue. This can help facilitate technical assistance, either remotely or by providing a technician with the diagnosis in advance – ensuring a problem can be rectified first time, avoiding the need for multiple call-outs.
Commenting on the app, Victoria Gutierrez, Head of Marketing at Ariston, said: "Aqua Ariston Net offers so many advantages. Whereas water heaters could only previously be set manually, our state-of-the-art app with smartphone compatibility allows many adjustments to be made remotely. End users don't even have to be at home – they can even ask their Amazon Alexa or Google Home voice assistant to adjust any relevant settings for them!"
Connecting the app to the Velis Wi-Fi is simple once it has been downloaded from the App Store or Google Play. From there, users simply need to connect to their Wi-Fi network and then create an account before signing in to the app to begin monitoring or setting times for hot water usage.
* Average daily savings calculated compared to an Ariston mechanical product.