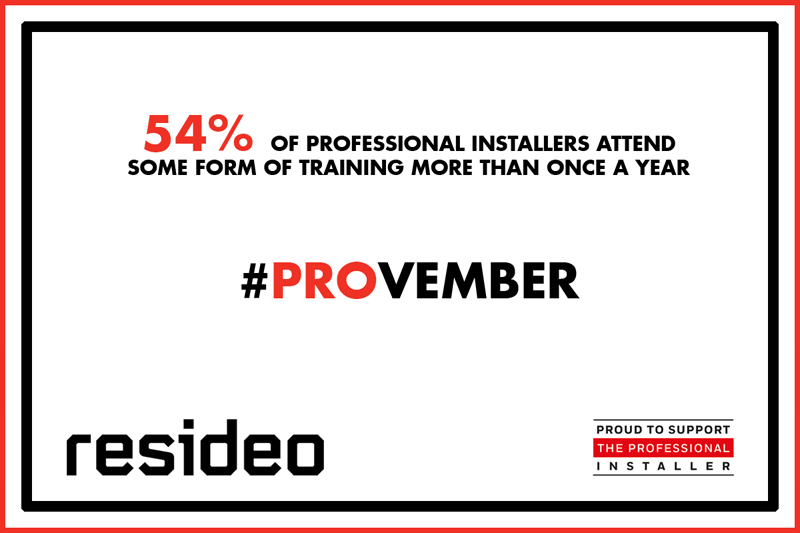 Andy Mansfield, Marketing Communications Manager at Resideo, explains what #PROvember is all about.
We truly believe that as heating controls are at the heart of one of the home's most complex systems, they need to be specified and installed by a qualified tradesperson. It's just one of the reasons why we are launching PROvember – a month dedicated to celebrating the professional installer.
According to research* we carried out amongst installers earlier this year, a third (33%) of tradespeople who regularly install heating controls trained for longer than it takes to complete the average university degree (3+ years); more than half (55%) are investing in training at least once a year; and 90% choose the products they fit carefully as they believe this can impact their reputation.
So, we know that the industry has loads to be proud of, but there are also challenges. Professional installers who take pride in their abilities have to work hard to separate themselves from the minority of rogue operators who seem to dominate the media headlines. More than 90% of trades wish that the industry could do more to protect them against these individuals.
The installer's view
On being a professional installer, Ryan Mills of G.D. Mills Plumbing and Heating says: "It's about getting the qualifications, but once the job is complete it is also about the aftercare. Going back to service or look after the boiler. Some do the job, take off and you never hear from them again. Then something goes wrong six months later and they can't be found. Then we find we get called in having lost the original job because of being too expensive, but we are dearer because of the time and money spent getting the qualifications."
What's happening this month?
Throughout PROvember, we'll be championing the best our industry has to offer with loads of content that will elevate professional installers, help them to grow their businesses and make sure their hard work gets recognised. It all kicked off with a #TradesTalk takeover on Tuesday 5th November, where we asked the community what it means to be a professional installer? Featuring some familiar faces, the discussion explored issues affecting installers today, such as training and skills, gas safety, marketing, DIY culture and legislation.
We will also be uploading all the content we produce to a dedicated page at www.proudtosupport.co.uk so installers can access resources any time they need them. From here you can also download an asset pack with logos to use on your marketing materials to tell customers that you're proud to be a professional installer.
We support professional installers by supplying the products and the backup that they need to do their jobs swiftly and with confidence, knowing that the system they fit will perform as designed.
That's why we're constantly honing our training courses to ensure that they can be tailored to installers' needs. They're designed to cover an increasingly wide variety of topics – from sharpening up on the basics, through to more specialist subjects designed for experienced and established installers looking to widen their remit. For busy installers, our online product courses can be completed from any location, at any time and at any pace.
Get involved with PROvember by following @phpi and @TradesTalk on Twitter, searching #PROvember or visiting www.proudtosupport.co.uk
*The Resideo survey of over 150 tradespeople people across Britain was carried out in September 2019, and specifically targeted those who have installed thermostats or heating controls as part of their daily job