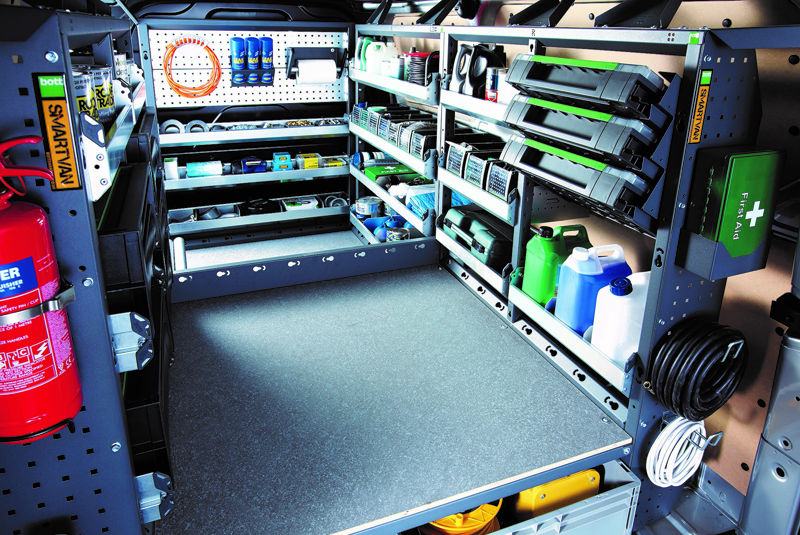 Ben Rotheray, Head of Marketing and Development at Bott Smartvan, explains why an organised van equals an organised business.
It goes without saying that installers take pride in their work as a professional. You know your cowls from your crow's feet, your apron from your arrow head and your baffle from your back wash. Keeping an organised van, however, may not be something you're so consistent with. This is despite the fact that keeping your mobile office neat and tidy can improve your efficiency on site, as well as show professionalism to potential customers.
Everyone's been there – wasting valuable time hunting for that tube of mastic or solder lead reel you know you bought, only to give up and make a trip to the trade counter in the middle of a job.
For this reason, we're confident that Bott Smartvan will pay for itself. And, to make an informed decision about investing in a professional van racking solution, we've designed a new calculator tool to see just how much you could save. Users simply input information such as how long they think they spend searching for lost items – the results can be quite eye opening for some!
No more guesswork
Using our experience of van racking and the kit, parts and tools you need to carry, we have created our pre-designed van racking packages, specific for plumbers and installers. This is designed to take the guesswork out of what will be the most suitable set up for your business.
Once users have selected which model of van they use, there are both standard and premium solutions on offer with differing price points. Key components include universal power tool holders, removable boxes for stock of small parts and trough shelving with dividers to create the size of space you need. Meanwhile, the premium offerings include in shelf mats and non-slip flooring, to protect products from sliding around in transit.
Full systems start from as little as £890 (including VAT) and standard delivery times are between three to five working days with full fitting instructions included.
1 Go to bottsmartvan.co.uk and click on 'Design your racking'
2 Select your van make and model from the options
3 Click on 'Plumber' and select your Premium or Standard van racking solution, customised for your van and your job
4 Check out online and earn up to 20% off
Our website also includes testimonials from installers, as well as a library of videos and fitting instructions.
The installer's view
Wayne Wiseman, from The Boiler Blokes, invested in Smartvan Racking in early 2019. He says: "From me placing my order to final delivery everything was seamless…. Bott Smartvan have a great team, something to be proud of!
"I have deliberately waited six months before writing this to see if the racking was actually any good before commenting on it. I'm glad to say, it is just as good as their customer service… It is built with quality and longevity in mind, something often overlooked."
Find out more about Bott Smartvan van racking, shelving and storage systems here
Check out these links too: www.bottsmartvan.co.uk/van-racking/help-support-installation
www.bottsmartvan.co.uk/timesavingcalculator