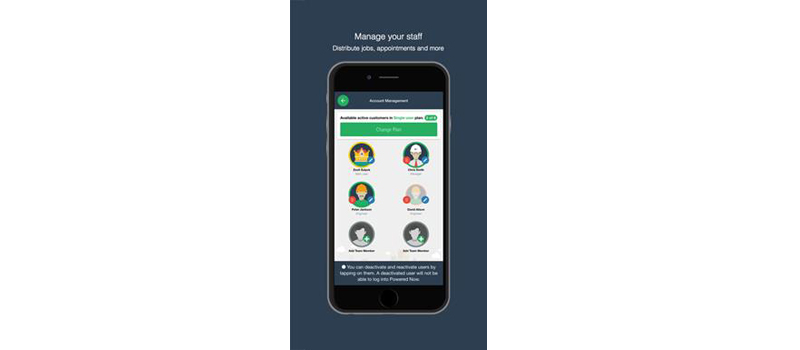 Powered Now, the company making life easier for tradesmen and small trade companies, has announced a major new release of its app for simplifying paperwork and enabling growth for electricians, builders, plumbers and other trades.
Version 3 of the software adds support for Android and a multi-user capability that lets whole teams share information. It also adds a raft of new functionality designed to automate even more of the routine administration that every trade business is forced to undertake.
New functionality
The software can now work for a team or a sole trader with its multi-user mode across all features.
Multi-user automatically shares information across all team members. Team members can be given different roles allowing them to access different parts of the software so, for instance, engineers cannot see all financial details.
This new feature is a hit with Chris Astley of Astley Access Automation Ltd, who says, "Multi-user is a great new feature for an already great product. Managing the team, appointments and paperwork has never been easier."
Powered Now is now available on Android, meaning that while the manager can control things using an iPad, engineers might be equipped with lower cost Android smartphones which can be easily replaced if broken. Obviously, since all data is shared across all devices, the loss of a device does not lead to loss of data.
Other features include the ability to record hours spent on appointments, the facility for engineers to snap before and after pictures of jobs and record general notes, and the ability to capture customer signatures for a variety of purposes.
Co-founder and CEO, Benjamin Dyer, comments, "We are on a mission to help tradesmen run their businesses more simply. We are continuing to raise money to invest aggressively in product development and we won't stop until we have the most powerful and easy-to-use solution for the field trade world. Tradesmen have been under-served by the IT industry for years, and we are determined to change that."
The Powered Now app works on iPhones, iPads and Android, providing a comprehensive admin toolkit for every step, from booking an appointment, and preparing an estimate through to taking payment. It even works when there's no wi-fi signal, and automatically backs up all information whenever there is a connection. Everything is designed to minimise the number of times that you need to enter information – once it's entered, it never needs to be put in again. Data can also be exported for accountants and book-keepers.
Availability
There is a full seven-day trial and a free edition which provides all the features but no email, texting or postcode lookup. Subscriptions are £4.17/month for the solo user version and start at £29.99 for the multi-user version. All prices exclude VAT. See powerednow.com/pricing for more information.