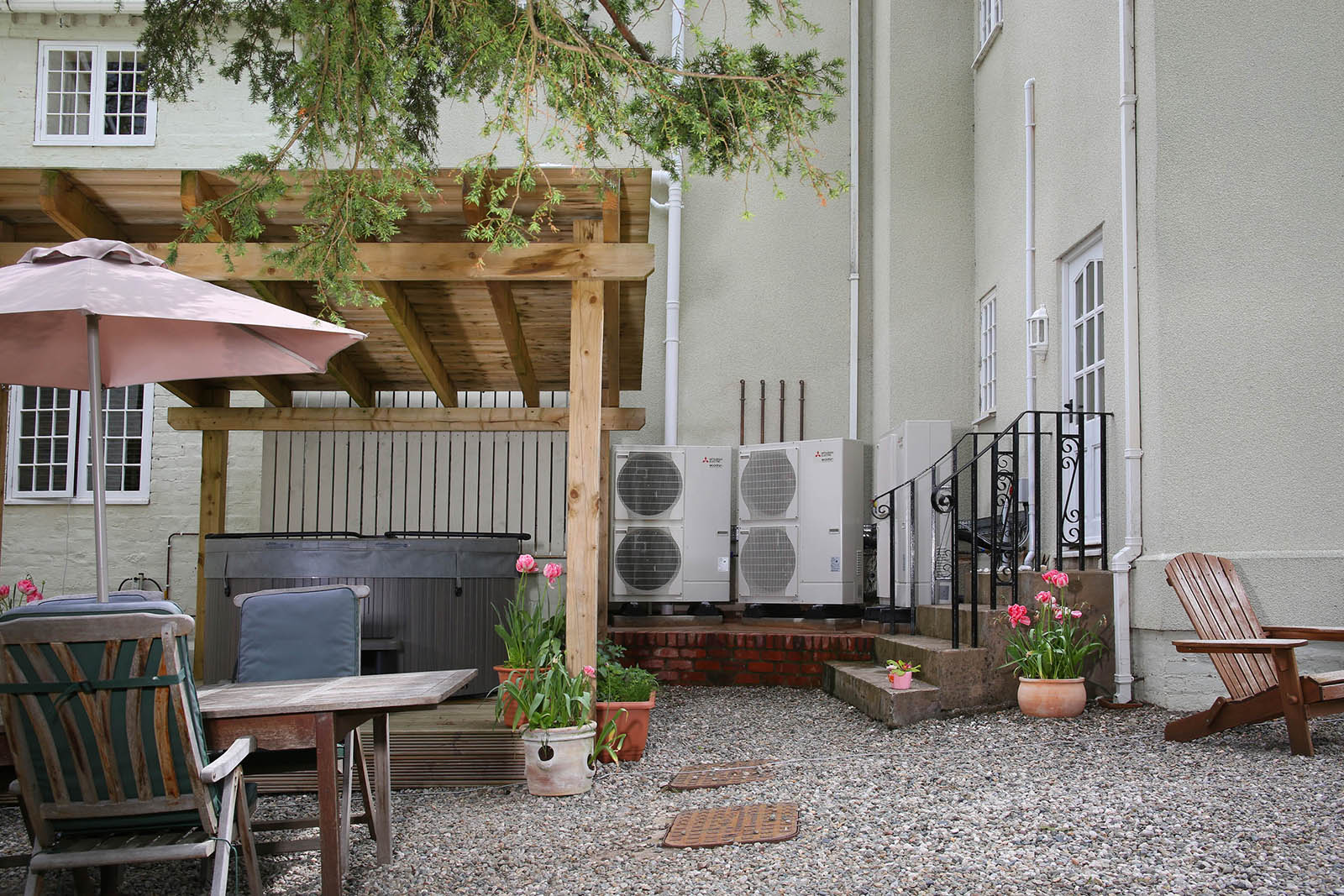 Russell Dean, Head of Residential Heating and Ventilation at Mitsubishi Electric, looks at the role of the Boiler Upgrade Scheme in making net zero accessible.
The UK is already on its way to reaching its sustainability goals – with the biggest target being to achieve net-zero carbon emissions by 2050. The pledge was made three years ago, and the challenge of decarbonising heating and hot water production has since become a prominent part of reducing energy use in the country.
This is because heating and hot water make a significant contribution to a building's emissions. In fact, they create over a third (38%) of the total carbon emissions in the UK.
Luckily, the technology to heat buildings in a more energy efficient, renewable way is already available – in the form of heat pumps. To encourage uptake of these types of renewable technologies, the government has tried various incentives – the most recent of which is the Boiler Upgrade Scheme (BUS), first announced last year.
The Boiler Upgrade Scheme will make heat pumps more accessible for UK homeowners, which will in turn help the country to move away from gas and oil and towards more renewable forms of heat.
The Climate Change Committee has estimated that 19 million heat pumps will need to be installed by 2050, in order to reach the net-zero goal. This means that it is critical for heat pump uptake to be increased, and for them to become the first choice for building managers planning renovations or new builds, as they are designed for both retrofitting and installation in new property.
With the new Boiler Upgrade Scheme, consumers will be able to support this goal and make more environmentally friendly decisions when it comes to heat and hot water.
Make the change
Heating is often at the back of people's minds during the summer, when in fact the warm season is the best time to switch out a heating system – while it isn't needed. In the coming months, installers can upgrade and even replace gas boilers to improve the energy efficiency of a home, without leaving a home and its occupants without heat.
When it comes to making a heating change during the summer season, there are three key areas for homeowners to consider: Is the heating system running efficiently? Is it giving the best comfort and quality? And, does it cost more money to run than it should?
If any of those areas are a concern, it may be the right time to install a new system ahead of the colder months.
With Boiler Upgrade Scheme grants now available, there will be greater support available to help homeowners get prepared to make the switch this summer and protect their heating systems against rapidly rising running costs.
Boiler Upgrade Scheme
The Boiler Upgrade Scheme (BUS) launched on the 11th April 2022 and aims to support the Government's plan to decarbonise the UK's buildings. This scheme will be available for three years and grants will become available from Spring 2022.
Homeowners will be incentivised to choose more eco-friendly heating alternatives such as ground and air-source heat pumps, or in some cases, biomass boilers.
Making the switch to low-carbon heating isn't currently a cost-effective option for many households in the UK. However, through the scheme, the Government is aiming to make choosing low-carbon heating solutions as accessible and affordable as fossil-fuel dependent boilers. Reducing the upfront cost of purchasing a heat pump or biomass boiler with BUS grant money will open up low-carbon heating options to many who may not have been able to afford them in the past.
The aim of the Boiler Upgrade Scheme is to support low carbon heat technologies in up to 90,000 homes and buildings across England and Wales, as well as supporting up to 240,000 jobs in the industry across the UK by 2035. The government is also aiming to have all heating systems installed in UK homes from 2034 to be low carbon options.
This grant could be a welcome cost-saving opportunity for those already considering replacing their old central heating boiler with a modern, renewable heating system. The BUS will provide a certain amount of grant money to properties in England and Wales, which will go towards the costs of purchase and installation of these greener heating technologies.
Who qualifies?
The Boiler Upgrade Scheme applies to any homes and small non-domestic properties in England and Wales with an installation capacity of up to 45kWth.
Applicants who are successful will receive financial support for installing air-source heat pumps, ground-source heat pumps and, in some instances, biomass boilers where a heat pump is not a viable option.
The Government is investing £450 million into the BUS, which will be managed and overseen by Ofgem, and is offering grant payments towards the cost of installation. The grant amounts offered will be £5,000 for air source heat pumps and biomass boilers, and £6,000 for ground source heat pumps.
What comes next?
Implementing more low-carbon heat technology into the UK's housing stock will be essential for reaching net zero and reducing the UK's reliance on fossil fuels. However, offering grants to subsidise the upfront cost of heat pumps for consumers is only part of the journey to net-zero.
If the UK is to take advance of all the benefits heat pumps can provide, the Government must address ongoing supply side issues and ensure that a nationwide network of installers and engineers are also in place to meet this demand, driving the costs down even further and encouraging the uptake of thousands of new green jobs.
It is hoped that this scheme will significantly increase the number of heat pumps installed in the UK, and lead to a lowering of manufacturing costs and make heat pumps cheaper to purchase in the long-term.
Installation costs will also be likely to decrease as more engineers are upskilled to work with renewable heating technology. More training programs for installing heat pumps are underway, but with the BUS, more installers will be looking to learn the skills they need to fit and maintain heat pumps.
For a lasting solution that will benefit the environment and the residents of the UK, heat pumps are an ideal choice – and the Boiler Upgrade Scheme will play a vital role in incentivising homeowners to make the change.