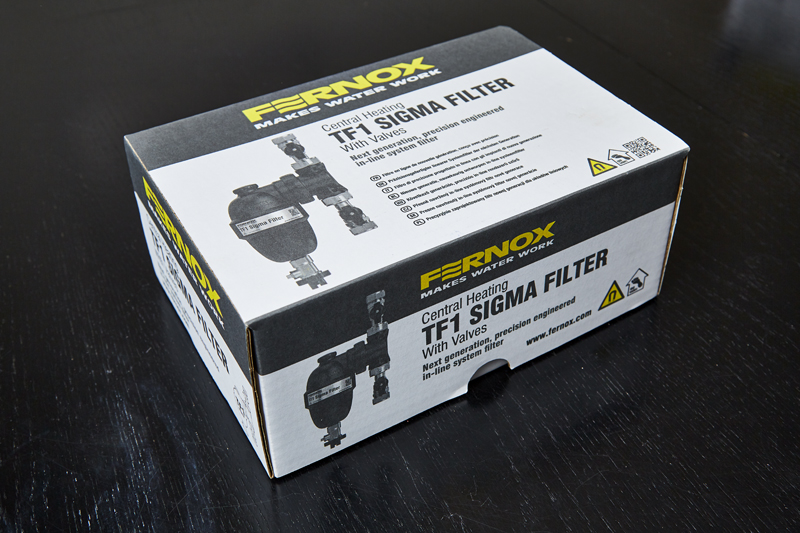 Fernox is offering you the chance to win a TF1 Sigma Filter – the company's latest innovation in lidless filter technology.
In order to comply with BS 7593:2019, it is recommended that an in-line filter be installed, to collect harmful debris and sludge and prevent build up. Fernox believes its TF1 Sigma Filter provides the ideal solution.
Developed in response to extensive market research and customer feedback, the TF1 Sigma Filter is a composite polymer filter developed without a lid. The new, sealed design is supported with a 10-year warranty.
Made from engineering-grade polymer, the TF1 Sigma Filter is suited for both heating and cooling system applications, as it can withstand temperature extremes and pressure. The unit also incorporates double radial seals on the connection between the manifold and the main body of the filter, providing improved levels of reliability and design integrity.
The absence of a lid means that the Sigma is a factory sealed, watertight unit. These features can be maintained, even during the servicing process, as unlike conventional plastic filters there is no replacement 'O' ring required to maintain a tight seal on the lid. This eliminates any ongoing maintenance costs associated with traditional lidded filters.
The TF1 Sigma Filter utilises Hydronic Particle Separation (HPS) technology and magnetic filtration to collect all types of debris. HPS works by directing the water flow to hit a baffle (a device used to restrict the flow of fluid). When the water hits the baffle, its energy is reduced and any debris suspended within the water then drops to the bottom of the filter, where it is contained and later removed.
In addition, the neodymium magnet is said to ensure a high capture rate of magnetite and a continued and consistent level of collection.
Designed for installers
Available in both 22 and 28mm versions, the TF1 Sigma Filter is supplied with valves or slip socket connection, offering installers greater choice. The filter can also be installed horizontally, vertically or in any orientation in both flow directions and at an angle up to 45° – making it ideal for challenging installation conditions.
To clean the TF1 Sigma Filter, simply remove the magnet from the sheath and open the drain valve. Water will then run through the filter, flushing out any debris captured. The magnet can be easily placed back in the sheath and the drain valve closed. The cleaning process can be completed in less than two minutes.
How to enter
For the chance to win the TF1 Sigma Filter, simply enter your details below before November 30th 2019: