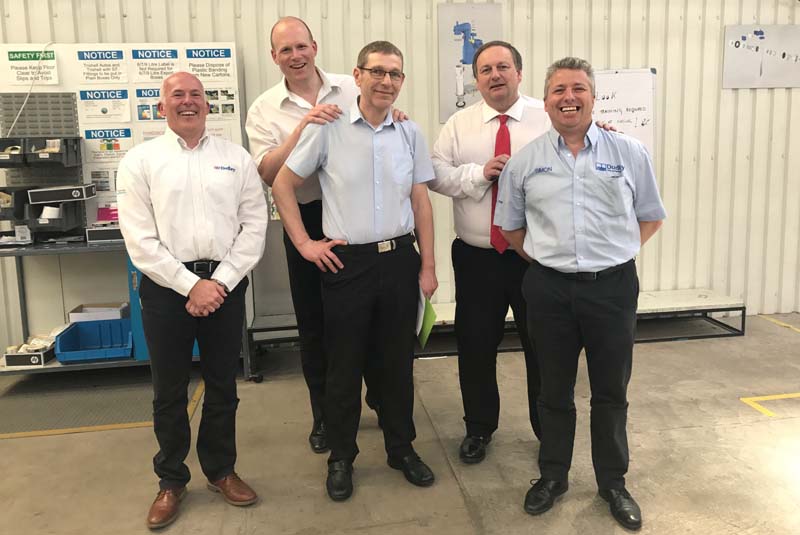 Thomas Dudley's longest serving member of staff has retired after working for the manufacturer for an incredible 49 years.
Graham was just 17 when he joined Thomas Dudley's cistern sales office and retired in May after a spending his entire career at the Dudley based business. He is amongst one of the many long serving members of staff, and more than 10% of the team has worked for the company for 25 years or more.
Graham commented: "I started straight from school on May 6th 1968. I was interviewed by Ivor Dudley, grandson of the founder of Thomas Dudley. In those days, it was perfectly normal to address members of the Dudley family as 'Mr Ivor', 'Mr Tom', 'Mr Harold' or 'Mr John' – an old-fashioned term now, but I always liked the traditional sound of it and it took me many years to stop using that form of address."
Graham continued: "My first job involved working in the cistern sales office for the man in charge of costing and estimating, Ivan Isherwood, who eventually became Joint Managing Director. The offices in those days were partitioned within the foundry though we did move into the new office block a couple of years later. Needless to say, I have seen a lot of changes over the years but am delighted at the way in which the business continues to go from strength to strength and invest in both technology and people.
"Today, Thomas Dudley lives and breathes its values and they've really looked after me and every other employee which is why I've been more than happy to work here for 49 years. I am extremely proud to have been part of the success and journey for so many years and with the ambition and determination of its current leadership, I fully expect the Group to excel in everything that it does going forward."
Thomas Dudley's Chairman, Martin Dudley, commented: "We genuinely look upon each employee as a member of the family and cannot thank Graham enough for his outstanding contribution over the last 49 years. He provided commitment, leadership and innovation throughout the most important years in the company's evolution and has been an example to all. I speak on behalf of everyone associated with our business in thanking him publicly for his support and wish him a long, enjoyable and very well deserved retirement!"
For more information on Thomas Dudley Ltd, visit: www.thomasdudley.co.uk