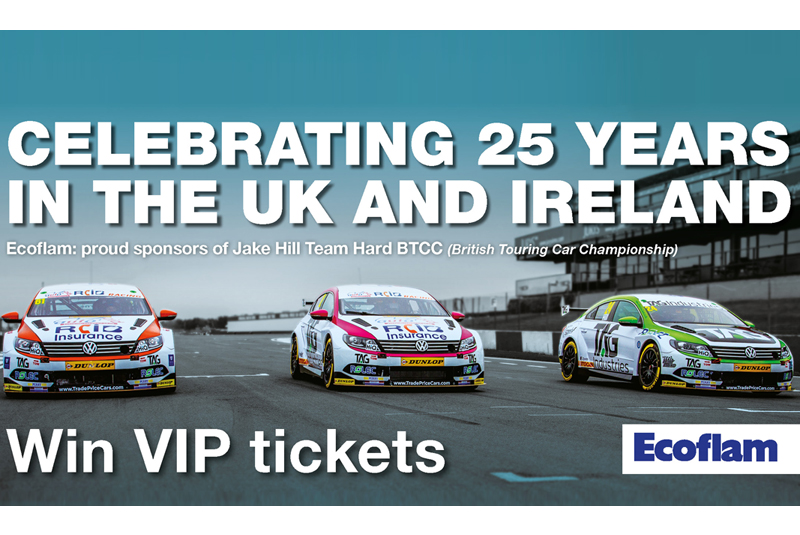 Ecoflam is celebrating 25 years of cutting-edge product design, development and manufacturing expertise in the UK and IRL market.
To commemorate the milestone, the company is offering customers the opportunity to win two VIP tickets to the final race of the British Touring Car calendar at Brand's Hatch in late September. To be in with an chance of grabbing the exclusive tickets, customers simply need to register the serial number of any Ecoflam burner purchased between 1st May and 31st August 2017 – calling 01905 788010.
As part of the Ariston Thermo Group, Ecoflam says it has always championed innovation, offering the latest gas and oil burner technology for a wide range of applications, while striving to provide ultimate performance and energy efficiency.
Commenting on the company's achievements, Mark Bingley, Ecoflam's Operations Director for the UK and IRL, said: "We are obviously delighted to celebrate our 25th year of trading in the UK and IRL. The burner market has evolved considerably over the last two and a half decades, and we're proud to still be at the peak of the industry, offering the latest technology for a broad range of applications.
"But, despite our success, we are not going to rest on our laurels. Instead, we want to build upon our accomplishments and continue to help consultants, specifiers and installers to find the very best burner product.
"This competition is a way of thanking our customers for their loyalty and support over the years, providing them with the opportunity to experience a great day out at a fantastic British sporting event."
Among Ecoflam's offering in the UK and IRL is the MAX GAS range of high efficiency burners, which has outputs from 17 to 500kW. In addition, there's the versatile BLU low NOx burners, which are available from 270kW to 17,000kW.
For more information, visit: www.ecoflam.co.uk