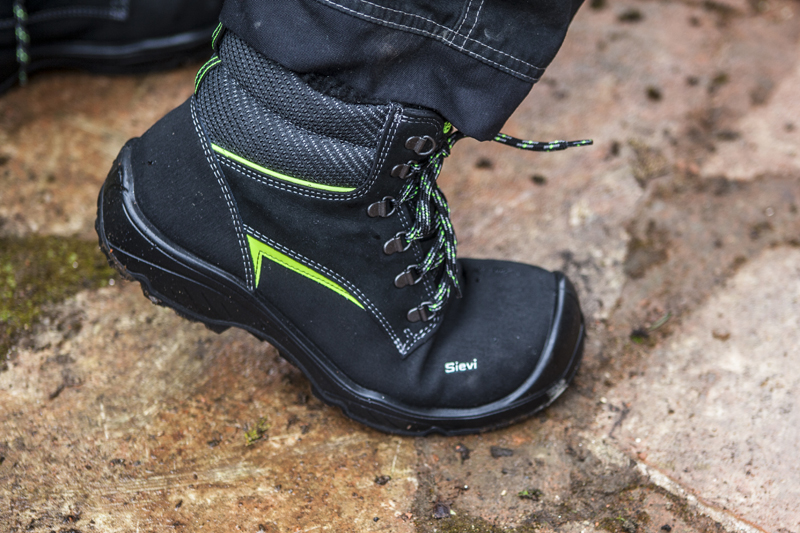 Roger Bisby discovers if the shoe fits with Sievi.
Sievi is the largest footwear manufacturer in Northern Europe – yeah, it surprised me as well – and unlike some dedicated safety footwear companies, these guys have a long history of making shoes and boots that pre-dates PPE. That experience has taught them that not everyone has the same shape feet so, instead of just making footwear to suit the length of the foot, they make shoes and boots to suit the width, and by selecting different insoles they can cater for a high, medium or low arch.
How often do you hear someone say that their feet are killing them? I have heard it a thousand times, but until I started looking more closesly at footwear I never really understood what was going on. If you are walking around in footwear that doesn't give you the support and comfort you need for your particular shape of foot, then it is no wonder you are feeling the strain.
Another great feature of the Sievi boots is the aluminium foil insole which keep the cold from the ground from travelling upwards into your feet. If you are standing on cold concrete all day these are the ones for you. They also have boots with studs that grip on ice. This is like having snow tyres, but when you are operating in an area where the snow and ice has cleared you can simply wind the dial and return the studs to the flush position with a dial that is set in the side of the heel, without having to take your boots off.
The boots I am wearing here are the Star Hikers. They have steel midsoles, composite toes and spring rebound in the heal to absorb shock. This particular variation also has a fake fur lining for extreme cold weather, so it might be a bit late in the year to think about these, but Sievi has a huge range of other shoes and boots to chose from. You will not believe how unlike safety footwear some of them are.