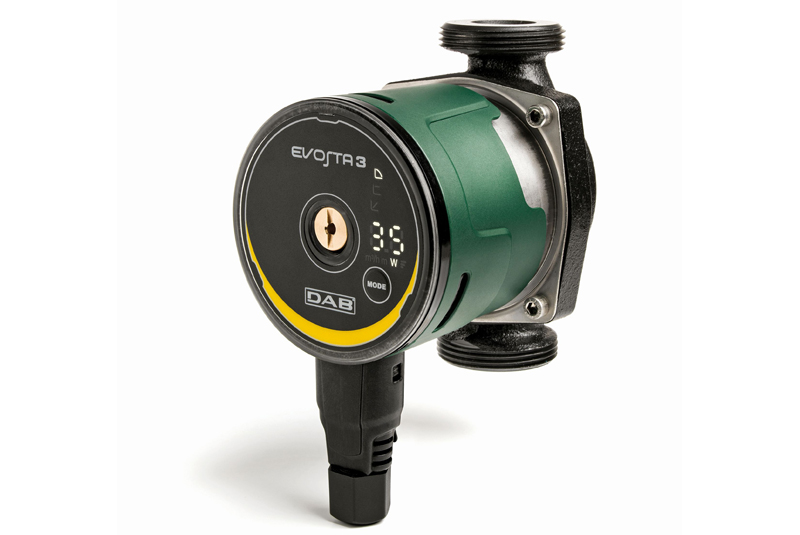 DAB Pumps has launched the Evosta 3 smart circulating pump, which has been specifically designed to replace any existing pump thanks to its interchangeable power connector.
The energy efficient Evosta 3 boasts a brand-new user interface, featuring an illuminated display and sequential button that can be operated with just the simple push of a finger. This makes it easier to set and adjust the pump, regardless of the application and operating conditions.
In addition, the Evosta 3 utilises IPX5 Water Protection – preventing moisture from infiltrating any of the pump's electronic or mechanical components, minimising the risk of faults. This is backed up by an AISI 304 stainless steel motor casing, which further preserves the durability and longevity of the pump, whether it is used in heating or cooling applications.
The new Evosta 3 also features an airvent plug that allows any trapped air to be vented from a system, as well as provide direct access to the shaft in the event of seizure. An inverter is also present, which has been designed to absorb the exact amount of energy required, resulting in significant financial savings in terms of fuel bills. In fact, Evosta 3 smart circulating pumps offer outstanding energy performance, with a smart inverter bringing the Energy Efficiency Index (EEI) to an impressively low ≤ 0.19.
Plus, DAB's investment in ergonomic innovation has resulted in a significant reduction in size, making the Evosta 3 one of the most compact and flexible circulating pumps available on the market.
Commenting on the new product, Adam Ferneyhough, Country Director at DAB Pumps, said: "We have invested in developing our 'DAB Factory 4.0' smart technology, to ensure all Evosta 3 pumps are manufactured to the same quality standards on a robotised production line, with our intelligent control systems guaranteeing each unit is reliable and fault-free. The end result is our smallest, smartest, most efficient circulating pump ever."
All Evosta 3 pumps have an operating range of 0.4 to 4.2 m3/h with a maximum head of up to 8m, with a pumped liquid temperature range from -10 to +110°C. With a working pressure of 10 bar (1,000kPa), Evosta 3 pumps are supplied with a five-year warranty as standard.