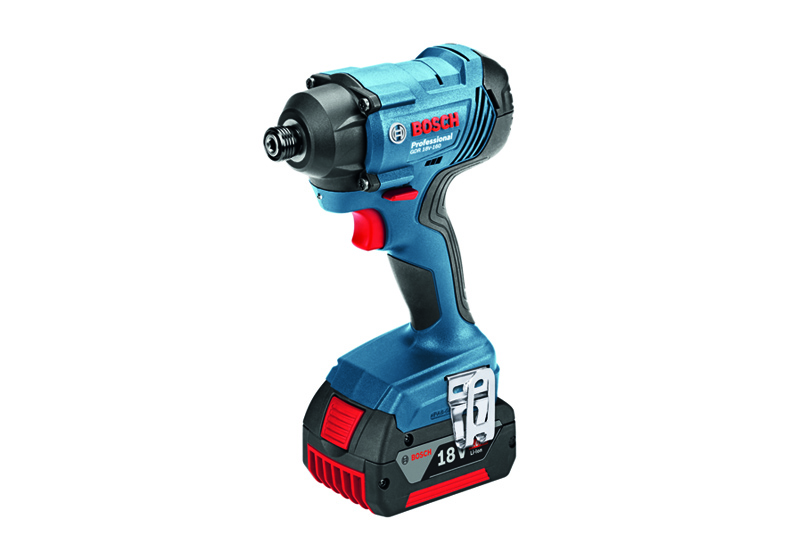 Enabling trade professionals to raise their game without incurring extra spend, Bosch Professional brings the GDR 18 V-160 Professional Impact Driver to the marketplace.
High performance
Users benefit from an impressive 160 Nm maximum torque, with variable speed control – up to a rapid 2,800 rpm – and an impact rate that reaches 3,200 bpm. The result is fast and easy work progress, even in heavy applications.
Ergonomic and convenience
Weighing just 1.37 kg, including the 2.0 Ah battery, and a head length of 150 mm, the impact driver can be used with little effort. Its compact size is ideal for operation in tight spaces and when working overhead. The ergonomic design features a slim handle, whose 110 mm circumference and soft-grip covering add further comfort and control. A handy belt clip, a screwdriver bit and an LED light for better vision in dark workplaces are included in the standard specification.
Versatility
Robust construction and easy serviceability, together with proven performance capabilities, make this an ideal tool for a wide variety of tradespeople, says Bosch.
Specific applications range from wood screwing and drilling to installing and maintaining HVAC systems, assembling wheels, constructing in metal and erecting high racking. The driver comes with a quarter-inch hex bit holder and shank, compatible with a multitude of accessories.
Flexible power
As part of the Bosch Flexible Power System, the Bosch GDR is fully compatible with the comprehensive Bosch range of 18 V power tools, chargers and batteries.
It is now available from specialist retailers in a choice of packages – either with an L-BOXX carrying case without batteries, or a kit containing the tool, two 2.0 Ah batteries and a charger, in an L-BOXX.
For further information, visit www.bosch-professional.co.uk