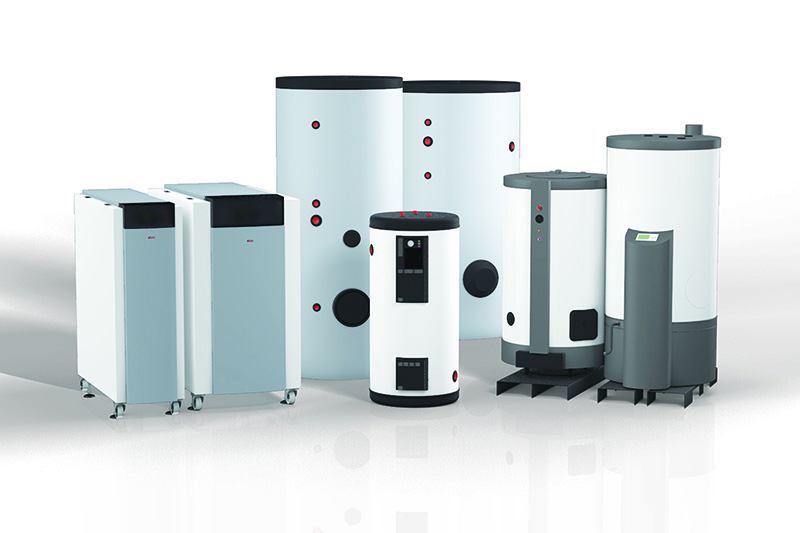 ELCO has expanded its range of hot water products, which now comprises over 60 direct, indirect and storage models, ensuring engineers can easily specify a product for any commercial project. This has been bolstered by the launch of a brand new Commercial Hot Water Range brochure, which showcases the portfolio of products the company has to offer.
The TRIGON XL WH direct gas water heater boasts an advanced burner design and is claimed to be the most technologically advanced and best performing unit on the market. There are three different versions to choose from: Standard, Industrial and Swimming Pool, each with seven different models from 142 to 540kW. The Standard (WRAS approved) and Industrial versions can satisfy a continuous DHW delivery of up to 10,563 litres/hour, while the Swimming Pool derivative offers up to 27,354 litres/hour.
TRIGON XL WH units are suitable for a variety of commercial projects, including health clubs, manufacturing plants and commercial laundrettes.
Another addition to the range is the Tudor NHREC direct gas water heater. This condensing appliance incorporates a room sealed premix combustion system fired by Natural Gas or LPG, perfect for medium to large commercial use. There are three different models in the range from 18 to 61kW with a storage capacity from 213 to 350 litres, satisfying a continuous DHW delivery of up to 1196 litres/hour.
Complementing the Tudor NHREC is its sister product, the Tudor NHREX, a high efficiency atmospheric unit said to be perfect for refurbishments. The water heater has a patented high integrity lining and improved cylinder design, as well as a specially designed burner housing with welded seams to eliminate the build-up of limestone. There are four models with outputs from 18 to 52kW, each with a storage capacity ranging from 180 to 320 litres.
Both Tudor NHREC and NHREX water heaters are constructed from carbon steel with an enamel lining and incorporate a Protech electronic anode system, magnesium anode and dual cylinder protection as standard. They are also direct replacements for the discontinued Tudor NHRE and NHREV models.
Within the newly expanded water heater range, ELCO also offers indirect single coil calorifiers – the stainless steel Inox-Maxi SSC1 and the Polywarm-Maxi PWC1 are both economical calorifiers certified to KIWA UK Regulation 4. The Inox-Maxi SSC1 comprises six models in the range from 44 to 84kW, with a storage capacity from 500 to 2000 litres. The Polywarm-Maxi PWC1 consists of four models from 34 to 74kW, with storage capacity from 500 litres to 1500 litres.
In addition, there are 10 indirect twin coil units, including the Inox-Maxi SSC2, a twin coil stainless steel calorifier which comes in six models with outputs from 21 to 122kW and storage capacities from 500 to 2000 litres; suitable for use with renewable heat sources such as solar and heat pumps. Plus, there are four Polywarm PWC2 units, boasting outputs from 18kW to 112kW, as well as storage capacities from 500 litres to 1500 litres.
Also available are the Gemini HSCi indirect tank-in-tank units, which range from 23 to 86kW with a storage capacity from 200 to 500 litres. These high performance and rapid response calorifiers utilise the tank-in tank principle of construction and have a comprehensive built-in control panel.
Finally, ELCO also provides a choice of hot water storage solutions suitable for medium to large applications, such as the Inox-Maxi SSB DHW buffer cylinder, which offers capacities ranging from 500 to 3000 litres. And thanks to the 316L grade stainless steel construction of the unit, the cost of annual maintenance is greatly reduced.
Commenting on the company's extended offering, Stuart Turner, National Sales Manager at ELCO said: "We've added a number of highly efficient indirect and direct products to our range, providing specifiers with an even wider choice of water heaters suitable for new build or refurbishment projects; we're confident that these units will deliver on both quality and performance and make ELCO a 'one stop shop' for all commercial heating and hot water needs."