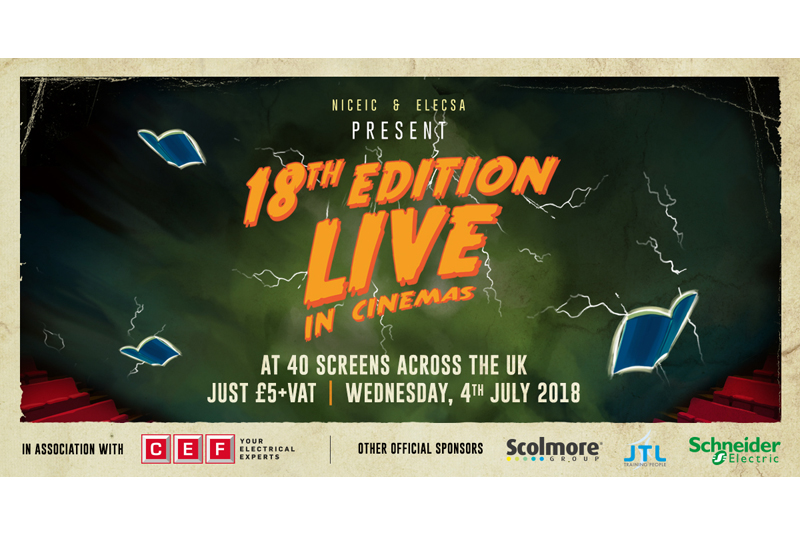 There is just two weeks to go until NICEIC and ELECSA's 18th Edition Live Cinema broadcast and more than 2500 tickets have already been sold for the one-off event.
Some cinema locations are already close to selling out with Bristol, Southampton and Nottingham currently leading the way.
ELECSA's Marketing Director, Mark Smith, commented:"The reaction so far has been brilliant. This is something totally new for our industry. It's a new concept but contractors have embraced the idea and we can't wait to get going.
"It promises to be a chance for electricians and business owners to have a day out and learn about the changes with like-minded professionals in a relaxed environment."
On July 4th NICEIC and ELECSA will be transmitting a live talk on the 18th Edition which will be beamed via satellite to 40 cinema screens simultaneously.
The 18th Edition seminar will be broadcast from the Faraday Theatre, in The Royal Institution and will be hosted by industry experts Darren Staniforth and Alan Wells. The talk will focus on the changes included in the new regulations and what it will mean for electricians in their day-to-day work.
Darren said: "When the 17th Edition was launched in 2008, a lot of industry myths emerged because multiple messages were communicated by different speakers. The advantage of broadcasting to all four corners of the UK on a single day is that we can communicate a single, consistent message to the industry. We believe this will benefit the whole industry and increase safety standards as a result."
The live seminar and cinema event will take place from 9am on Wednesday, 4th July. Tickets cost £5 and can be booked online at a cinema by visiting www.18edition.com/cinema.