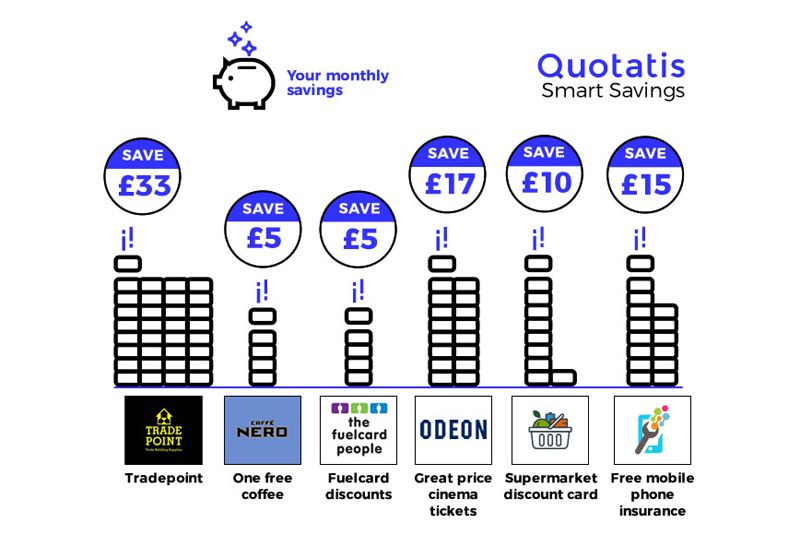 Quotatis has announced the launch of its Smart Savings account which promises to provide boiler professionals the chance to save thousands for their business.
Marketing Director, Tom Crosswell, explained: "Professional businesses that offer great customer service are important to us, and we are delighted to be able to offer Smart Savings as a reward to our hard-working members. The large size of our contractor network means that we've been able to leverage our position and secure huge savings for our members to help them keep their business costs down. And because we know that our members aren't all about work, we've included some great extra personal savings like free movie downloads and coffee too."
Quotatis have put together a package of over 200 trade and leisure deals as well as discounts, which will be available through the Smart Savings account. The account will cost £10 per month and promises to give members the chance to use hundreds of deals, make back their subscription fee and save £900 a year.
Some of the trade deals and discounts available include:
Preferential rates on TradePoint supplies
Up to 5p per litre off fuel
5% off power tools at Anglia Tool Centre
Free commercial vehicle recovery
There are also a range of leisure deals, including:
Free mobile phone insurance
A free drink from Caffè Nero every month
Great price cinema tickets
Additional features of the account include a customisable profile page and closed reviews system to help members boost their online presence and reputation. The account will also include Quotatis' Pay-As-You-Pick feature, which will allow members to pick and pay for customer enquiries as and when they want more work.
As a temporary special offer, the Smart Savings account will be available for £100 a year when paid upfront. To find out more about Smart Savings click here.