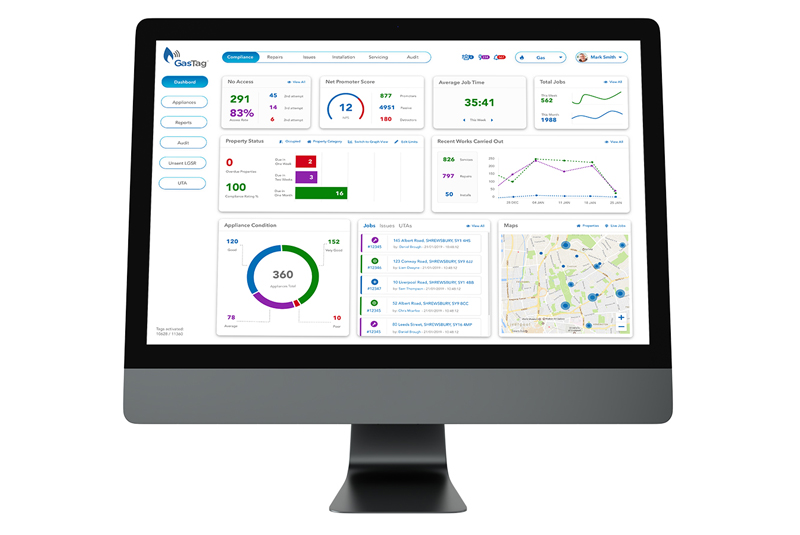 Gas Tag is demonstrating its ongoing commitment to improving gas safety through technology with the launch of its latest tech this Gas Safety Week.
Gas Tag changed the way gas safety is managed to when it launched its real-time technology solution to the market. The firm has now announced how its new Portal 2.0 and upcoming project, X-Tag, will continue to drive innovation.
The UK tech firm's Portal 2.0 will mean it will be even easier for housing providers to monitor their gas safety and compliance.
Portal 2.0 development has been focused on navigation, splitting the product into six main task areas; compliance, management, jobs, issues, audit and administration. The new navigation areas will allow housing providers to view at a glance their overall compliance and easily resolve issues, including access problems and unsent LGSRs.
Other benefits of the portal include the management of stock and contractors, job allocation and an area for auditing Landlord Gas Safety Records. Portal 2.0 is also a prelude to the X-Tag project, which will be released in October.
Once launched, Project X-Tag will signal the start of the rollout of new workflows, including Solid Fuel, Oil, Solar, Unvented and Air Source, meaning that its clients can ensure compliance across a greater number of properties and fuels. Gas Tag worked closely with housing providers and letting agents to understand their needs and how the product could meet them.
Solid fuel appliances such as wood burners have become increasingly common in households in recent years. However, if not installed properly or subject to proper maintenance they can cause fires or carbon monoxide poisoning. According to CO-Gas Safety, 31% of deaths caused by unintentional carbon monoxide poisoning between 1995 and 2017 were caused by solid fuel appliances.
John Roche, COO of Gas Tag, said: "Since we launched Gas Tag in 2017, we have been proud to lead the way in revolutionising the sector and continuously developing technology that improves gas safety.
"The launch of Portal 2.0 will not only allow us to provide a service that meets the needs of housing providers and landlords but also future proof our product for further updates in the future.
"We are also excited to share the early details of Project X-Tag which help us open compliance technology to more properties and providers across the UK.
"Constant innovation and new product development are central to our long-term strategy and we have invested heavily in recruitment over the past 12 months to help us achieve this. Our development team are currently working on further game-changing products that will revolutionise safety compliance."
Gas Tag is also helping raise awareness about the importance of gas safety as part of its support for Gas Safety Week 2019.
Currently, Gas Tag is used to tackle the estimated 1.1 million illegal jobs carried out by unregistered gas engineers across the UK. Once installed on the gas inlet within a home, Gas Tag tracks all the property's gas appliances, installations and services, providing data in real-time back to the landlord or provider via an online portal. Engineers fill in the information using the app which can only be used by a Gas Safe Registered engineer.