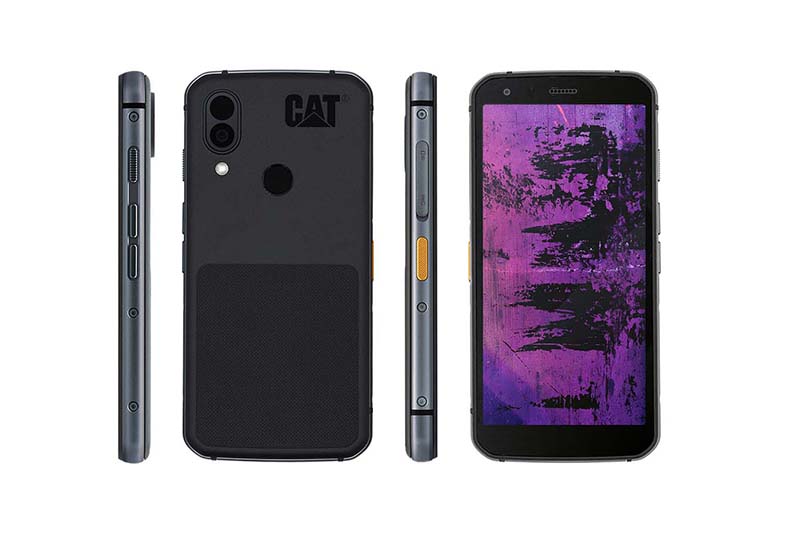 Bullitt Group, global licensee for Cat phones, has unveiled its new flagship thermal imaging smartphone, incorporating the highest resolution integrated Lepton sensor from FLIR systems available.
The Cat S62 Pro is the third generation of the Cat 60 series and showcases the latest in Thermal by FLIR technology. Powered by the FLIR Lepton 3.5 and the new MyFLIR Pro app, the Cat S62 Pro offers a four-fold increase in the number of thermal pixels and an unmatched feature set within the application.
Tested to Cat phones' demanding rugged standards, the Cat S62 Pro achieves and surpasses an ingress protection rating of IP68, and US military standard, Mil Spec 810H. It has undergone rigorous testing including repeated drop tests from 1.8m onto steel, with multiple drops onto every side and corner, as well as extensive waterproof, dirt and dust proof, temperature extreme survivability, and vibration and tumble tests. It's hygienic too – it can be fully submerged and easily washed with soaps and disinfectants, or cleaned with alcohol wipes.
For the first time, professionals can access FLIR Systems' VividIR image processing, enhanced MSX (Multi-Spectral Dynamic Imaging), and visible-to-thermal blending technologies integrated into their smartphone. Users can now vary the intensity of MSX, which overlays visual outline detail from the scene onto the thermal image or use the new alpha blending feature to combine thermal detail with the visual image from the Sony dual-pixel camera. Together these upgrades deliver dramatically enhanced image quality, sharper images, and higher thermal resolution to provide greater context and understanding of the thermal image you are seeing.
"For five years we have led the thermal mobile market, and with the introduction of the Cat S62 Pro we are raising the bar to continue leading the industry. Not only are we bringing game-changing professional thermal image quality to our customers, but we've also made numerous other improvements. Compared with its predecessor, it's 12% more compact with a 10% bigger screen. It's faster, more powerful and incredibly tough. It's the ultimate work phone," said Peter Cunningham, VP Product Portfolio at Bullitt Group.
The new software enables analytic and reporting features typically found in higher end, dedicated thermal imaging products. Isotherm and isotherm alarming, minimum and maximum temperature flag indicators, and report generation built into the app, are just a subset of the new features found in the MyFLIR Pro application on the Cat S62 Pro.
"By providing FLIR Systems' latest Lepton thermal sensor for the Cat S62 Pro, we are continuing a tradition of innovation that now spans three generations of Cat phones to help professionals perform work more quickly and accurately," said Paul Clayton, General Manager, Components Business at FLIR. "Integrating the MyFLIR Pro app also provides users advanced thermography features for the first time on a smartphone, maximizing the utility of seeing and detecting heat energy invisible to the naked eye."
Watch the Cat S62 Pro video below…