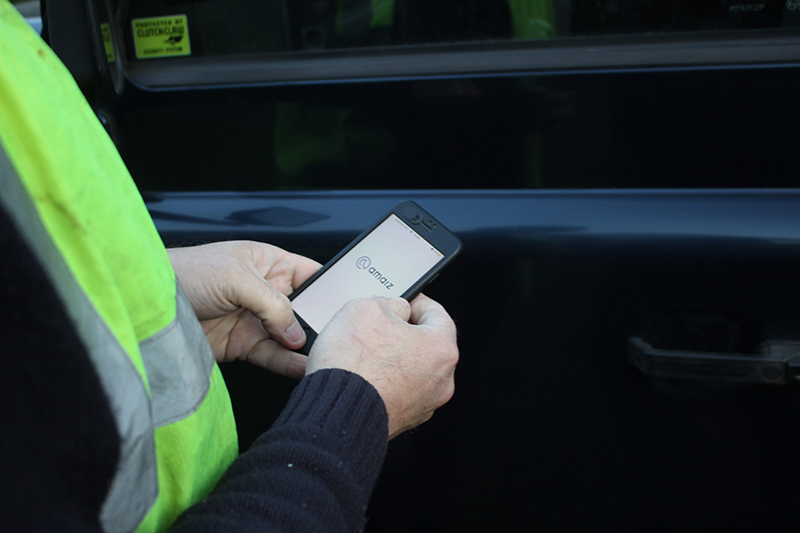 A new banking app from Amaiz has ambitions to take away the pressures of admin for sole traders and small businesses. Lee Jones finds out more.
Every tradesperson will bear the scars of doing battle with a paper monster of receipts, payments and invoices. Time is a precious commodity and far too much of it is consumed by finance and accounting. Inevitably, of course, the incumbrance of additional jobs at the end of what is already a busy day will result in mistakes, and a survey from the banking app Amaiz has found that these are actually costing significant amounts of money. Indeed, its research reveals that over 34% of micro businesses had even forgotten to invoice a client.
Launched in March 2020, Amaiz brings bookkeeping and banking together  and offers a whole suite of services besides. "It's a banking app that does a lot more than banking," saysMatt Goddard, Head of Acquisitions at Amaiz. "When we talked to the self-employed before we launched, we found that one in five were working at least another day on accounting and we want to make sure that they are using that time to do the things that make them money."
Available via smartphone or desktop, ease of use has been one of the app's guiding principles. Downloading and registering takes a matter of minutes – with no credit check – and only a form of ID and right to work in the UK required. Once set up, tradespeople can take advantage of a host of financial tools and accountancy services, as Matt explains: "The app is supplied with a pre-paid Mastercard with which you can purchase materials. Receipts are then captured and categorised automatically, whilst it's equally possible to take a picture of a proof of purchase on your smartphone and file it accordingly. As a result, paperwork is digitally stored, and a large chunk of your bookkeeping duties are automated."
As with any business account there are full notifications of payments from clients, but there is also the ability to invoice from the app whilst still with the customer. Not only that, but we are, of course, moving towards a cashless society. The impact of COVID-19 will serve to accelerate that change, with contactless payments inevitably demanded of many more businesses.
"We found that a lot of smaller traders are not taking card payments because they fear that the cost might be prohibitive," continues Matt. "With our mobile card reader, there's only a small transaction fee of 1.69%, together with a nominal set up cost (from £19.99), and you are then ready to take contactless payment from clients there and then. It prevents late payment issues, the money goes straight into the account and the transaction is automatically recorded."
By utilising the desktop version of the app, all that captured financial data can be integrated into accountancy software or downloaded as a CSV file. In order to check the figures, an accountant can even be provided with limited and secure access to the Amaiz account, eliminating the need for a face-to-face meeting.
Moreover, if you need accountancy support, Amaiz's own in-house professionals are on hand to help. "Our expert accountancy team are fundamental to what we do," says Matt. "They provide full live support 24/7, whilst it's also possible to ask simple questions through the app. When tax deadlines come up – or during the kind of crisis we're seeing today – and there is pressure on HMRC phone lines, tradespeople will find that advice a very useful resource."
If it's peace of mind that users are looking for, all of your information is protected by the latest in voice biometric verification. Not only that but it's popular with customers because they don't need to remember passwords. The developers of the Amaiz app are confident that its service is the silent partner that can release the tradespeople to undertake more work. "We want businesses to take back control of their payments," says Matt, "and help them increase their productivity in the process."
For more information on the Amaiz Banking App, visit amaiz.com/features