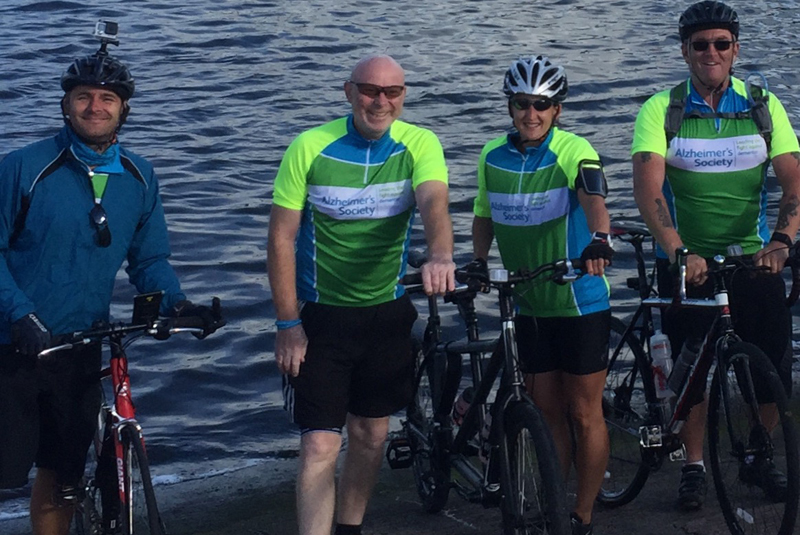 A member of the ForgeFix team has completed a mammoth bike ride in aid of charity. Mike Pollard, Product Manager, rode from Whitehaven to Tynemouth – a distance of 140 miles – in order to raise money for Alzheimer's Society.
The UK's leading dementia support and research charity, Alzheimer's Society provides assistance to those suffering from dementia as well their families and carers. Currently, 850,000 people in the UK are living with the condition and this figure is expected to rise to one million by 2021.
Mike was accompanied on his coast-to-coast ride by a number of friends, all of whom have first-hand experience of the effects of dementia.
In Mike's case, his long-term partner Julie was diagnosed with young onset dementia four years ago at just 55. This type of dementia affects 42,000 younger people aged under 65 and accounts for more than 5% of all dementia cases. Julie can no longer drive, read or write, and requires 24-hour care.
Mike and his co-riders decided to complete the coast-to-coast ride in order to raise funds for Alzheimer's Society and also awareness of dementia. In addition, it was a way of saying thank you to Alzheimer's Society for the free care it provides and its help in enabling dementia sufferers to maintain a sense of independence, identity and self-worth.
Speaking of the ride, Mike said: "The coast-to-coast ride was many things including challenging, enjoyable, gratifying and above all, immensely worthwhile. We're all delighted that we have raised so much money for Alzheimer's Society, especially given its important and invaluable work."
In total, Mike and his co-riders have raised almost £2500 in sponsorship with ForgeFix and the ForgeFix team has made sizeable donations. Those looking to pledge their support can still do so by visiting www.justgiving.com/fundraising/Coast2CoastforAlzheimers