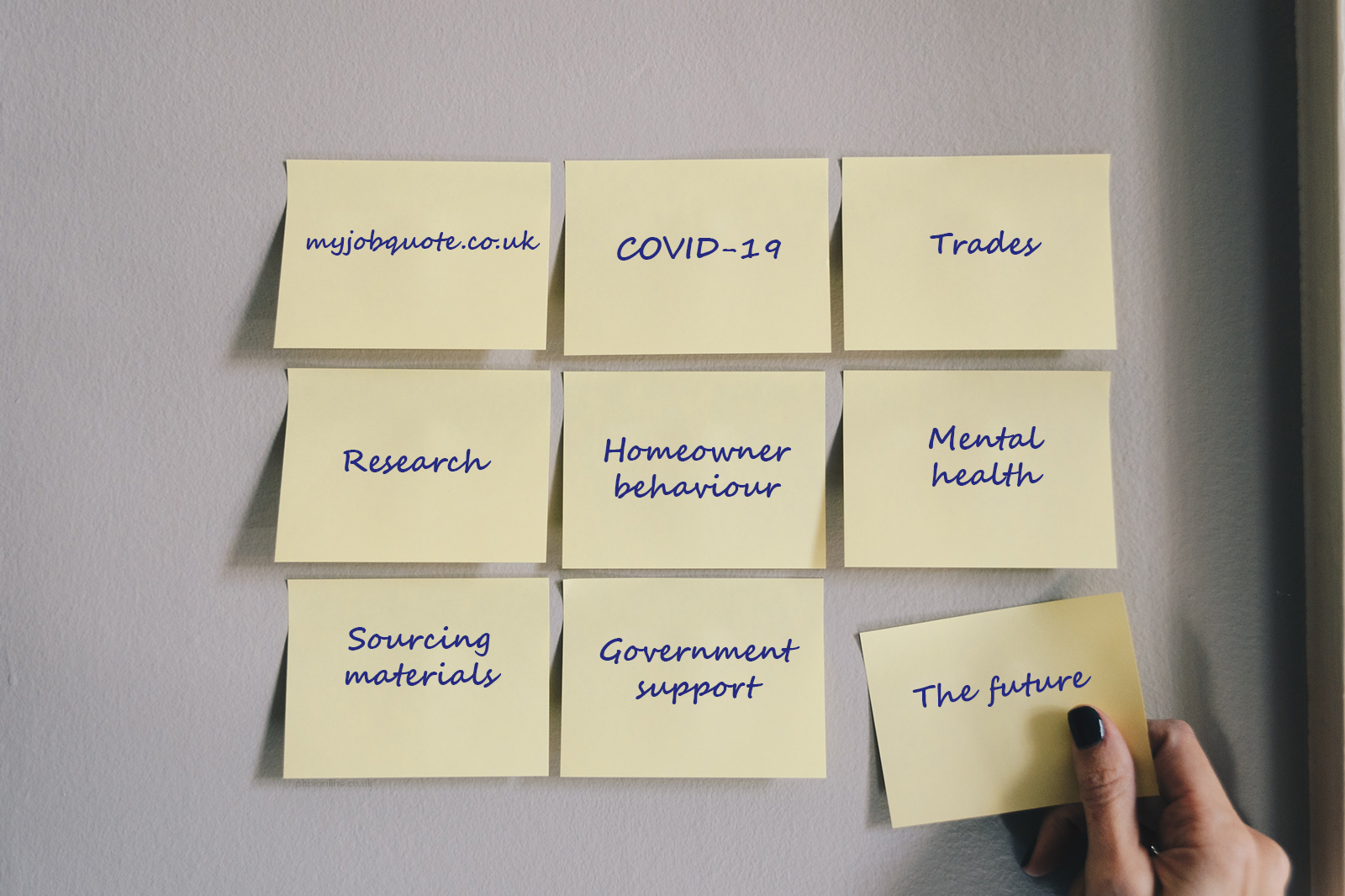 Since the start of the pandemic, the UK's trades have experienced significant changes which have affected the way they operate. But will these COVID-related changes last forever?
MyJobQuote conducted a survey with over 130 detailed responses from trade members who shared the many changes they have experienced during COVID, along with their thoughts on the future of trade.
The change in homeowner behaviour
The survey uncovered a significant change in the behaviour of homeowners, with 85% of tradespeople reporting that homeowners have become much more vigilant even after restrictions were lifted. The majority of homeowners distanced themselves, wore masks and also requested trades wear masks and social distance
One tradesperson noted that social distancing and lack of communication with homeowners has made "building relationships for future work difficult". This was also worsened by the lack of socialising with the closure of shops, pubs and restaurants, which meant tradespeople did not have as many word-of-mouth recommendations as they normally would.
The effect on mental health
Mental health issues amongst tradespeople have worsened since the start of COVID, with three in five of MyJobQuote's trades experiencing sleepless nights.
One of the main causes of mental health concerns in tradespeople is work-related stress. In IronmongeryDirect's Mental Health in the Trades 2021 report, it was found that the source of this stress was due to finances (38%), customer tensions (31%) and supplier tensions (29%). These are mainly caused by financial loss, as many trades are still owed from work completed before and during COVID.
To combat this, many trades have taken up relaxing pastimes, such as yoga, running, walking and getting into nature which all help with built-up anxiety.
The struggle to source materials
One of the stress triggers for trades is the issue with material shortages, with over 67% reporting their struggle to source necessary materials.
Material shortages first became a major issue in September 2020, with the cost of materials rising every month. This caused significant delays, as nearly 75% of trades were forced to reschedule jobs during COVID.
This issue has eased off and supply costs have started to decrease. However, as demand surges, increased costs and shortages may continue.
Preparation is key for trades, especially when it comes to sourcing materials, as there are still some issues, such as the expected increase in UK manufacturing costs. Trades should consider this when budgeting, while also focusing their efforts on supplier relationships to ensure they avoid material delays.
The lack of government support
The survey uncovered that 60% of MyJobQuote members were disappointed in the lack of government support received during the pandemic.
One tradesperson stated: "They didn't support the self-employed as quickly as they should have done. Also, the government should have kept things clearer about working from home and where you can work if you have to." This was a prominent issue for many trades who feel as though they were not given clear instructions for working restrictions and payment support during COVID.
Tradespeople who received government financial support such as the bounce back loan do not have to pay it back for up to six years. However, many have started paying it back early to avoid additional interest and stress.
The future of the trades
Despite the challenges that tradespeople have faced, It's not all doom and gloom, as more than 50% of trades have experienced a significant increase in demand in recent months.
The future is looking bright, with 64% of tradespeople predicting that the industry would continue to grow, which would leave room for trades to grow their business and expand their customer base.
During the pandemic, there was also an 18% rise in people looking to embark on a new career path in the trades, including young people. This is due to the stability that a skilled trade offers, and with home improvement at an all-time high, the demand for tradespeople should only increase.