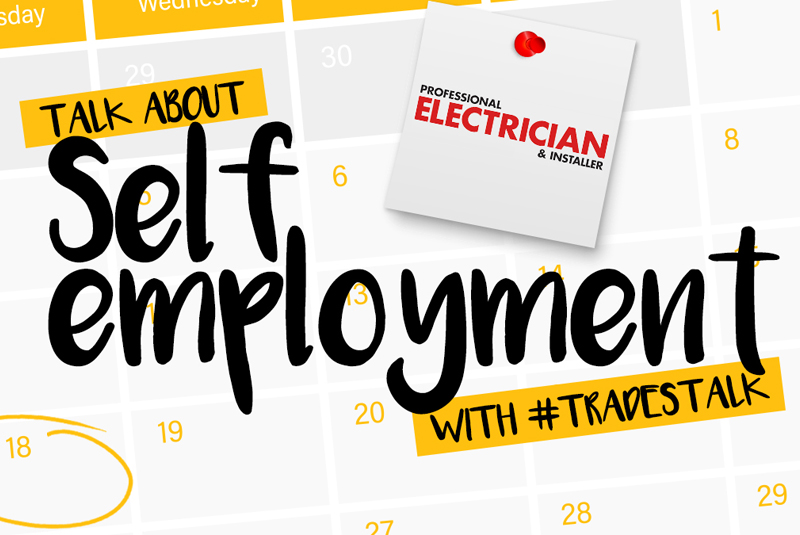 This week, the #TradesTalk Twitter chat was taken over by our sister title, Professional Electrician, to discuss the pros and cons of being self-employed.
Here is our round-up of the best bits.
Evening 👋👋👋to make money for my family rather than someone elses

— Peak Heating (@ThePeakyPlumber) June 18, 2019
Terrible PAYE rates and having to work away from home for me. Being self employed means I can dictate my rate and location.

— Ricky Howell (@RickTheSpark) June 18, 2019
Got fed up of bosses and their underlings dictating and trying to cut corners, figured if i wanted it done right i had to go it alone #TradesTalk

— JP Electrical (@JPElectrical4) June 18, 2019
A1- a better family balance led me to take the leap. However, the family balance has vastly improved the job side of it is taking its time and meeting the bills every month is a challenge until I'm established #TradesTalk

— rowlingelectrical (@rowlingelectric) June 18, 2019
The second question looked at the good things about self-employment.
The benefits are many. Mainly the feeling of being the captain of my own "Star Ship Enterprise" I get to set my own standards and love the flexibility

— She's Electric (@Shes_ElectricUK) June 18, 2019
Aside from being my own boss, I'm also in charge of ethical, supplier, pricing, and even customer choices. If I don't feel good about a job I don't have to take it. #tradestalk

— PlumbMaid (@plumbmaid) June 18, 2019
A2 I book my jobs around my family not the other way round #TradesTalk

— S.N.L Home Repairs (@snlhomerepairs) June 18, 2019
And then the discussion moved on to the tougher elements of self-employment.
Chasing job, money ensuring you have a cash flow to keep jobs going/starting. The large and ever increasing paperwork. Bill's take your pick.

— Luminous electrical (@Michael40857121) June 18, 2019
A3: I think mostly the ups and downs of inconsistent payments! You need to manage it well to keep on top #TradesTalk pic.twitter.com/g8VUaYVsKD

— Dr Boilers 🐰 (@DrBoilers) June 18, 2019
The buck stops with you for everything! As someone who is just starting out on my own, there is the pressure of getting work, pricing takes longer, delayed payment is a real threat. But I am already delighted to have made this move #TradesTalk

— James Simpson (@thebenchdog) June 18, 2019
A3. Balancing the on-site work & the office based admin work. Switching off is hard; emails, WhatsApp, texts and calls are sent and received 24/7 these days #Tradestalk

— Al Fitzjohn (@AJFitzLtd) June 19, 2019
A3. Building a client base, not letting anyone down and getting money from the awkward customers. Plus I always found it a challenge to say, no, to work. I've learnt that I'm not superman and it's ok to turn work down and not have the stress.

— Martin gibson (@mArTiNcG2614) June 18, 2019
The next question looked at how the self-employed trades get work.
A4 – word of mouth is always the best and beats down the trust barrier straight away. Social media builds imon that as people who come here to see how you are before engaging|

— TCW (@TCW_01) June 18, 2019
Usually word of mouth im never really booked up for months in advance if i get to one week i dont panic been self employed for over 40 years something always turns up

— Andy Cam (@CosyWarmPlumber) June 18, 2019
A4 – A little social media, but mostly word of mouth.

Hoping to turn more of the social media stuff into a revenue stream soon so I can help more people 🤞

— SparkyNinja (@Sparky_Ninja) June 18, 2019
Approx 80% of my work is word of mouth and repeat customers. I work for a bathroom company. This generates an opportunity for up-selling with CU upgrades and LED enhancements. I believe that knowledge is power and I give people the correct knowledge to empower them to employ me!!

— She's Electric (@Shes_ElectricUK) June 18, 2019
And then the #TradesTalk community discussed regulation that can hinder the self-employed.
A5 tougher sentences for tool theft #TradesTalk

— S.N.L Home Repairs (@snlhomerepairs) June 18, 2019
A5 Some protection from Insurance premiums, which are almost unregulated and can be increased for any reason, including if no fault claims have been made. The same with the new mandatory online accounting software requirements. #TradesTalk

— Oilcanfinish Landscaping and Property Maintenance (@oilcanfinish) June 18, 2019
Bigger tax cuts for small businesses. We all probably paid more tax last year than #Amazon and #StarbucksUK combined.

— Plumbingwerx (@PlumbingwerxUK) June 18, 2019
The final question looked at how the self-employed invest in their business.
Print up some more branded workwear, cards etc tools invest in training/certification where needed

— DaveyCunningham (@daveycunningham) June 18, 2019
Take care of my tools, trucks, take good time off to recoup. Take good care of myself.

— Bonafide Plumber (@bonafideplumber) June 18, 2019
A6) On decent Tools,workwear,training etc.Anything that will improve the way I do things or my customers experience.Also I only take what I need from my business not what I want.Too many people plead poverty and only have themselves to blame for their spending. #TradesTalk

— Gary Bedford (@grbservices) June 18, 2019
Engineers – better tools – newer vans – appearance regarding work wear – training courses

— AC plumbing&heating (@plumbing_ac) June 18, 2019
To join in the #TradesTalk conversation, simply follow @TradesTalk on Twitter and tune in every Tuesday at 8pm.