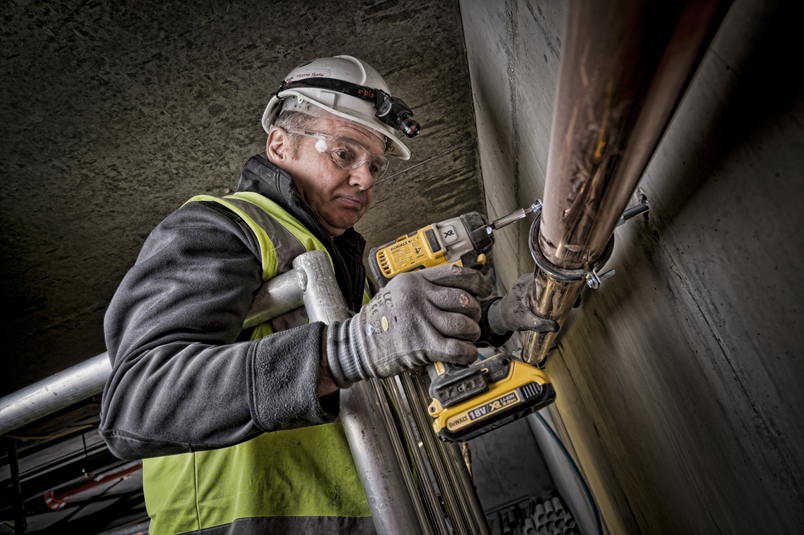 PHPI reports on DeWalt's Snake and Wall-Dog mechanical anchors.
Engineered to meet the requirements of the most demanding M&E contractor, DeWalt's range of mechanical steel anchors carries recognised approvals such as ETA, CE Marking, ICC, seismic loading and fire resistance. Available in a range of finishes and sizes, DeWalt anchors are designed to provide fast, reliable and fully compliant fastening for a multitude of applications.
Snake
The Snake mechanical anchor is an internally threaded, self-tapping screw anchor with a zinc-plated carbon steel body, and is said to be up to six times faster to install than a conventional drop-in anchor. Approved by pre-cast concrete manufacturer Bison, Snake offers great holding strength and complete grip over the total anchor length – making it a safe and secure solution for all kinds of suspended applications. Snake is especially suited for fixing systems that require ongoing maintenance as it allows units to be easily assembled along the same threads. It is also removable.
Among Snake's satisfied users is building services specialist, McGill, a Scotland Top 500 Company. According to Mark McGachy, M&E Supervisor at McGill, Snake proved a quick and reliable solution when fixing bracketry for gas pipes on a recent project: "With very little space on the riser, we couldn't use our usual drop-in anchor on this job.
"We must have installed nearly 1,000 Snake anchors on this project and we've been thrilled with the results. Our guys on site find them so much quicker to use because they work first time, every time. We'll definitely be using Snake mechanical anchors again."
Wall-Dog
This is an all steel, one-piece screw anchor which provides an all metal fixing solution to comply with the latest wiring regulations. Amendment 521.11 to  BS 7671 requires wiring systems within escape routes to be supported in such a way that they will not be liable to premature collapse in the event of a fire; thereby prohibiting the use of non-metallic components. With its carbon steel body and deep cutting, corkscrew-like threads, the Wall-Dog anchor provides for smooth entry and powerful hold in a variety of substrates including wallboard, wood, masonry and concrete.
Wall-Dog mechanical steel anchors are said to be ideal for light to medium duty M&E anchoring applications. They also provide a compliant fixing for fire-rated cable clips in escape routes. For example, D-Line now recommends Wall-Dog as an effective, easy to use fixing for its fully certified Safe-D Clips. When fixed with Wall-Dog, D-Line claims its Safe-D Clips will hold bundles of cables securely on a surface at 930oC for at least two hours.