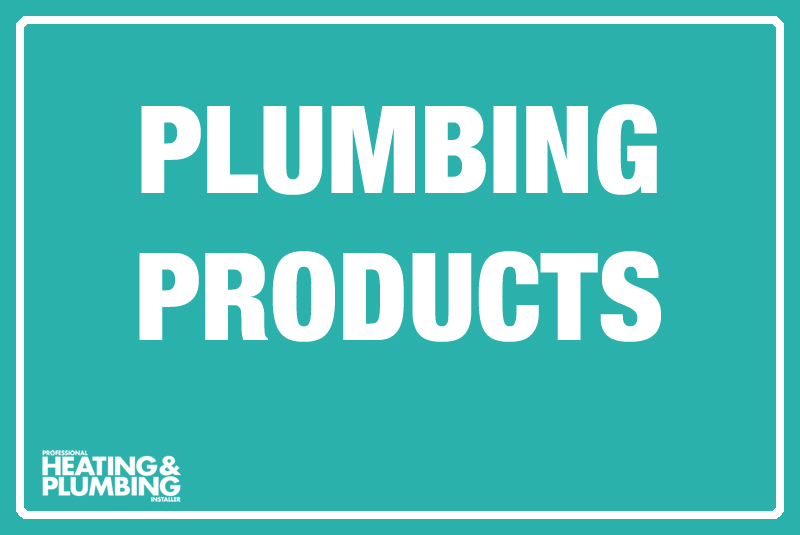 Bristan
Rapid 4-in-1
Growing its boiling water tap portfolio, Bristan has added the Rapid 4-in-1, which delivers hot, cold, boiling and filtered water from a single unit. The Rapid 4-in-1 boiling water tap is packaged with everything required for installation; tap, pressure reducing valve, flexi tails, filter cartridge and a 3L capacity tank with four temperature settings, delivering water up to 98°c.
The tap can replace any existing tap hole and the accompanying tank is compact enough to fit underneath most kitchen worktops. To secure repeat business, installers can also offer ongoing maintenance to their customers by replacing the Rapid 4-in-1 filters every six months, to maintain water purity and prolong the lifecycle of the product.
www.bristan.com/installers-home/installer-news/rapid-4-in-1-boiling-water-tap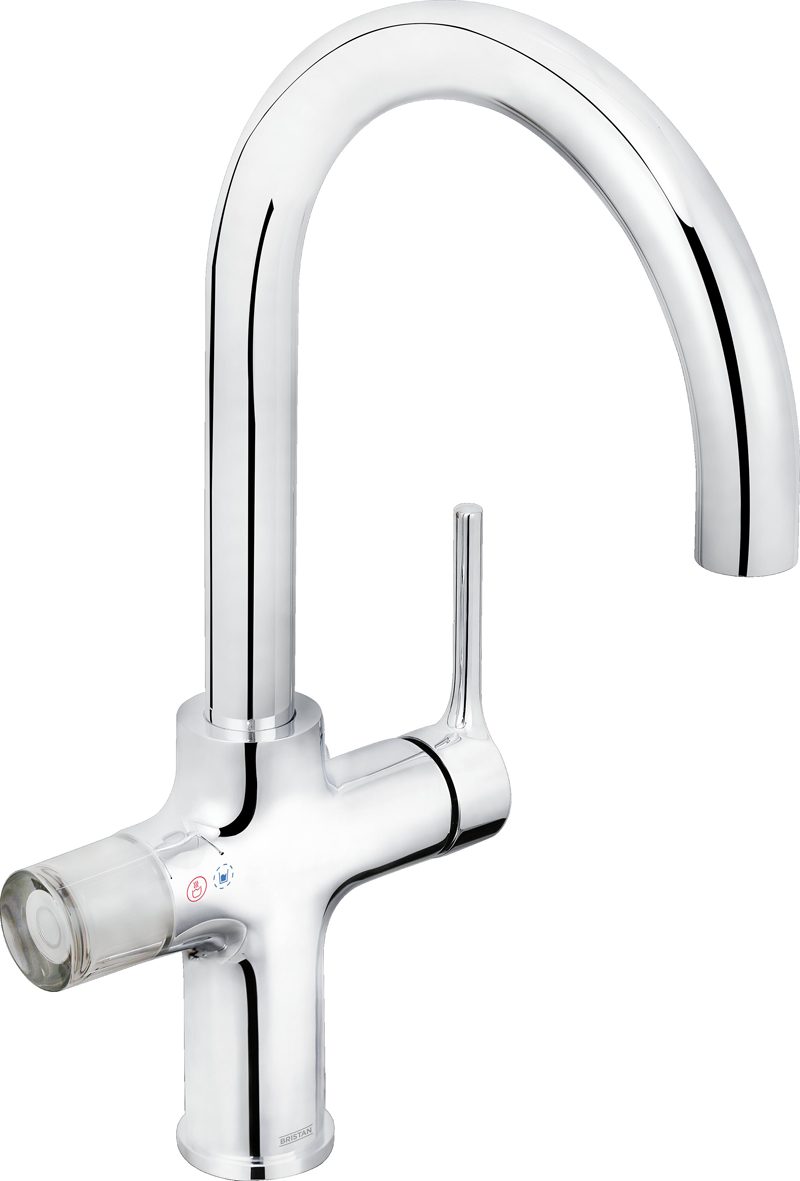 Blanco
CANDOR-S
Taken from Blanco's stainless steel tap portfolio is the CANDOR-S, which features a brushed steel finish. The tap has a high-arched curved spout with a concealed pull-out hand spray which is said to be ideal for washing up and preventing splashes around the sink area.
The design also includes a vertical "off" position for the lever which allows the tap to be situated against a wall with space for wide sink models and splashbacks.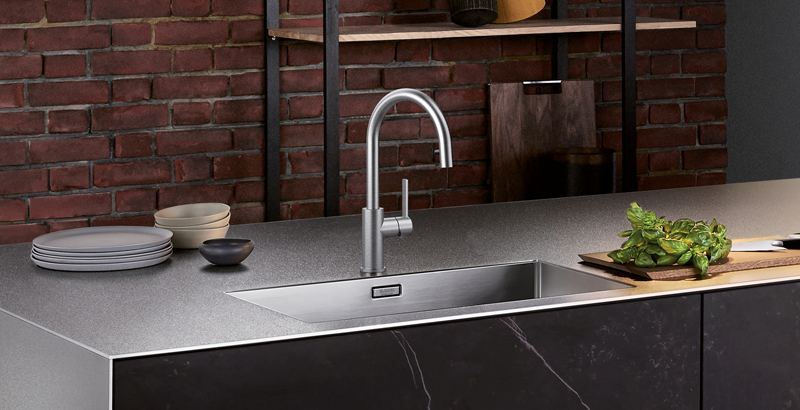 Kaldewei
Nexsys
The new variety of the Kaldewei Nexsys shower surface offers one shower tray in 17 colours and 20 dimensions, with three surface finishes and five design covers. The Nexsys features a narrow waste channel that fits almost seamlessly into the enamelled shower surface, says the company.
Kaldewei has also extended the portfolio to include 12 new sizes ranging from 80 to 170cm, increasing the total to 20 dimensions. The factory pre-assembled 4-in-1 system consists of a waste channel, sloping support, sealing system and Nexsys shower surface enabling fast installation. Sound proofing is also guaranteed with the use of sound insulation tape.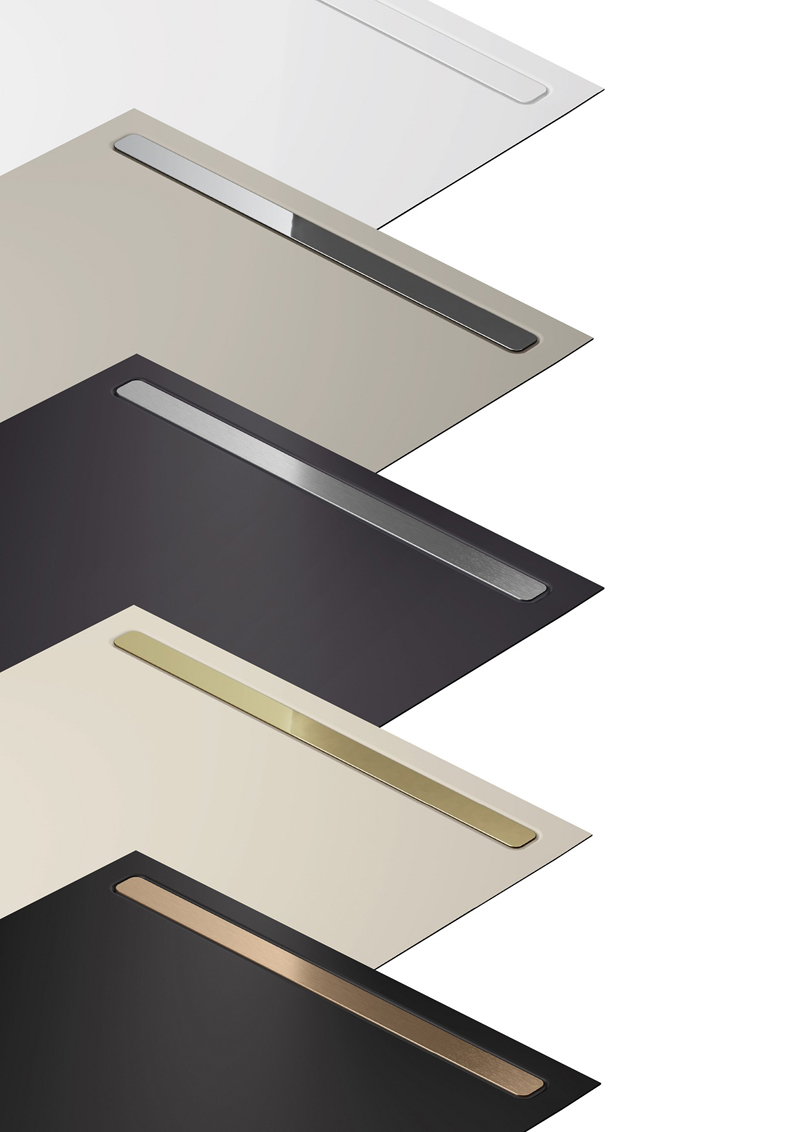 Saniflo
Kinedo
Featuring in its Kinedo portfolio of trays, enclosures and shower cubicles, Saniflo has introduced a collection of shower trays which include the Kinesurf Pietra, Kinesurf + and Kinelisse. Some four further collections are now available in a range of sizes and colours with the tray measuring 30mm thick. It can be cut to size on site if required and features non-slip credentials.
Made from Biolith, the tray is resistant to damage and available in square and rectangular shapes with sizes between 800 and 1,800mm. All the new trays can be installed in raised, recessed or flat installations and are produced in six colourways including white, grey, black, sable, anthracite and chocolate.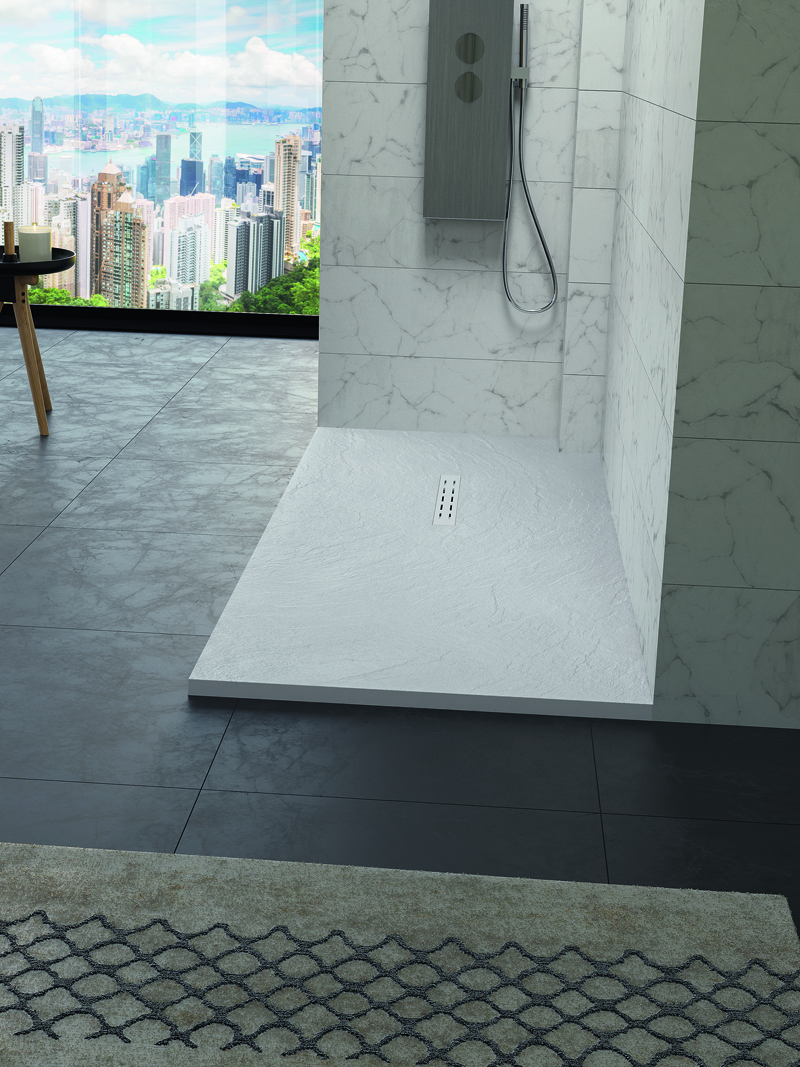 Polypipe Surestop
i-watercontrol
Designed to allow occupants access to out-of-reach stopcocks, Polypipe Surestop has launched its i-watercontrol water valve with remote control. The WRAS approved smart switch can be activated by the Surestop mobile app or via a battery-operated remote switch. The standalone valve features a simple lock-down button to control the water supply, so that the entire system can be instantly turned off.
Often stopcocks are fitted in an inaccessible place with a tendency to seize at a critical time. By using a mobile app and a remote switch that can be situated up to 2m away from the water valve, the product ensures this issue is prevented as it provides instant water cut off.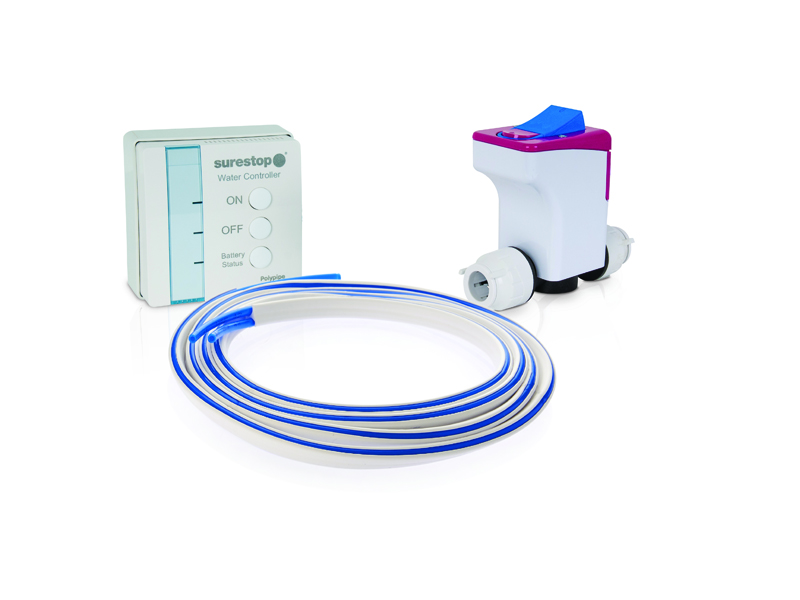 Redring
Glow Thermostatic
A new multi-entry instant electric shower collection has been launched by Redring. The Glow Thermostatic features multi-entry points – six for electricity and eight for water – and makes installation faster and cleaner, adapting to accommodate existing plumbing and fixture work. It comes equipped with a phased shutdown safety protection for cool start up for the next user, with temperature limiter lock options which can be set at installation.
Available in 8.5 and 9.5kW models, the shower is supplied with a 600mm riser rail with flexible fixing centre brackets, five mode easy rub-clean showerhead, 1.5m flexible shower hose and a soap dish with integral hose retainer.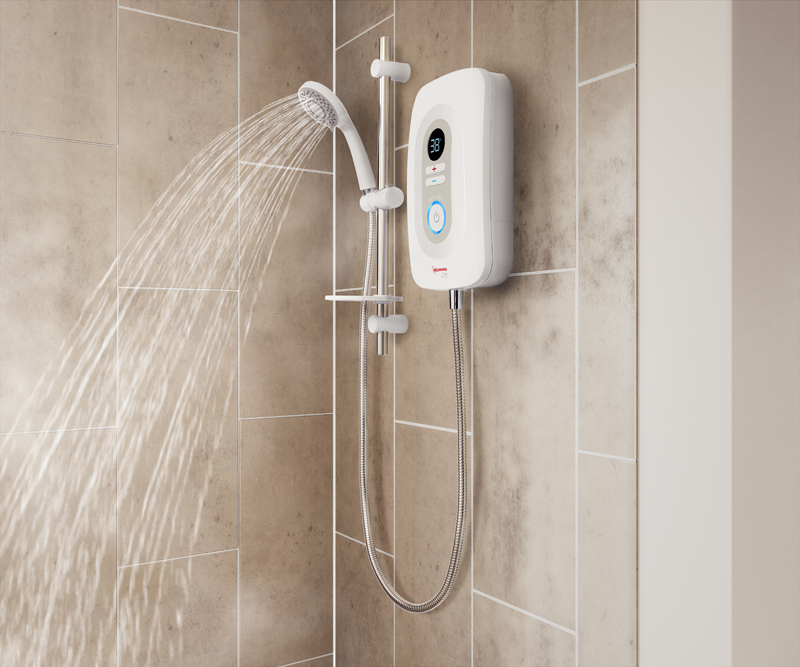 Lakes
Shower trays
Lakes has introduced Lakes Stone to its range – a contemporary suite of premium quality stone resin shower trays. The units are anti-slip and anti-bacterial, with a non-porous surface preventing mould or bacteria forming in the joints or beneath the surface. Lakes Stone is the same colour all the way through, so the aesthetic is not affected if the tray is accidentally knocked.
The 30mm trays are said to be easy to fit and can be inset into the floor, making Lakes Stone suitable for a wide variety of project designs. Colours include White, Cotswold Grey and Anthracite with a stainless steel drain cover. Lakes Stone is available in four sizes to suit rectangular showering spaces across Lakes' Island, Coastline and Classic Collections. The trays are covered by a 10 year guarantee.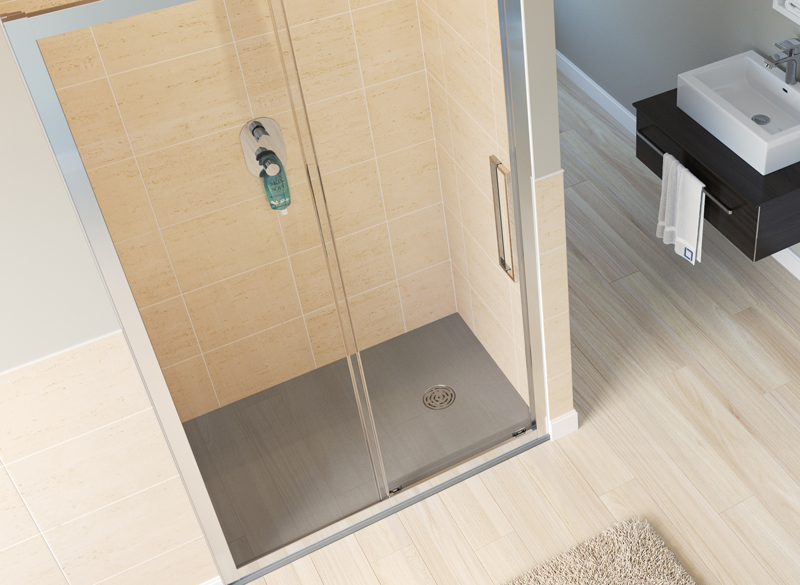 Armstrong
Circulators and pumps
Armstrong's new product lines for domestic and light commercial applications are now available.
The new product lines include high-quality, high-efficiency circulators for heating systems and drinking water, as well as specialist circulators for solar installations, and a broad range of condensate pumps for gas and oil-fired condensing boilers. Included in the portfolio are Armstrong Optimo high-efficiency, electronically-controlled pumps for heating systems, with optional LED displays. Also available is the Armstrong Optimo (N) circulator range suitable for domestic drinking water systems, with stainless steel housings, and the Optimo L Geo model designed for use in higher temperature installations involving solar heat generation.
The Armstrong Lift range of condensate pumps complement the current product offerings, with a range of models to suit gas condensing boilers up to 300kW and 400kW, in addition to the Lift NT25 model for oil condensing boilers with neutralisation tanks.
www.armstrongfluidtechnology.com