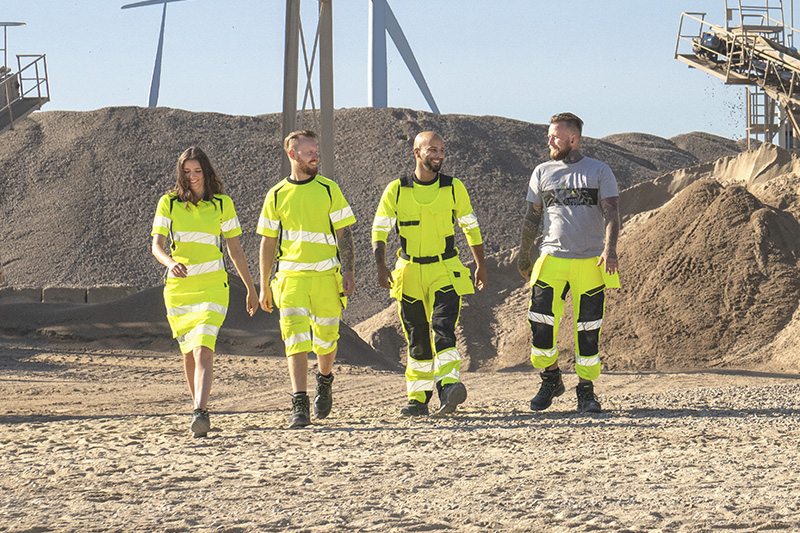 In recent years, stretch workwear has become a staple part of the workwear wardrobe. It's now available in a hi-vis version from Mascot in a new range of safety clothing certified according to EN ISO 20471. With its latest launch, Mascot Accelerate Safe, Mascot has added workwear trousers in four-way stretch with certified visibility. Alongside the trousers' flexibility and low weight is a design with a sharp and modern look.
The range comprises workwear for both men and women, in three fluorescent colours and in a variety of colour contrasts. The trousers are elastic in all directions, and the fabric follows the body's movements, whether kneeling or standing. The elastic fabric also contracts effectively, so that the trousers retain their shape and fit. Comfort has been built into all areas of the trousers, with a soft interior that feels comfortable against the skin and a water-repellent finish on the exterior.
The certified reflectors have been given a brand new design. They are slanting and asymmetrical, giving the trousers a slimming and dynamic look. The reflectors are also separated and stretchy, adding to the trousers' freedom of movement. The detail with the satellite pattern on the legs has been borrowed from the Mascot Accelerate range.
The trousers are equipped with front and back pockets, a button for attaching a knife-holder, and a thigh pocket with phone pocket for safe storage. The kneepad pockets are reinforced with Cordura to withstand daily wear and tear, and are also adjustable. Working on your knees can take its toll on your body, so it is essential that the kneepads are placed correctly to give your knees optimum protection.
New to the range is the fabric on the pocket flaps, which has been given a special dirt-resistant texture to prevent mud and dirt from sticking.